Town Hall Theatre reopens this Friday; announces September lineup
The Town Hall Theatre welcomes you to see some of the best big screen movies of the season in a cool and safe environment.
Regular movie times are 7 p.m. Friday, Saturday & Monday and 4.p.m. Sunday. Admission pries are only $6 for children under 12, $8 for Adults (17 and older) and $7 for Students and Seniors.
PETER RABBIT 2: THE RUNAWAY plays September 3-6, Friday, Saturday & Monday at 7pm and Sunday at 4pm
The lovable rogue is back. Bea, Thomas, and the rabbits have created a makeshift family, but despite his best efforts, Peter can't seem to shake his mischievous reputation. Adventuring out of the garden, Peter finds himself in a world where his mischief is appreciated, but when his family risks everything to come looking for him, Peter must figure out what kind of bunny he wants to be.
This 93 minute Live Action/Animated Family Film is Rated PG for some rude humor and action
Watch the preview here…https://www.youtube.com/watch?v=PWBcqCz7l_c
BLACK WIDOW plays September 10-13, Friday, Saturday & Monday at 7pm and Sunday at 4pm
In Marvel Studios' action-packed spy thriller Black Widow, Natasha Romanoff aka Black Widow confronts the darker parts of her ledger when a dangerous conspiracy with ties to her past arises. Pursued by a force that will stop at nothing to bring her down, Natasha must deal with her history as a spy and the broken relationships left in her wake long before she became an Avenger.
This 133 minute Action Film is Rated PG-13 for intense sequences of violence/action, some language and thematic material
Watch the preview here… https://www.youtube.com/watch?v=ybji16u608U
JUNGLE CRUISE plays September 17-20, Friday, Saturday & Monday at 7pm and Sunday at 4pm
This a rollicking thrill-ride down the Amazon with wisecracking skipper Frank Wolff and intrepid researcher Dr. Lily Houghton. Lily travels from London and enlists Frank's questionable services to guide her downriver on La Quila—his ramshackle-but-charming boat. Lily is determined to uncover an ancient tree with unparalleled healing abilities—possessing the power to change the future of medicine. Thrust on this epic quest together, the unlikely duo encounters innumerable dangers and supernatural forces, all lurking in the deceptive beauty of the lush rainforest. But as the secrets of the lost tree unfold, the stakes reach even higher for Lily and Frank and their fate—and mankind's—hangs in the balance.
This 127 minute Adventure Film is Rated PG-13 for sequences of adventure violence
Watch the preview here… https://www.youtube.com/watch?v=f_HvoipFcA8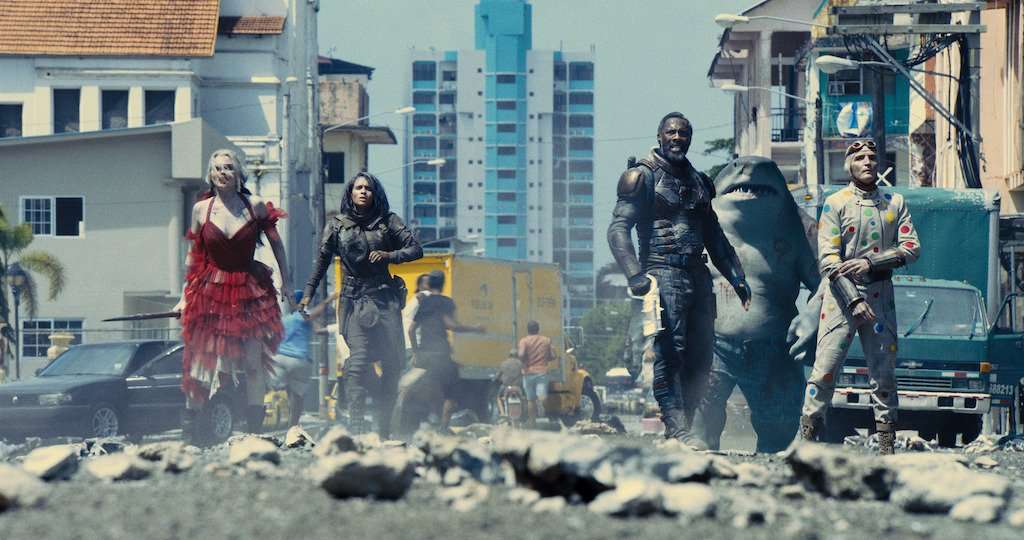 SUICIDE SQUAD plays September 24-27, Friday, Saturday & Monday at 7pm and Sunday at 4pm
Welcome to hell—a.k.a. Belle Reve, the prison with the highest mortality rate in the US of A.  Where the worst Super-Villains are kept and where they will do anything to get out—even join the super-secret, super-shady Task Force X.  Today's do-or-die assignment?  Assemble a collection of cons, including Bloodsport, Peacemaker, Captain Boomerang, Ratcatcher 2, Savant, King Shark, Blackguard, Javelin and everyone's favorite psycho, Harley Quinn.  Then arm them heavily and drop them (literally) on the remote, enemy-infused island of Corto Maltese. Trekking through a jungle teeming with militant adversaries and guerrilla forces at every turn, the Squad is on a search-and-destroy mission, with only Colonel Rick Flag on the ground to make them behave…and Amanda Waller's government techies in their ears, tracking their every movement. And as always, one wrong move and they're dead (whether at the hands of their opponents, a teammate, or Waller herself).
This 132 minute Action Adventure Comedy is Rated R for strong violence and gore, language throughout, some sexual references, drug use and brief graphic nudity.
Watch the preview here… https://www.youtube.com/watch?v=Z1EbSXxrZ34
RESPECT, the musical biography of Aretha Franklin, starring Jennifer Houston in the title role has been booked for October 1-4.
Due to recent rising numbers of COVID cases, in abidance with Plumas County Public Health Guidelines all persons are required to wear facemasks to enter the theatre or while in the auditorium when not actively eating concessions
The most up-to-date movie schedule is posted on plumasarts.org where you may also purchase presale tickets for a specific movie and date. You may subscribe to our free monthly Plumas Arts emails https://www.plumasarts.org/contact-us.html like us on our Town Hall Theatre Facebook page or click our ad on Plumas News online.
Email questions about the Town Hall Theatre to [email protected] or call Plumas Arts at 530-283-3402