View local art at June 3 Plumas Arts Gallery reception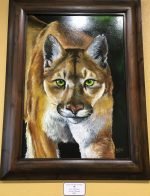 Plumas Arts is holding a gallery opening reception this Friday, June 3, from 5 to 7 p.m. at 525 Main St. in Quincy.
In June, the Plumas Arts Gallery is featuring the work of its member artists. The gallery features a wonderful selection of one-of-a kind art including: pottery, fabric arts, jewelry, leather bags, glass wind chimes, wood turnings, as well as original watercolors, oil paintings, photographs, prints, and greeting cards from a roster of over 60 local and regional artists.
In conjunction with the Lost Sierra Plein Air Festival, local oil and watercolor Sally Posner artist will be painting "en plein air" or "in the open air" outside the Plumas Arts Gallery during the opening reception.
The Plumas Arts Gallery and office hours are Wednesday thru Friday 11 a.m. to 5 p.m. and Saturday 10 a.m. to 4 p.m.
Mark your calendars for other Plumas Arts events this summer. Join family and friends in Dame Shirley Plaza in Quincy on the third Thursday of June, July, and August for Music in the Plaza series. June 16 will feature The Kepple Family Band; July 21 will feature Nightbrain; and Aug. 18 will feature Penny & Dude. All shows will be 5:30-7 p.m. Food will be available for purchase from or bring a picnic and enjoy this fun free family event.
The 51st Annual Almanor Art Show in Chester, will take place Saturday & Sunday June 25 and June 26 on the spacious cool and glorious green Collins Pine lawn. Show hours are Saturday 10 a.m. to 5 p.m. and Sunday 10 a.m. to 4 p.m.
Plumas Arts is very pleased to showcase painters, printmakers and photographers. You will also find unique and wonderful pottery, woodwork, fabric arts, jewelry, metal work, furniture and even artisan foods. Items fall in a full range of price ranges and the purchase of a unique artisan made item supports the work of the creative people to put it all on the line to create something original and hand crafted. Artist vendor applications are still accepted through June 19.
Info on more events can be found on the Plumas Arts home page: https://www.plumasarts.org/
Advertisement