What's playing in September at the Town Hall Theatre
As the summer film schedule turns to fall, the Town Hall Theatre, located at 469 Main St. in Quincy, "is offering a selection of well-reviewed, audience-favorite, feel good films that have been months on the waiting list. Some of the titles may not be that well known to you, the theatre personnel can guarantee they will leave you with a smile and lift in your step. We invite you enjoys some of these noteworthy selections…
DC LEAGUE OF SUPER PETS plays September 2-5, Friday, Saturday & Monday at 7pm Sunday at 4pm
In DC League of Super-Pets, Krypto the Super-Dog and Superman are inseparable best friends, sharing the same superpowers and fighting crime in Metropolis side by side. When Superman and the rest of the Justice League are kidnapped, Krypto must convince a rag-tag shelter pack—Ace the hound, PB the potbellied pig, Merton the turtle and Chip the squirrel—to master their own newfound powers and help him rescue the superheroes. Featuring the vocal talents of Dwayne Johnson, Kevin Hart, John Krasinski, Diego Luna, Keanu Reeves and others.
• This 105 minute Animated Comedy Adventure is Rated PG for action, mild violence, language and rude humor.
Watch the preview… https://www.youtube.com/watch?v=1jkw2JPCl18
BULLET TRAIN plays September 9-12, Friday, Saturday & Monday at 7pm Sunday at 4pm
Ladybug (Brad Pitt) is an unlucky assassin determined to do his job peacefully after one too many gigs gone off the rails. Fate, however, may have other plans, as Ladybug's latest mission puts him on a collision course with a lethal collection of eclectic, diverse assassin adversaries from around the globe-all with connected, yet conflicting, objectives-on the world's fastest train. The end of the line is just the beginning in this non-stop thrill-ride through modern-day Japan.
• This 126 minute Action Thriller is Rated R for strong and bloody violence, pervasive language, and brief sexuality.
Watch the preview… https://www.youtube.com/watch?v=0IOsk2Vlc4o
MRS HARRIS GOES TO PARIS plays September 16-19, Friday, Saturday & Monday at 7pm Sunday at 4pm
This film tells the story of a widowed cleaning lady in 1950s London who falls madly in love with a couture Dior dress, and decides that she must have one of her own. After she works, starves and gambles to raise the funds to pursue her dream, she embarks on an adventure to Paris, which will change not only her own outlook, but the very future of the House of Dior.
Led by a luminous Lesley Manville, Mrs. Harris Goes to Paris is a good old-fashioned story charmingly told.
• This 155 minute Dramatic Comedy is Rated PG for suggestive material, smoking and language.
Watch the preview… https://www.youtube.com/watch?v=iO9JcPbbmAA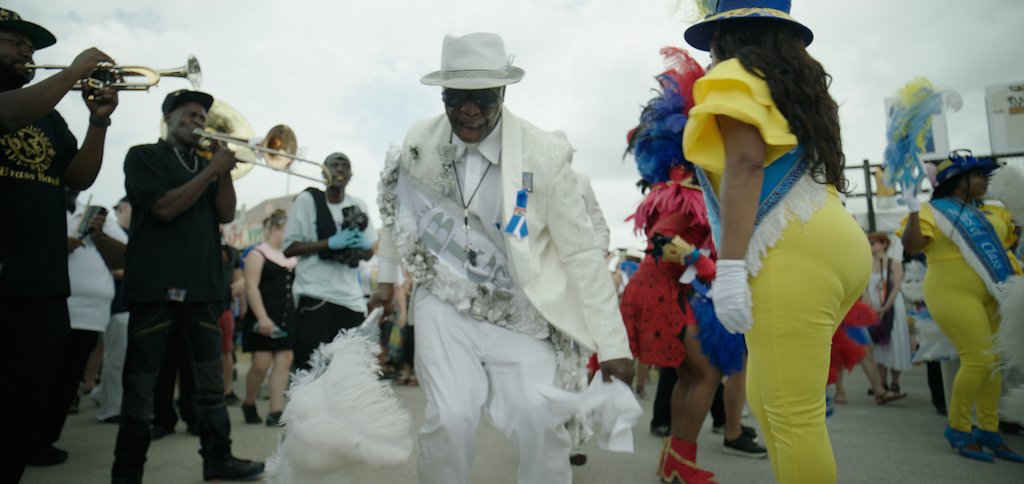 JAZZ FEST: A NEW ORLEANS STORY plays Sept. 23-26, Friday, Saturday & Monday at 7pm Sunday at 4pm
Jazz Fest: A New Orleans Story weaves together live performances and interviews from the 50th anniversary of the iconic festival, featuring some of the biggest names in the music industry, along with a wealth of archival documentary footage from the past half century. This film not only captures the Festival in all of its beauty and glory, but also delves deep into the rich culture of The Big Easy. The New Orleans Jazz & Heritage Festival, aka "Jazz Fest," has celebrated the music, food, and arts and crafts of all of Louisiana since 1970. It is an essential showcase of the rich heritage of the region, and hundreds of thousands attend the event each year. Local music heroes are joined on 14 stages by some of the most important figures in entertainment, highlighting the connections between Louisiana culture and the world.
• This 107 minute Music Documentary is Rated PG-13 for brief language and some suggestive material.
Watch the preview… https://www.youtube.com/watch?v=jTVAoZEoWnw
PAWS OF FURY: LEGEND OF HANK plays Sept. 30-Oct. 3 Friday, Saturday & Monday at 7pm Sunday at 4pm
Hank, a scrappy dreamer of a dog, aspires to one day be a bonafide Samurai. But in a world of cats, he's not sure it'll ever happen – that is until the nefarious warlord, Ika Chu (Ricky Gervais), hustles the unwitting Hank (Michael Cera) into becoming the samurai for the town of Kakamucho; the same town Ika Chu intends to pillage. From the mind of comedy genius Mel Brooks, this Japanese-inspired animated comedy teaches kids and adults alike that embracing diversity is what truly makes you a hero. Also featuring the vocal talents of Samuel L Jackson, George Takai, Djimon Housou and others.
• This 103 minute Animated Action film is Rated PG for action, comic violence, rude suggestive humor, some language.
Watch the preview… … https://www.youtube.com/watch?v=A_hkjvjx2ek
THE PHANTOM OF THE OPEN plays October 7-10, Friday, Saturday & Monday at 7pm Sunday at 4pm
The Phantom Of The Open follows Maurice Flitcroft (Mark Rylance), a dreamer and unrelenting optimist who managed to gain entry to The British Open Golf Championship, qualifying in 1976 and subsequently shot the worst round in Open history, becoming a folk hero in the process.  Widely reviewed as "Charming as hell. ..A light and lyrical feel-good tale… exactly what you might expect from an underdog sports film… A sly little gem grounded in a fantastic performance by Rylance! It's a story about following your passion… A marvelous feel-good film! Entertaining and uplifting!"
• This 106 minute Dramatic Comedy is Rated PG for smoking and some strong language.
Watch the preview… https://www.youtube.com/watch?v=0FOQMuV0bQU
ROCKY HORROR PICTURE SHOW plays ONE NIGHT ONLY Saturday October 8, 9pm LATE SHOW
In this cult classic, sweethearts Brad (Barry Bostwick) and Janet (Susan Sarandon), stuck with a flat tire during a storm, discover the eerie mansion of Dr. Frank-N-Furter (Tim Curry), a transvestite scientist. As their innocence is lost, Brad and Janet meet a houseful of wild characters, including a rocking biker (Meat Loaf) and a creepy butler (Richard O'Brien). Through elaborate dances and rock songs, Frank-N-Furter unveils his latest creation: a muscular man named "Rocky."
"Let's do the Time Warp again." Join us for this campy fun movie event. Dress the part, any part. Costume contests.
• This 125 Musical Comedy Sci-Fi film is Rated R for sexual innuendo, some profanity, violence and drug use
Watch the preview… https://www.youtube.com/watch?v=LnYBwampG8U
Also coming in October and November: SEE HOW THEY RUN October 20-24, LABRYINTH (the 1986 version with David Bowie) for Halloween Weekend. The most up-to-date movie schedule is posted on plumasarts.org where you may also purchase presale tickets for a specific movie and date. You may subscribe to our free monthly Plumas Arts emails https://www.plumasarts.org/contact-us.html like us on our Town Hall Theatre Facebook page or click our ad on Plumas News online.

Help to keep your home, town small town movie theatre open and thriving. Come see it right here whenever the title invites you! You or your business or organization can also offer support in the pre-movie slide show. rtise your support or the services you offer or an upcoming event. Ad reels change monthly. The theatre is also available for private rentals.
Contact [email protected] for more information.