When it comes to COVID tiers – how is Plumas doing?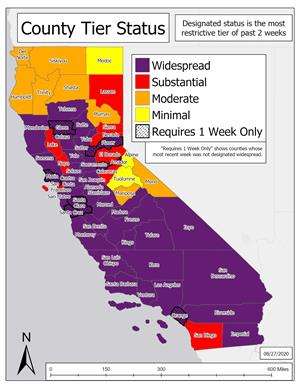 Plumas County has reported five confirmed cases of coronavirus thus far this week — two from the west end of the county (Chester/Lake Almanor) and three from testing done at Feather River College. If that were to happen two weeks in a row, the state would move the county into Tier 2, a more restrictive tier than the Tier 3 it currently is in.
Counties move between tiers based on the positive number of cases per week and/or the positivity rate. But what does that mean for Plumas County?
Public Health Director Andrew Woodruff explained that Plumas must report less than five cases per week to remain in its current tier. If it reports more than five cases for two consecutive weeks then the county would move to Tier 2. If it reports nine or more cases for two consecutive weeks, then it would move to the most restrictive tier — Tier 1.
The tier determines which businesses and entities, and in what capacity are allowed to be open. For example, restaurants in Plumas County are now allowed to offer indoor seating at 50 percent capacity. If the county moves to the more restrictive tier, then that would drop to 25 percent capacity. Likewise places of worship would also be reduced to 25 percent activity. There would be other changes as well. (For a full breakdown of what is allowed between tiers, see below.)
Woodruff said the state plans to collect the data every Monday and then post counties' tier assignments on Tuesday. However, there is a seven-day lag time. For example, this week's cases won't be reported in the Sept. 8 report; they would appear in the Sept. 15 report. This could be confusing for individuals tracking the data and wondering why the cases aren't showing up on the state's website in a timely manner.
When Woodruff was asked about the recent number of cases among Feather River College students and what impact that has on the community, he said that he has "cautious optimism that the cases are contained to the cohort."
"The system is working," he added of identifying individuals, isolating them and performing contact tracing. But he also wanted to remind the public that FRC students become part of the community when they arrive in the county to attend school.
Dimmer-Framework-August_2020