Where I Stand: What we can all do to prevent deadly fires
This is a bit of post-tragedy Monday Morning Quarterbacking, but it's offered in the spirit of improving the future situation within the WUI (wildland-urban interface) for residents living in the woods but not yet affected.
My suggestions herein may not be completely applicable if they were practiced prior to the blow-up of the Bear Fire in our Plumas National Forest. This is because when you have a wind-driven conflagration moving at high speed, there may be little hope for buildings and people who are in the way.
After the shift from no winds and choking smoke in our neighborhood to Red Flag conditions bringing northeast winds on Sept. 8 our Quincy skies cleared, but revealed a tall pyrocumulus cloud to the south, well beyond the footprint of our Claremont Fire and the smaller Bear Fire to the west of it (although they had joined by then). This 4 p.m. photo from a parking lot in East Quincy shows a ridge line that cuts off the large bottom section of this blow-up. Vertical smoke columns result from hot fires eating lots of fuel.
The Bear Fire was accelerated by winds to burn over 100,000 acres of ground in less than a day by traveling dozens of miles westward, reaching Lake Oroville and threatening that city after having leveled Berry Creek in much the same way as Paradise, CA, was incinerated in November of 2018. The current count is 10 confirmed deaths and 16 still missing.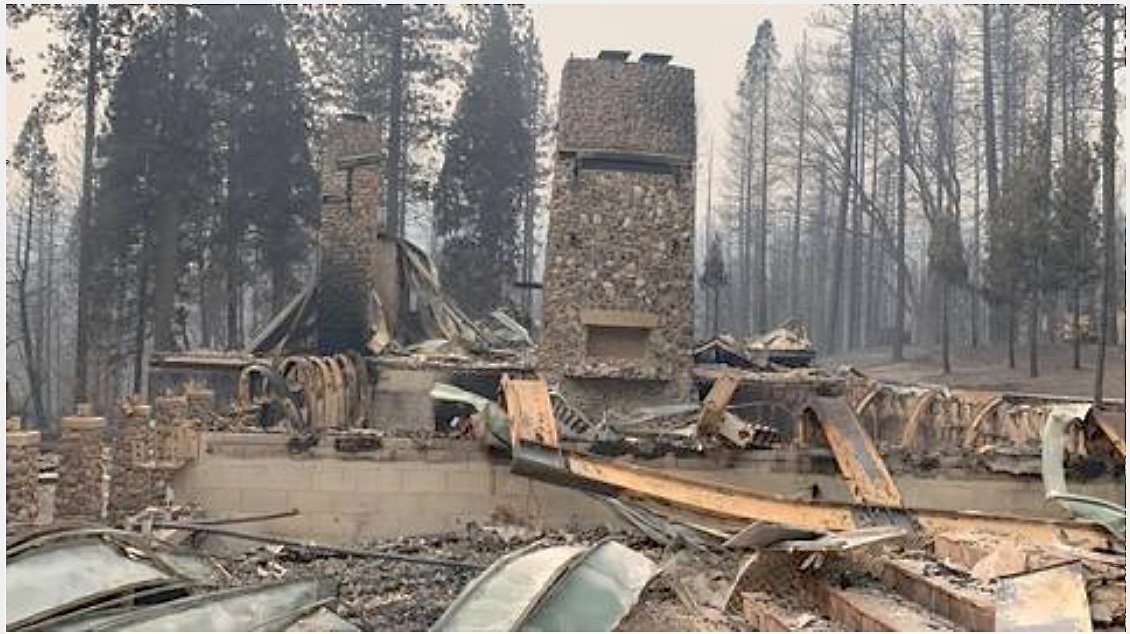 Both of the previous photos show an avoidance of recommended cleared space outward from buildings. Creating defensible space has not become a universal priority in the WUI, but the Bee carried a story of a couple whose home in Berry Creek did survive the conflagration because they had worked diligently in the months before evacuation on fire safe measures to protect their home. True, fire fighters probably made a "stand" there to save it, but that was likely possible because there was fuel-free defensible space.
Fires this hot and fast may not provide many opportunities for firefighters to save buildings, particularly when they, themselves, may be racing ahead of the fire to avoid their own incineration. In previous photos in years past, I've seen rural homes with firewood stacked against walls, 4-feet high. This is a fire-spread invitation, and firefighter concentration on structure protection is more difficult and may add-up to less focus on fighting the oncoming fire—a dilution of resources.
A Butte County Supervisor and a State Senator who represent the burned area have stoked the complaint through media that the US Forest Service had multiple days' worth of opportunity to extinguish the Bear Fire and are derelict by their failure to put it out. But I doubt that either of those public officials have a clear idea of how thin the federal and state firefighting resources have been following the nearly statewide lightning bust of August 14th. I would prefer that those political representatives were champions of preventive measures and community leadership rather than complainers after-the-fact. For much of the period that the Claremont and Bear fires burned closer to Quincy, the skies made air attack impossible, even if tanker resources had been available.
I would not insist my preferences for thinning the woods and for every WUI resident to have adopted fire safe practices with fuel-starving perimeters would prevent structure damage or a total loss in a blowtorch advance of fires like the Camp and Bear — but the results would be better and perhaps less deadly. Good practices still won't cause every resident to follow evacuation orders. Some won't because they are opposed to obedience to what they think is too far in advance while others think they can defend their house with a garden hose with water from their well, whose power may drop at any moment.
Serious preparation is the only way that anyone can minimize risk and damage in any neighborhood with burnable fuels or closely-spaced buildings. Until that happens, greater risks will maintain susceptibility for loss of property and lives, while all of us struggle to find or pay for homeowner's insurance.
My best wishes to all who've suffered losses, statewide. And while many of the rest of us begin to breathe a sigh of relief, remember that our threats are still out there for a future disaster.
Sadly,
Bill Martin
Quincy, CA (four day evacuee from the Claremont Fire, one mile away)