White water rapids attract extreme athletes
The last Pacific Gas and Electric release of the season was not all fun and games, although there was a good deal of that going on, there was a race or two as well.
Actually, there were 14 timed races over the weekend-long event Sept. 23 and 24. The PG&E releases on the Feather River attract stiff and rugged competition from all over the western United States.
The "Featherfest" event includes a big film festival Friday night and marks the last release of the season. White water seekers will have to make due with what Mother Nature provides until next year in early summer for the next organized paddle fest on the Feather River class IV and V runs.
Tobin Class V Downriver
Men's Long Boats (over 9 ft.)
1st Issac Levinson 13:08
2nd Dan Menten 13:11
3rd Matias Lopez 13:16
Men's Short Boats (under 9 ft.)
1st Issac Levinson 13:55
2nd Matias Lopez 14:01
3rd Will Pruett 14:18
Women's Long Boat Class
1st Tracy Young 14:14
Women's Short Boat Class
1st Sage Donnelly 14:43
2nd Tracy Young 15:00
3rd Sara James 16:45
Juniors
1st Cameron O'Conner 14:52
2nd Nathan O'Conner 15:58
3rd Aaron Anderson 16:35
Rock Creek Class III Slalom
Men's Composite Boats Time
1st Mark Holcomb 67.00
2nd Rob Swain 82.00
3rd Craig Irwin 101.00
Men's Plastic Boats
1st Joshua Foster 71.00
2nd Roland McNutt 79.00
3rd Jevon Hamilton 85.00
Women's Composite Boats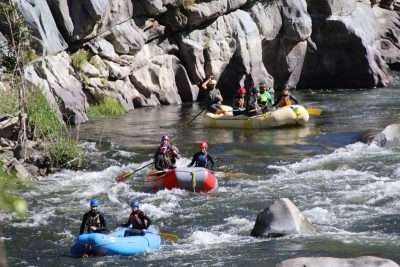 1st Sage Donnelly 57.00
2nd Svetlana Platonova 63.00
Women's Plastic Boats
1st Sue Norman 71.00
2nd Caitlin Scheder-Bieshin
3rd Elena Maklashina 160.00
Canoe, Closed Deck C-1
1st Sage Donnelly 61.00
2nd Lachlan Bassett 63.00
3rd Dan Menten 67.00