Wiggin's Trading Post: A family legacy
Wiggin's Trading Post, a veritable institution in Chilcoot, has closed shop after 49 years of serving the community, with the torch of ownership being passed to the incoming Goodwin family.
A lot can happen over 49 years, even in a small rural community in Eastern Plumas, and the Wiggin's family shared some of the history of the store, along with some of the times that still stand out in their memories.
According to Shirley Wiggin, her husband Dick, who passed away in September 2015, left a great legacy in establishing Wiggin's Trading Post in Chilcoot in the spring of 1968.
"Believe it or not, this store was the third Wiggin's Trading Post in existence," Shirley explained.
The first Wiggin's Trading Post was established in Lathrop by Dick Wiggin's grandfather, Frank, who then went on to establish another Trading Post in Phoenix, Arizona. Dick Wiggin kept family tradition alive when he bought the store in Chilcoot, which was O'Brien's Grocery at the time.
"Dick had been working for the Thrifty Drugs chain for 11 years, with our final stop prior to Plumas County being Yuba City," Shirley said. "He would come up here to go fishing in Antelope and that is how he knew about the area. In the spring of 1968, a real estate agent in Quincy, Julian Atkins, told Dick about the opportunity that had opened up at what would become Wiggin's Trading Post."
The Wiggin family decided that with three children growing up, they wanted a better life for the family, as well as wanting to settle down in one place after multiple moves in the past. Shirley initially had some adjusting to do, with the wide, open valleys all around her, but as she stated, "After we decided to move here, we never looked back."
Once the Wiggin family had moved in to the home attached to the store, separated by a set of swinging doors, Shirley explained that the family immediately went about putting down roots and taking part in the community.
"It's so important to get involved with the community that you are in," Shirley said. Dick Wiggin went on to become a member of the Loyalton Rotary, the Quincy Chamber of Commerce, (the only Chamber of Commerce in Plumas County at the time) followed by becoming a member of the Eastern Plumas Chamber of Commerce when it came into existence.
Shirley joined in, despite what she termed as her "inherent shyness," and was soon a member of the Soroptimists, the Sierra Valley Grange and the Cattlewomen.
"I made so many friends that way," Shirley said. "Sierra Valley people are all neighbors, and once you meet them, they are always your friend."
Eldest daughter Julie Mathiasen joined in on the recollections, saying, "Wiggin's Trading Post is where I got my first introduction to work. As a family, we all did our part and we each had our specific jobs in the store. Mine was the Campbell Soup aisle, and the baby food. We all learned how to dust, stock, and face the can labels forward on the shelves."
Shirley noted that all of her children developed a great work ethic at young ages, as the store was truly a family affair.
"It was a wonderful atmosphere to raise a family in," she said. "The kids worked in the store, in addition to attending school in Loyalton and taking part in 4-H."
Julie recalled the work involved in keeping the family store running smoothly over the years, saying, "We washed the windows of the cold cases, polished chrome handles, swept the floors and more."
The Wiggin children learned practical applications of math skills as they added up customer groceries using a hand-cranked adding machine, pressed the correct buttons on the vintage cash register and made change back to customers "the old fashioned way."
Shirley commented that the Wiggins never allowed people to pump their own gas in those days. "We pumped the gas, washed windshields and sometimes Dick would even check the customers' oil," Shirley reminisced.
Julie added that over the years, many celebrities stopped by the store. "I remember at one point, I pumped gas and washed the windshield for the debonair Cary Grant."
The store was a hit, and according to Julie, things were always moving.
"A local, Leland Cross, was good friends with my dad (Dick) as well as being in Rotary together. Leland and dad were always scheming on all kinds of slogans, ideas, signs and beautiful murals over the many years at the store.
"Dad was always improving and designing new areas in the store, with every nook and cranny filled with goods. Our motto was, 'If you can't find it here, you probably can get along without it pretty good.'"
Dick Wiggin put his merchandising skills to good use, venturing to such places as the San Francisco Gift Show to pick out merchandise for the store, and being only 8 miles from Frenchman Lake, ensured that there were always fresh, live worms ready and waiting to be bait for the avid fishermen that came through.
"One of my favorite signs [at Wiggin's] reads, 'Yes we have worms. Do you?'" said Julie. "We had a scoop that we would pour the worms out into, so we could show the customer and prove that they were alive and wiggling."
Granddaughter Anna Mathiasen also holds fond memories of the store, which was so much more.
"As I grew up, I loved helping my Aunt Donna with the meat counter, wrapping up the meat for customers and getting to write the price on the package after I neatly wrapped each corner as best as I could. My Grandpa (Dick Wiggin) sure got me started with heavy lifting at a young age and I thank him for the great work ethic he instilled in me," Anna said.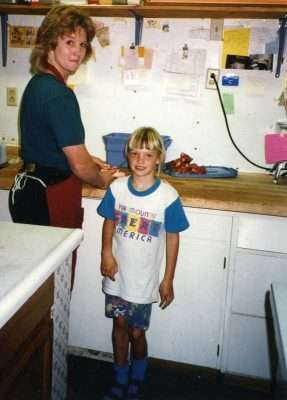 "Wiggin's Trading Post was more than just a small town business. It was a lifetime of childhood memories that will forever stick with me. Wiggin's is where my work ethic was built, where my relationship with my Grandparents grew into something that I will always treasure, where everyone in town seemed to know me but I could only remember half the names, and where we always had huge family gatherings with belly laughs and enough memories to last a lifetime," said Mathiasen.
Dick and Shirley Wiggin's daughter, Donna, is still working behind the meat counter at the store and had a few thoughts to add to the legacy of love surrounding the family store, saying, "We were so happy to be a part of the community — my Dad was a big part of the community. The past 49 years has been a special kind of life experience. We came here as a young family and I grew to enjoy the family business in many ways, in everything from business skills to good communication and community service."
Donna pointed out that community service has always been a tradition in the Wiggin family and that the store was always a hub of activity, providing not only goods, but also information about the area and the wonderful opportunities that lay within the area.
"It has been a joy to serve the familiar faces of the local people on a daily basis, as well as the tourists who camp every summer — over time, we got to know the tourists well. We also got to know several generations as families grew and brought their children to this area, year after year," Donna smiled.
"Mom and Dad had a special desire to raise us as a loving family, and their passion was centered around the store and serving others. There were many blessings throughout our time there and Jesus Christ was always the center of our family life and how we operated our business."