Winterfest dog sled races held in Chester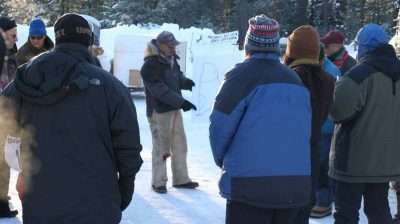 The 2017 annual Chester Winterfest Sled Dog Race took place in the forest a mile past Cedar Lodge and RV Park, where Old Highway 89 ends just outside Chester on a chilly weekend, Jan. 28 and 29.
The wooded location was punctuated by the sound of dozens of excited dogs barking wildly in anticipation of the race.
Hugo Antonucci, president of Sierra Nevada Dog Drivers, organized the event; a popular local happening that takes place each year as long as there is sufficient snow, he said.
Headquartered in Truckee, Sierra Nevada Dog Drivers is a club that comprises a diverse group of mushers who compete in races during the winter season, while also promoting the sport of dog sledding.
Antonucci said this is the 16th season they've had the dog sled race in Chester, with conditions this year deemed ideal after a heavy winter snowfall.
"The snow conditions were outstanding," he said. "The best I've seen in the last 10 years, with at least a three- or four-foot base in most sections of the course," that together with the relatively low morning temperatures "made it something more of a challenge for the trail boss to prepare the trails."
The two-day family-friendly event relies on the generosity of the Collins Pine Co., he said, "which grants organizers a use permit every year to hold the race on its forested property."
The Lake Almanor Chamber of Commerce and other social media advertise the race, Antonucci said, as well as appearing on sleddogcentral.com where sled dog races throughout the world are listed.
The series of races started at 8:30 a.m., and wrapped up around 12:30 p.m., with the competition divided up between teams classified according to the number of dogs assigned to each sled.
"We had a total of 15 teams consisting of a three-dog class, four-dog class, six-dog class, eight-dog class and a six-dog mid-distance class," Antonucci said.
Three different routes made up the course, he explained, varying in distance from 3 miles up to 14 miles in length.
Of special note, he said, the fastest three-dog run in the junior class division was held by Jessica Orthmann, age 10, showing a finishing time of 9 minutes, 46 seconds on the first day of the race.
Antonucci said the dog sled teams compete for cash prizes and trophies.
The overall purse was set at $1,400, he noted, the same as last year, "with winners awarded different amounts depending on which class they competed in and the number of mushers in each group."
Money for the purse comes from club membership dues, merchandising sales, and a couple of fundraisers and clinics that are held during the year.
Advertisement
Mushers come from a variety of backgrounds, Antonucci noted, and travel to Chester from locations throughout California and Nevada.
He said there was no participation by Chester residents, but some locals did turn out to watch the races from the sidelines.
Both participants and spectators alike shared a high level of excitement at the event, but not as much excitement as the dogs displayed, Antonucci remarked.
"The dogs are probably more eager to start the race than the mushers," he said, noting that after they're harnessed and hooked up to a sled, "they know it's playtime."
Once the dogs are lined up inside the starting chute, "they quiet down and are ready to bolt," he added.
Antonucci said the dogs love to race and are specially conditioned for the kind of endurance required to run a multi-mile race while hauling a sled and a musher.
He said the breeds comprised a selection of Alaskan and Siberian huskies, with a few Alaskan malamutes thrown into the mix. These breeds are ideal for this kind of race, he stated and encouraged anyone who owns huskies or malamutes to consider joining the club.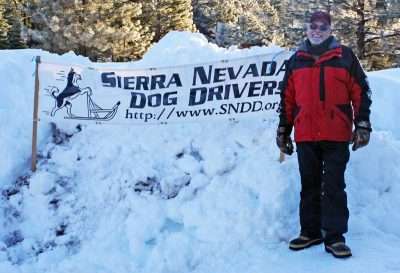 The Sierra Nevada Dog Drivers offer instructional classes for people as young as 10, to seniors, who want to learn the skills necessary to participate in the sport, "whether they're beginners to those who may be more experienced," he said.
He said some of the youngest who attended the event with their parents were given rides on the sleds after the race was over, much to their enjoyment.
Antonucci said overall the races went very well. "A lot of people came up to me afterward and thanked us, and said they looked forward to returning next year to race again, which we hope will be bigger than ever, assuming there's a good snowfall next winter."
He said the club and its membership wanted to thank the community for their support, as well Collins Pine Co. and the efforts of the Lake Almanor Area Chamber of Commerce for helping to make the event a big success.
For more information on joining Sierra Nevada Dog Drivers, and to learn more about starting a team of sled dogs, call Antonucci at 299-3512.
2017 Chester Winterfest
Sled Dog Race Standings
Adult Class – Saturday
results only:
8-dog sprint (9 miles)
1st place: April Cox,
40 min. 58 sec.
6-8 dog mid-distance
(14 miles)
1st place: Barbera Ammahila Schaefer-Berdner,
1 hr. 32 min.;
2nd place: Kathy Miyoshi,
1 hr. 38 min.;
3rd place: Melissa Beers, DNF
4-dog sprint (3 miles)
1st place: Tim Terry,
7 min. 26 sec.;
2nd place: David Sindelair,
9 min. 48 sec.;
3rd place: Hannah Gray,
10 min. 59 sec.;
4th place: George Sarkesian,
11 min. 52 sec.
3-dog sprint (3 miles)
1st place: Sara Borok,
16 min. 15 sec.;
2nd place: Candace Sarkesian; 20 min. 35 sec.
3-dog Juniors Division
(3 miles)
1st place: Jessica Orthmann,
9 min. 46 sec.;
2nd place: Skyler Sindelair,
22 min. 35 sec.
Skijoring 1-2 dogs (3 miles)
1st place: Gary Fenchel,
16 min. 25 sec.