Women's March comes to Chester
Every Friday on the corner of Dame Shirley Plaza in Quincy, a group of peace activists stands with signs promoting peace and democracy. People who agree with their sentiments honk their horns and the people wave back at them. It's a fixture of life in Quincy on a Friday afternoon — a town sometimes described as the Santa Cruz of the Sierras.
But across the county in Chester, protest marches and rallies are a rare oddity and not something anyone expects to see.
On Jan. 19, long-time local resident and retired anthropologist Darrah Hopper organized the third annual Women's March in Plumas County along the highway in Chester — 30 others from across Plumas and Lassen counties, from the communities of Quincy, Genesee, Indian Valley, Chester, Westwood and Susanville joined her.
Marches in the past two years focused on getting more women elected to office. But with a record number of women elected in the November 2018 election, the women's marches shifted focus with each one left to find its own.
Hopper encouraged marchers to create signs that spoke to issues they individually cared about, that they think need to be addressed under the current administration. For the 30 or so women and some men who attended those varied but all seemed to focus on human decency and respect.
Many of the women marching wore the signature pink knitted hats now synonymous with women's marches.
Every kind of sign from "Congress Must Protect Democracy" and "Insist, Resist, and Persist" to a cutout of the Statue of Liberty and an arrow pointing that said "I'm with Her" was represented. None of the signs represented radical views and the majority of those in attendance were over the age of 65.
The rally and march started near the park in Chester and went up and down the main thoroughfare (about three blocks) for an hour or so in the cold, drizzling rain. It started with chants of "Resist" and "Persist" referencing the roll back of civil rights and liberties and environmental protection since the current national administration took power in January 2017, according to those present.
There were more cheers than jeers. Several people driving through town honked and waved at the marchers with smiles on their faces. Two trucks with male drivers offered a dissenting opinion.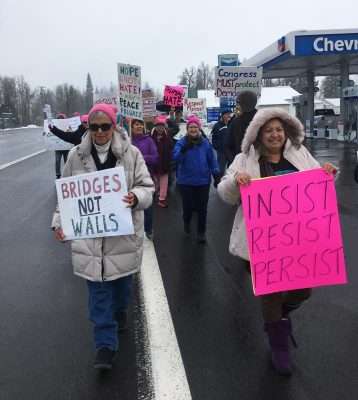 One marcher, Judy Wallace, had been at the Washington D.C. march in January 2017 with her sister. They'd been triggered by a campaign speech in which then candidate Donald Trump mocked a reporter with disabilities. Their brother had disabilities. They took the mocking personal.
Other marchers took issue with the building of a wall at the southern border of the country while not beefing up security at ports, airports or technology at the border instead and what they felt was a disregard for the Constitution and the rule of law in regards to seeking asylum.
Still others marched against the government shutdown, in solidarity of the teachers strike in Los Angeles, and a host of other issues in the national headlines.
Many seemed conscious that marching is unusual in Plumas County and especially in Chester. They wanted those that drove by to know that not everyone in Plumas County thinks the same way.
The march was not affiliated with any one political party and marchers present were affiliated with at least three political parties plus independent voters.
Some marchers also remarked that the gains of women representatives in Congress in the 2018 election, was a good place to start — but in their eyes, it is only a beginning.
The national Women's March arose in response to then candidate Donald Trump's disrespectful remarks toward women, women's bodies and women's healthcare during the 2016 presidential campaign — it has since taken on a life of its own on local and regional levels.
After the march, many participants headed out of the cold and into local dining establishments in Chester to support small businesses.