What to do if I'm locked in a hot car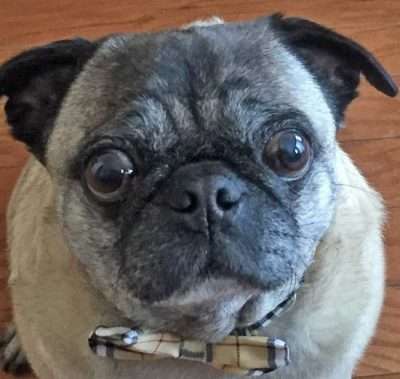 This is Pluto the Public Information Pug here from Quincy CHP. I hijacked my mom's Commander's Corner to talk about a very serious topic near and dear to my pug heart: dogs in hot cars.
Our friends at Plumas District Hospital have some concerns about our humans leaving us in their cars, so I'm here to shed (haha, yes I am!) some light on the laws regarding us adorable fur babies that want to go EVERYWHERE with our well trained humans.
People have asked my mom if it is illegal to leave us "Haute Dawgs" in a hot car. Well, in fact, 15 states have specific laws against it: Arizona, California, Illinois, Maine, Maryland, Minnesota, Nevada, New Hampshire, New Jersey, New York, North Dakota, Rhode Island, South Dakota, Vermont and West Virginia.
Rhode Island's law is one of the most comprehensive, with the strongest penalties including up to a year in jail and up to $1,000 in fines. Vermont also allows sentences of up to a year in jail and up to $2,000 in fines.  That's  alotta bones!
Here in sunny California, California Penal Code, Section 597.7 makes it unlawful to leave or confine an animal in any unattended motor vehicle under conditions that endanger the health or well-being of an animal due to heat, cold, lack of adequate ventilation, lack of food or water (my greatest fear!) or other circumstances that could reasonably be expected to cause suffering, disability or death to the animal.
Previously, only cops, firefighters and animal control officers could rescue animals in peril from cars and not be held liable for damages. Fortunately for us that recently changed.
A new law effective Jan. 1 states that there is no civil liability for property damage to a motor vehicle if the damage was caused by a person rescuing an animal in danger under Section 597.7 CPC. Awesome humans will not be held liable for actions taken reasonably and in good faith if the person does all of the following:
– Determines the vehicle is locked or there is otherwise no reasonable manner for the animal to be removed from the vehicle;
Advertisement
– Has a good faith belief that forcible entry into the vehicle is necessary because the animal is in imminent danger of suffering harm
– Contacted a local law enforcement agency, the fire department, animal control or 911 prior to forcible entry;
– Remains with the animal in a safe location, but close by until emergency responders arrive;
– Used no more force than necessary to enter the vehicle and remove the animal; and
– Immediately turns the animal over to a representative from law enforcement, animal control or another emergency responder.
Keep in mind you need to contact the authorities FIRST.  Here in Quincy, someone will usually be able to help quickly and you won't need to break in to rescue us. Also, the fur baby in question needs to be in imminent danger; just being locked in a car doesn't mean we are in danger. Please consider weather and temperatures outside. The inside of a car can get hot pretty fast, but not when it's 65 degrees, with the windows cracked and there's a breeze.
Finally, if you are worried about us, try to find our owner, we like them and probably would rather they help us than a stranger. Remember, some of us bite people we don't know.
So, what does this all mean to you, our amazing parents that love taking us loyal pooches for a ride? Well, you should consider if bringing us with you is really worth the risk to our health and well-being. Just being left in an overly warm car, even if not fatal, can cause undue stress on us, especially smooshy faced dogs like us pugs that struggle to breathe normally in the first place.
Going through being rescued would be very traumatic to us, and probably pretty expensive for whoever owns the car we were locked in. Our friends at PDH don't want to see us left in a car in their parking lot, so please leave us at home if you have an appointment.
Anyway … I love to go to work with my mommy. She's kinda pug crazy so I adore getting away from my four pug brothers and sisters. All the nice people at the CHP office feed me and treat me really special. I get to go to parades and to the kindergarten classes and no one seems to care that I shed all over everything (Mom calls it pug glitter). This time of year, she tells me I have to stay home because it's just too hot. She makes up for it by lots of treats and love, I guess I can't be that mad.
Have a happy end of summer and I hope to see you all at the Plumas County Fair Parade on Saturday, Aug. 12! I'll be the spoiled pug being carried by the lady in a uniform, rough life, I know.
With love and OF treats,
Pluto Richards
Public Information Pug
Quincy CHP