$12,500 donated to Chester Boosters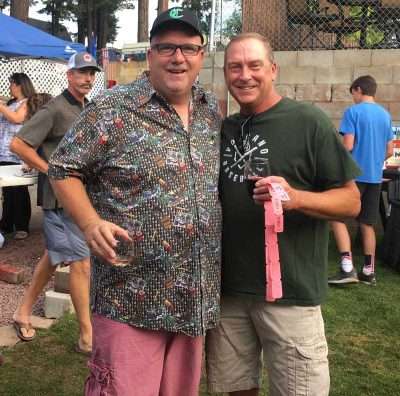 A group of nearly 200 campers staying at Big Cove, Knotty Pine and Paul Bunyan resorts — all within a stone's throw from each other — gathered for an informal golf tournament and special fundraiser Aug. 6 to benefit Chester High School's physical education department, with a portion going toward the school's wrestling team and the Chester High Boosters Club general fund.
Event organizer Daren Cox said that as part of the "Make a Difference Weekend Golf Tournament," individuals and families gather together in what Cox terms the "Lake Almanor summer seasonal community."
He said visitors come to the area from Reno, Carson City, Sparks and Northern California towns like Chico, and set up temporary living in RVs at the various resorts to enjoy their summers on the shores of Lake Almanor, where they share camaraderie and recreation at the lake between the months of May to October.
Some of the families making up the seasonal community have visited the shores of Lake Almanor to enjoy the summer and fall seasons for over 25 years, he noted.
Cox, who said he has essentially raised his kids at Lake Almanor during the summer months for the past 16 years, wanted to reach out collectively with his friends to do something for others.
The idea for the first fundraiser came to him last year in June, "and it just gained momentum," Cox said. They decided then to focus particularly on raising money to benefit Chester High School.
This year's fundraiser began with a golf tournament in the morning at Lake Almanor Country Club, where a number of golfers donated a portion of their greens fees, he said.
Participants also paid a minimum donation of $25 in support of the fundraiser, which included a silent auction along with a potluck and the barbecuing of a hundred pounds of tri-tip, plus 150 wines and 30 craft beers for wine and beer tasting to top off the feast at Big Cove Resort.
He said that next year they're considering the possibility of adding a fishing tournament to the fundraiser, which is normally held the first weekend in August.
After all the donations were added up, Cox said they raised a total of $12,500 for the Boosters Club, the same amount as last year, and delivered the money to the school organization Oct. 2.
Cox said the vision behind the fundraiser from the start was to give back to the community and impact local youth in a positive way, in order to "make a difference in the community we love."