17th annual Soroptimist Garden Tour displays color, beauty and design
Seven local gardeners shared the beauty, color and thoughtful designs of their landscapes June 23 when Soroptimist of Quincy International held its 17th annual garden tour.
Ticket sales were brisk for the traditional summer fundraiser that supports the nonprofit's scholarship and community service programs.
From manicured to wild and whimsical, the lovely and fragrant gardens held delight for accomplished green thumbs, novice landscape fans and "Sunset Magazine" wanna-bes alike.
Margaret and Joe Munoz opened the club's preview tour at their charming Chandler Road home on the west end of Quincy, entertaining guests with stories about planting 500 trees over more than 25 years and leading a challenging name-that-plant walk about their 1.35-acre property.
"When we bought our place, it was nothing but rocks, dirt and glass with an 1800s cabin on it," Margaret said. "Our parents thought we were crazy."
One feature of particular interest was Joe's 50-foot cherry tree that he planted decades ago. Yes, only the birds can reach the fruit now.
Charlotte Smith escorted guests around her Valley View Drive backyard retreat off Bucks Lake Road filled with sculptures, fountains and farm-themed décor.
Judy and Skip Dailey's Wildwood Court oasis in Bellamy Tract elicited many oohs and aahs when tour visitors rounded the bend of their Asian décor plantings and discovered a green expanse of tranquil seating areas and ceramic Foo Dog guardians watching over the herbs and raised vegetable beds. A tri-color beech is the Dailey's favorite plant in their garden.
One guest quipped, "So Skip, do you know all the names of your plants by now?" and Dailey replied with a laugh, "No, but I've moved them all enough times!"
The tour took a turn and headed to East Quincy next.
Ranchito Motel owner Tracy Wixted amazed tour visitors with the transformation that her beautiful business has undergone with careful planning and an eye to the comfort of her guests in mind.
The site features walking paths through colorful blooms that support pollinators and provides a restful collection of seating areas and spacious exteriors where motel visitors can linger with wine and conversation. The well-loved babbling brook still meanders through the property, punctuated by tiny footbridges just right for small dogs or garden gnomes who somehow remain always out of sight.
"We lost 18 Ponderosa pines to the drought and bark beetle back here," Wixted told her tour guests, walking them around the redesigned space that unites each building of the motel that is located on East Main Street.
David Miller's skill as a former logger was evident at his large garden at the end of Miller Court where majestic trees are integrated into the landscape. Here and there, vintage treasures like an antique gas pump decorate the rustic garden surrounding the home he built.
Miller received a reporter's vote for the coolest "clubhouse" on the tour with his red shop building fancifully tagged with street markers and other signs.
Visitors walked leisurely about the grounds with helpful tips provided by Cassidy Miller who shared childhood memories of playing in the miniature woods that make up her grandfather's garden.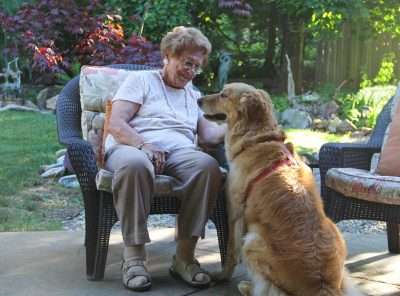 One group was overheard discussing the challenges of coexisting with wildlife in a rural environment such as Plumas County.
"I've tried everything," Miller told some guests who shared his frustrations about dealing with skunks, raccoons and foxes. "I tried cat food and I ended up catching every cat in the neighborhood!"
The general consensus was a recommendation to try peanut butter spread onto a tempting cracker and placed well back into a safety cage in which a critter can be transported.
"Take them to another drainage and they won't be back here to bother your garden," one guest suggested.
At Louise Whiting's peaceful backyard off First Street, surprises of color and architecture greeted garden lovers on the tour.
Louise met her husband, Paul Whiting, when they were students at Quincy Junior-Senior High School. For 30 years after that, Paul taught at QHS. Their five children all graduated from QHS and so did their three grandchildren.
You could say the Whitings have a strong connection to QHS, which explains why Paul came home one day, piled Louise and the kids into the truck, and drove to Main Street where the old high school was being torn down. Everybody grabbed a brick or two or three and Paul and Louise made sure to save some decorative support pieces from the beloved old building.
Advertisement
Those pieces and bricks adorn her garden to this day and spark a lot of fun conversations, which any lovely garden will do.
Just before the tour moved to the seventh and last home, Sonia Curnow-Robinson of Gray's Nursery spotted something she just had to investigate — a large accent patch of bright green moss in Whiting's front yard.
"Oh, I have a thing about moss," Curnow-Robinson said with a big smile, leaning to touch the dense plant as other guests laughed. "If I could, I'd have it in the house like a mat, but my husband says no, he refuses to step out of the shower onto moss!"
At Kris Miravalle's home off Katherine Street, the relaxing open spaces wander through tended groves of tall firs. Guests were treated to a stroll through the Miravalles' curved walkways and past the generous planting beds where deer miraculously do not tread (or munch) because bars of Irish Spring soap dangle suspended from the nearby trees. It works, the hostess said. Who knew?
Many avid gardeners organize their havens around a theme. At the Miravalle garden, beautiful balls were the element to watch for. Deep or bright, subdued or sparkling, glass balls of all sizes were placed throughout the landscape and it was a treat to hunt for the orbs along the walk.
Conversations floated on the afternoon air about which plants do best in Quincy's short growing season and as the tour wound to a close in stunning Plumas County, a restful feeling settled over the afternoon.
Gardening is both a lot of work and a lot joy, it was agreed, and smiles and thanks were heard across the lawns and flowerbeds. Visitors came away with ideas for their own properties, some asking for cuttings of this plant or that, and it seemed the guests could hardly wait for next year's garden tour.