AFA finishes up the 2017-18 fish rearing season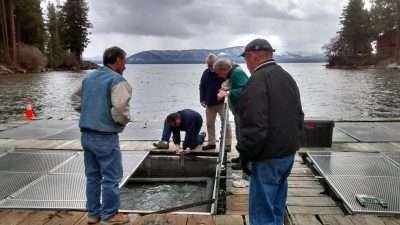 Thanks to the dedication of the volunteers with the Almanor Fishing Association  there are 35,000 additional rainbow trout roaming freely in the waters of Lake Almanor.
Most interested folks probably remember that last October members of the AFA transferred 35,000 diploid (fertile) Shasta Rainbow trout from the California Department of Fish and Wildlife to the association's holding pens at Hamilton Branch.
The old adage "That's when the work begins" would be very fitting as the volunteers start the process of caring for the fish that includes daily feedings.
The feedings need to be completed regardless of weather conditions and often require snow removal from the pens and the stairway down to them as well as scooping out the debris that builds up inside the cages during heavy runoff periods.
On Thursday, April 12, the 16 members of the feeding crew were invited over to Brett and Paula Hurff's house for an appreciation lunch in recognition of diligent efforts they made throughout the entire season.
Hurff said, "The lunch was just a small token of appreciation for all the hard work and commitment our volunteers displayed for the task and didn't miss a day of feeding during the almost seven months of care."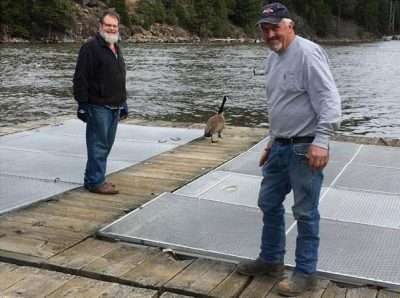 "This not only gave us the opportunity to enhance an already strong camaraderie among the volunteers, but the chance to share our feeding experiences during the past months and discuss future plans regarding the ongoing maintenance of the cages," Hurff added.
Right after lunch, the group headed down to the pens to fulfill their final task as the swung open the gates and released the rainbows into the open lake.
Advertisement
It was readily noted that the trout were approximately 3 1/2 to 4 inches long when they arrived in October, but had matured well with an average length of about 9 to 10 inches and had added nice girth.
Volunteers said the Canada goose that had taken up residence on the platforms was not too happy with all the commotion, but stuck around to see the activity.
Another party interested in the proceedings was an area osprey who decided to hang out overhead.
Seconds after the release was complete the raptor swooped down, hit the water and took off with one of the newly released trout.
Fortunately the water clarity in the Hamilton Branch was very poor that day and the crew was optimistically hopeful that the murky water would allow most of the trout to disperse without being easy targets from above and/or below.