Almanor Basin groups propose trail expansion around Lake Almanor
By Roy Stearns, Friend of Almanor
Recreation and Parks District
A coalition of recreation and conservation groups, with public agency assistance, is proposing a greatly expanded network of bicycle and hiking trails all around Lake Almanor and beyond. These groups believe the future for the Lake Almanor Basin communities would greatly benefit from the expansion of hiking and biking trail recreation that is exploding in popularity across the nation. In many areas, the trails have brought more visitors and more spending, creating a magnet for revitalizing struggling local economies.
This proposal, as outlined in the Lassen/Lake Almanor Basin Regional Trails System Concept Plan, would construct a network of trails connecting all the Lake Almanor Basin communities, connecting also to the Pacific Crest Trail (PCT) and the Bizz Johnson National Trail in the project area, located in northeastern California. This Concept Plan was recently published. Anyone interested can see the entire plan by going to the website www.yourARPD.org.
"We think that hiking and biking trails would be a great step for preserving our green space and our cultural and biological resources, and encourage the health of participants," said Carlos Espana, Trails Coordinator for the Almanor Recreation and Park District (ARPD).   "At the same time, this could help us build a better economic future for our communities by bringing a recreation attraction that is presently drawing thousands of people to trail centers across the nation
As the Concept Plan states, the Lake Almanor Basin regional economy has been negatively impacted by reduced timber production and by the Great Recession of 2008 such that a declining and aging population was continuing as of the 2018 Census data. With that in mind, the Almanor Basin Trails Coalition is hopeful that when added trails lead to and through their rural communities, hikers and cyclists will discover the area's beauty and envrionmental importance while stopping to spend money in the local communities.
Charlie Plopper, ARPD Board member and Mountain Meadows Conservancy (MMC) Board member, said he was impressed and encouraged by what he saw on a European vacation to Austria. Said Plopper, "We learned that this little town in Austria fell apart because they closed down the timber industry. But what they did was build miles of trails through this beautiful area, creating a whole new recreational trails industry that brought the community to life again.
How much has hiking and biking tourism added to local economies across the nation? Consider this: The Outdoor Industry Association released a report in 2017, the Outdoor Recreation Economy Report (https: outdoorindustry.org/advocacy/), which studied several outdoor recreational activities. Consumer spending for the combined "Trail Sports" and "Wheel Sports" subsector categories (hiking and biking) is $259 Billion, higher than any other outdoor category listed in the report.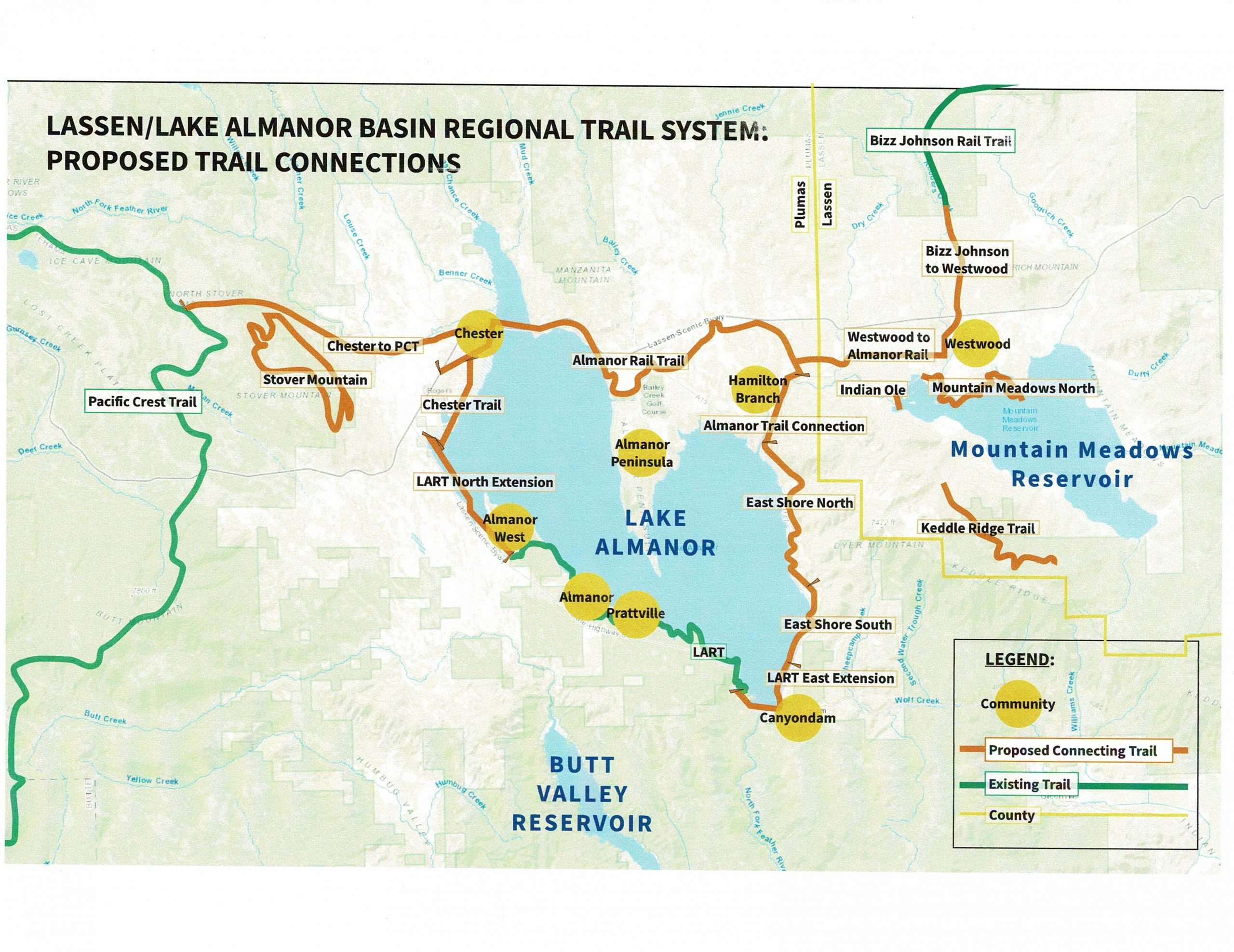 As the report states: "Outdoor recreation is something a majority of Americans embrace in some fashion or another." From this, Espana concludes that if Almanor makes its plan a reality, additional hiking and biking tourism dollars will spill into Lassen and Plumas county communities, bringing much needed economic revitalization to the communities around the lake.
The draft Concept Plan, just electronically published by volunteers from the National Park Service, was written by members of the Almanor Basin Trails Coalition, a local community group. It went through a process of five community public meetings for input and comment before being worked into the Concept Plan by a planning leader from the National Park Service Rivers, Trails and Conservation Assistance Program. It describes an extensive network of 19 different trails connecting communities all around the Lake Almanor Basin: Chester, Prattville, Almanor, Lake Almanor West, Canyon Dam, East Shore, Lake Almanor Peninsula, Lake Almanor Country Club, Hamilton Branch, Clear Creek and Westwood. In addition, the trails would connect to the Pacific Crest National Scenic Trail 7 miles west of Chester and to the Bizz Johnson National Recreation Trail.
At Bodfish Bicycles and Quiet Mountain Sports, owner Chuck Elliott said, recreation is the deal.   "Old Town Chester is at least two-thirds vacant with these buildings. If it became a destination place for recreators, which it is, it already is and has been for a while, but I think it would revitalize Chester and all this real estate could be put back to use and parking lots full and people enjoying it."
Sharon Roberts, owner of St. Bernard Lodge and member of the Lake Almanor Area Chamber of Commerce Board of Directors, said the proposed trails plan is just what the community needs for the future. "Oh, I think it will be amazing "I have guests that stay with me to go ride the Bizz Johnson. And I am only 1.4 miles from the Pacific Crest Trail."
Advertisement
Terry Collins, Forester with the Collins Pine Company, said he supports the trail proposal and hopes it brings more tourism into town and to the museum. "We would definitely like to have the museum be a part of what people would stop and see. I, in fact, even out there on the Pacific Crest Trail, I have put brochures on the museum", said Collins.
An area remarkably similar to the Almanor Basin is the communities of Oakridge and Westfir, Oregon, located in the western Cascade Mountains. Linda Kamerrer, President of the Oakridge Chamber of Commerce said trails have had a huge impact.   "Trails are now one of the economic drivers of our community," added Kamerrer."
Roy Stearns, friend of ARPD, former reporter with KCRA TV, Sacramento, and former deputy director for communications, California State Parks.