Art and produce create this garden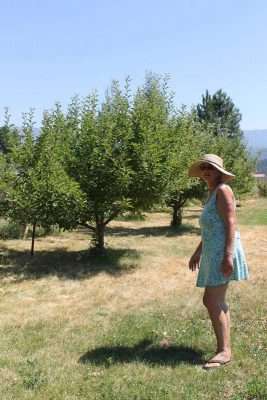 It's a garden heavy on the artwork, a hobby and a way of life for Katherine and Greg Kinne of Quincy.
Despite the heat of a mid-July morning the well tended raised beds and carefully mulched planting areas around the Kinnes' new home bring to mind an oasis — a quiet place to wonder about and think.
The Kinnes have been developing their extensive gardens for six years, Katherine said recently. When their home was finished two years ago they could give up the trips back and forth to their previous home on Chandler Road to the new venture on Quincy Junction Road.
"I always have to have projects," Katherine revealed. And when the Kinnes purchased the Quincy Junction Road property some years ago she knew it had great soil and plenty of sun two ingredients in demand for great gardens.
Katherine was no stranger to gardening, she'd grown things at their old home, but it was hillside and more shaded. The new land is flat, former pastureland. Its only drawback is the gophers.
"My husband does all the infrastructure work," Katherine said about their arrangement. He builds everything, including creating the art pieces found at strategic points throughout the yard. He also installs the irrigation systems and has built the various walls.
Katherine's domain involves the plants. She selects many of her seeds from Baker Creek Seeds; a Missouri-based company specializing in non-GMO open pollinated seeds. Her fruit trees including a pair of pears and several varieties of apples come from Peaceful Valley Gardens near Grass Valley.
This year, Katherine is trying 13 different varieties of heirloom tomatoes. A favorite is pineapple, a large yellow tomato with yellow fruit streaked with red.
A new one is silenz. There's jetsetter, an early variety, and many others. "I like different colors of tomatoes," she said. And this year she's adding Berkeley tie dye — a pink and green variety.
As an experiment, she planted two varieties in a raised bed in the open. Then she planted the rest in two rows of raised beds inside a greenhouse. There is no real comparison. The ones outside are doing about what one would expect. The ones in the sheltered area are stunning. Already she has large, heavy crops. Pointing to one behind another cluster of large, green tomatoes, she guessed that it must weigh 2 pounds.
This year, she's only enjoyed about four ripened tomatoes, a disappointment compared with other years. But with the weather being unpredictable her seed starts were way behind.
While Katherine makes sure she had plenty of tomatoes plants to meet her needs for fresh eating and canning, she grows far more than just tomatoes.
Cucumbers — canning and fresh-eating varieties — summer and winter squash, fava beans, basil, lettuce and much more are produced on the Kinnes' one acre.
Katherine said she purposefully keeps her produce choices and plantings limited. "I don't want it to take over my life," she explained.
While Katherine discusses and shows off her garden, periodically a beeper on her phone reminds her it's time to stir her granola. It's there in a solar oven on the front walk.
The Kinne's new home is completely off the grid. She said they knew they wanted to install solar, but when the electric company wanted $15,000 to $20,000 to connect their home to their services, they decided to get a generator. So now not only is a good portion of the food low-cost, there's no electric bill.
Farm Crawl, Aug. 4
Kinne Gardens is just one of the stops along the way during this year's Farm Crawl, which includes eight locations and runs from 8 a.m. to 2 p.m. Saturday, Aug. 4.
This year's event includes three Quincy area locations: Follow Your Heart Farm on Highway 70 west of Quincy; Five Foot Farm in Quincy across from the airport; and Kinne Gardens on Quincy Junction Road.
In Meadow Valley, there's the FulHat Farm on Silver Creek Road; SnoSki Gardens on Bucks Lake Road just past Schneider Creek Road; and Let it Grown Farm on Bucks Lake Road about a half-mile past the old Meadow Valley School on the right.
Toward Indian Valley, there's the Shoofly Farm at Indian Falls Road just off Highway 89; and the Greenville High School Garden at the school in Greenville.
All designations will be clearly marked, according to Laurie Rodriguez, one of this year's participants and a promoter.
More information is also available at plumasgrown.com.
The Farm Crawl is an annual event sponsored by the Plumas Grown and the Plumas Farmers Guild.
The guild is dedicated to promoting local farming and growing efforts.
Everyone participating in this year's Farm Crawl is dedicated to sustainable agriculture. These farmers work part time and farm part time to pursue what they love to do and practice their commitment to grow healthy foods in Plumas County.
Donations are accepted to help continue the programs.