How to become a horse whisperer
"I feel incredibly blessed to get to live in such a beautiful place, ride horses and get graded for it."
Those are the words of Rachel Frantz: rodeo queen, champion horse rider, horse whisperer and first-year student in Feather River College's new four-year Equine Studies bachelor of science program.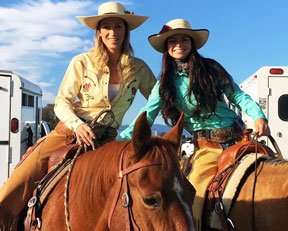 This is the story about how Frantz' love of horses led her eventually to Quincy and the Equine Studies program.
Frantz grew up mostly in rural Penn Valley, located 15 miles west of Grass Valley.
Frantz' love for horses goes way back. In fifth grade, she asked her parents for a horse. Rachel's parents, Tom and Star Frantz, told her if she really wanted a horse, she would have to prove it to them.
She did. Frantz worked at a ranch in Penn Valley four days a week after school in exchange for riding lessons.
In fifth grade, Frantz met Kaity Montre at school. Montre had a horse and Frantz would go over to her house to ride. They became best friends.
In sixth grade, Frantz' next-door neighbor gave her his horse. She continued to work at the ranch in exchange for room and board for her new charge.
In seventh grade, Montre told Frantz that she was going to try out for Penn Valley Rodeo Queen and she wanted Rachel to do it with her. Frantz' mom asked her if she was sure she wanted to do that because, as Frantz said, "I was such a tomboy. … I tried out for rodeo queen because Kaity was doing it. But I was also up for anything that had to do with horses."
Advertisement
Frantz subsequently became Penn Valley Rodeo Queen several times and is currently princess of the Folsom Pro Rodeo in Folsom. She travels to the Sacramento area to promote the Miss Folsom Rodeo.
As is usually the case, life became more complicated after high school.
Frantz and Montre went away together to Sierra College. Frantz couldn't find anything at college she was that interested in.
"I was just taking classes to be taking classes," said Frantz.
It took her five years, but Frantz got her AA degree in communications. Then she signed up to go to Chico State beginning in Fall 2015, still not sure about what she wanted to do.
Meanwhile, Montre had moved on from Sierra College to Cuesta College in San Luis Obispo, where she was eventually hoping to get into Cal Poly's equine program.
However, before school started in the Fall, Montre called and told her friend, "I heard about this school in this small town in the Sierras that has this interesting horse program. We ought to go visit it."
So, they did. As Frantz tells it, "I don't know. When we came to Quincy all the leaves were turning. It was so beautiful here."
When they got to the FRC Equine Center, there was a famous horse expert, Richard Winters, giving a lecture there that day.
Frantz described their surprise, "What was Richard Winters doing way out here in this little town?"
Equine studies at FRC
Then they met Russell Reid, the founder of the Equine Studies program at FRC. He and the program impressed them so much that by the end of the day they were both signed up for the new four-year bachelor of science degree in equine and ranch management.
Frantz and Montre started attending classes at FRC in Spring 2016.
In equine studies, students get to decide what areas of the horse industry they want to study. Frantz has been involved in horse breeding, working with mares and foals and training young horses for the annual horse sale at the college.
Every student in the program has a horse they are responsible for. Since Frantz is in the four-year program, she has two horses to train.
In addition to those two horses, Rachel has her personal horse, Babe, at the center that she brought up from home. Frantz worked extra hours at the college in exchange for Babe's room and board.
Frantz' horse has since been impregnated. Babe's foal will be given to the equine program in exchange for Babe's room and board.
The horses trained through the Equine Studies program sell for a premium at an annual spring sale because they are so well trained. One horse sold for $16,500 last spring.
The students keep 10 percent of the selling price of the horses that they have trained.
Russell Reid has a saying that the program uses as its motto: "If there is a problem with a horse, it is a problem with a person." That person hasn't figured out how horses think and how to work with them.
Reid has other sayings that further illustrate his philosophy: "Horses and humans are capable of a very special partnership, a kinship, a unity of spirit," and, "If you don't expect much from your horse you won't get much."
In addition to learning about horses, all students in the Equine Studies program are required to learn business and entrepreneurial skills.
After college, Frantz wants to work in the horse industry: "Maybe in breeding. Maybe working with mares and foals."
Frantz is also considering combining the communication skills she learned at Sierra College with the horse skills she is learning at FRC.
Korey O'Connor, a third-year student from Santa Rosa, said he wanted to gain experience working on a ranch.
O'Connor was as enthusiastic as Frantz about the equine program and about living in Quincy. O'Connor said he stayed in Quincy for a third year because he liked the Quincy area and the equine program so much.
"It's a great program, with great teachers, and in a great environment — all that together," said O'Connor.
For more information on the Equine Studies program at FRC, for either the two- or four-year degree programs, visit frc.edu/equinestudies/about-the-program.cfm, call 283-0202, ext. 272 or email [email protected].
The Equine and Ranch Management program is the first four-year program to be created at Feather River College and is one of only 15 community colleges in California with four-year degrees.