Behavioral Health grant funds $1,500 in donated new books for Plumas County Library branches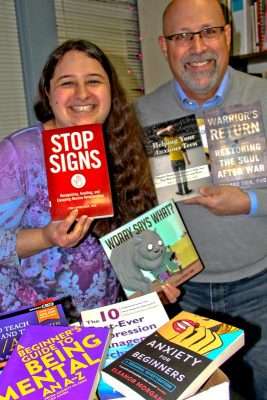 When it comes to meeting community needs throughout the region, Plumas County Librarian Lindsay Fuchs, MLIS, believes in maximizing partnerships to stretch both dollars and resources.
So, when the county's Director of Behavioral Health, Tony Hobson, Ph.D., made her an offer she couldn't refuse, she gladly said yes.
Hobson had an opportunity to spend some grant money on literacy services that would address concerns and awareness about vital mental and behavioral health issues such as anxiety, depression, ADHD, trauma, suicide, domestic violence, healthy relationships and more.
There's help out there for these issues, which often impact local families.
Advertisement
Working with Fuchs, Hobson came up with a plan to make more resources available to community members countywide.
The result? A generous gift of approximately 100 brand new books worth about $1,500 were donated Oct. 17 to the county library for distribution to all four branches in Chester, Greenville, Portola and Quincy.
The books provide helpful information on a range of critical emotional and mental health needs and are available for checkout or reserve by contacting your local library.
"We hope this increases awareness about what mental illness looks like because it's different for everyone," Hobson said as he delivered the hefty donation of new books, many of them useful for self-help and research on common problems faced by Plumas County families and others.
Hobson explained that these kinds of resources are typically available for individuals involved in behavioral health services, including the criminal justice community. But, he and Fuchs agreed, with titles on such topics as easing anxiety, managing depression or learning what healthy relationships are, there was substantial value in making the new books available to the general public.
"Hopefully, we can prevent some problems within our communities and the county," Hobson said, adding a special thank you to county employee Chae Shannon for her work coordinating the grant expenditure and procurement of the books.
Many times, having access to the right book at the right time helps answer questions about issues people are facing and takes some of the stress out of dealing with difficult family situations.
Fuchs expressed her appreciation, too, and thanked Hobson and his team for collaborating on this joint effort to serve Plumas County communities.