Billie Marie Bernstein passed away at her home in Prescott Valley, Arizona, on November 11, 2021. She was the daughter of Lawrence and Eunice Pickett and was born on February 2, 1944, in San Mateo, California.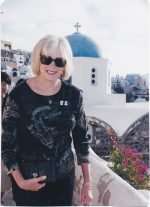 Her husband Ron was at her side when she left his world and went to be with Jesus. She was a loving wife and mother. She left behind her husband Ron, her son Ron Checchi, her daughter Holli Bachman, her stepdaughter Monica Fratini, her sister Lindia Marcelli, her brother Larry Pickett, and several nieces and nephews.
She is now at rest with our loving God. Arrangements Entrusted to Ruffner-Wakelin Funeral Homes and Crematory. Please visit www.ruffnerwakelin.com to sign the online guestbook and share a memory with the family.