Board fetes departing board member, welcomes new Sam Blesse to the role
By Debra Moore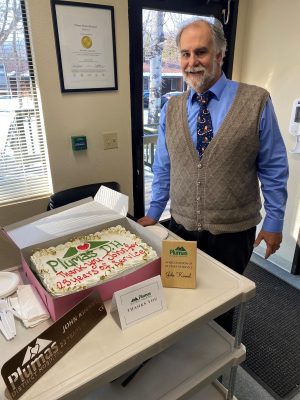 Out with the old and in with the new. Sorry, John Kimmel, I couldn't resist. The Jan. 26 meeting of the Plumas District Hospital board of directors was without Kimmel who retired from the position after serving for 23 years, and welcomed new director Sam Blesse.
Plumas News is sorry see to Kimmel leave. He was a conscientious board member who contributed regularly at the meetings and behind the scenes. He brought a solid financial background to the position and always was available to explain the latest data. He served on the finance committee and helped guide the hospital through some challenging times. His expertise will be missed.
He was acknowledged during his last meeting in December, but some of his co-directors wanted to share some additional thoughts about Kimmel and his tenure.
 "It has been a pleasure and honor to serve on the PDH Board with John Kimmel for the past 12 years. John has been invaluable when comes to overseeing and understanding our finances. He is dedicated to his community and the well-being of our employees. Our meetings will not be the same without John. Thank you for your long tenure." – Bill Wickman (Board Chair)
 "It has been my pleasure and a wonderful experience working these past 16 years with John Kimmel on the PDH Board of Trustees. His calm demeanor and compassion for our communities and patients were an asset to the board. I am grateful for him as a friend and mentor as hospital finance and board responsibilities are far different than in other organizations. I learned much from him. He will be greatly missed by me and many others." – Valerie Flanigan (Board Member)
But while the board was sad to see Kimmel depart, they are happy to welcome the newest board member, Sam Blesse. Blesse is no stranger to PDH. Blesse is the Care Flight EMS supervisor and has spearheaded the Heart Safe program throughout the county. As with Kimmel, Blesse is always available to answer questions regarding the emergency response in the county, as well as the efforts to make all communities Heart Safe.
 "As sad as I am that John Kimmel has stepped down from the board – I am equally excited to have Sam Blesse join us. Sam will have a leg up as he has been involved in medical care, hospital and ambulance services over the years. I look forward to working with and learning from Sam and I am very grateful that he stepped up and agreed to serve." – Valerie Flanigan
"I welcome Sam Blesse into his new role as a PDH Board member. Sam will bring a wealth of knowledge and experience from his current position with REMSA. He also brings the strong commitment to our District from being raised in Quincy and now raising his own family here. His connections within the community and the emergency field will be a strong asset for the Board. I am looking forward to serving with Sam." – Bill Wickman