Building a landmark theatre for the community
In 1991, Earl Thompson and Edie O'Connor met and fell in love as actors in a performance of "Lil' Abner" in Quincy. He played Ever Available Jones and she played one of the wives in Dogpatch.
On their first date, Earl stepped on Edie's toes so many times dancing that both of her big toes turned black.
Edie said, "I was superstitious, I thought he would leave by the time my toes turned white again." Earl stuck around and they've been a couple ever since.
They both stayed involved in the theatre. Earl was a member of the board of directors of the Town Hall Theatre for 12 years.
Close call with death
In 1998, Thompson and O'Conner went off with their two daughters to the Maldive Islands in the Indian Ocean. Before they left, O'Conner, a physician's assistant in Quincy, removed a cyst from Thompson's back and sent the tissue off for analysis.
When they returned to Quincy, they were told that the growth was melanoma skin cancer and that the cyst was malignant. Fortunately, it turned out that O'Conner had cut out all the cancer.
Thompson's near death experience was a wakeup call for him. As is often the case, Thompson reevaluated his life.
Thompson decided there was more to life than making money and that he didn't need to work anymore. He decided he was going to build a great regional theatre for the community.
Just as people sacrifice and volunteer for things they believe in, Thompson said, "Building the theatre was my version of volunteering at a church, a food co-op or a volunteer fire department. It was everything for me."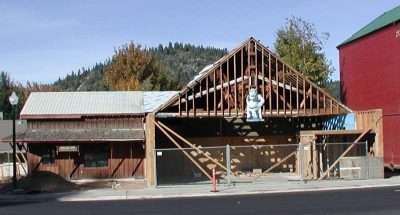 Build a theatre and they will come
Before they left for the Maldives, Thompson and O'Conner had been putting on shows at the Town Hall Theatre and using one of Thompson's properties for rehearsals. However, some of the Town Hall's directors were not happy about plays in the theatre.
Earl decided to convert his rehearsal building into a first-class regional theatre. He spent 11 years building the theatre from the ground up
with help along the way.
Jeff Bryan from Bucks Lake was a retired professional stagehand who
has worked at the major theatres. Edie said, "He'd seen it all."
Bryan designed the facility so that the configuration of the stage and seating can be changed to suit the performance. He continues to direct plays at the theatre and run the sound system.
The original building is the oldest building still standing in Quincy. It was built as a livery stable in 1852. The front of the building had already been changed from its original look by 1998.
Richard Daun of Quincy drew up the architectural plans and saw them through county planning.
Thompson, worker Johnny Wooler, and many volunteers spent a year rebuilding the roof and making the old structure structurally sound and earthquake safe.
The theatre opened five years ago, in March 2012, putting on four plays per year. Danielle Wagner Plocki, theatre manager, has been spearheading the children's theatre. Michelle Black assists Plocki.
The theatre is a labor of love for Thompson and O'Conner and a gift to Plumas County.
Clouds on the horizon
The mission of the theatre and its nonprofit arm, dramaworks, is to promote the enjoyment of theatre arts, facilitate children's and community theater programs, reduce cultural barriers and improve the lives of rural families and children.
But the West End Theatre has not yet been recognized as the excellent regional theatre that it is.
However, putting on a first-class play or a music concert costs money and needs attendees to pay the bills.
The West End Theatre board of directors met March 26 and decided it could no longer continue to lose money and was going to concentrate resources on the children's theatre.
In truth, Thompson paid for construction of the theatre and has been paying most of the shortfall to this point himself.
Thompson said, "We decided what is really important is giving children the chance to experience the theatre. We've never turned a child away for lack of money."
Thompson remarked, "Some families have moved to the county because of the children's drama program."
There won't be as many adult plays this fall unless other people take the lead, as Teresa Gallagher is doing with her production of "Cabaret," which begins May 5.
Thompson commented, "Our current donors are great, but we need more donors."
More people need to come to the theatre for performances on a regular basis as well, if the theatre is to become sustainable.
Thompson noted, "We can't raise the price of plays and concerts, and don't want to, as many members of the community can't afford higher prices. We need more people to come out to see performances more often."
In Martin Seligman's 2002 book "Authentic Happiness," Seligman found that there were only two ways to achieve lasting happiness: positive loving relationships and living for something bigger than yourself.
Building and operating the West End Theatre was and is a labor of love for Thompson and O'Conner and a gift to the county. Perhaps it's time for individuals in the community to give some love back?
Costs associated with putting on a professional play at the West End Theatre
"Oliver," August 2016
Royalty fee for play: $2,200
Set construction: $6,400
Costumes: $1,700
Theatre use: Not charged
Director's fee: $2,500
Advertisement: $1,700
Other: $5,800
Total costs: $20,300
Ticket sales: $11,500
Profit or loss: -$8,800
Costs associated with putting on a music concert at the West End Theatre
Rent and utilities for theatre: $600. Performers get 80% of ticket fees over the $600
Lumbercat, January 2017
Light and sound: $140
Advertising: $400
Band: $580
Theatre use: Not charged
Total cost: $1,120
Ticket sales: $1,130
Profit or loss: +$10
Ned Evett, February 2017
Light and sound: $140
Advertising: $400
Band: $300
Theatre use: Not charged
Total cost: $840
Ticket sales: $575
Profit or loss: -$265