Business Scene for the week of 7/3/18
ALMANOR WEST'S NEW MANAGEMENT
Lots of new things going on at Lake Almanor West Golf Course and its restaurant, Almanor West Grill. The
construction/remodeling is now finished and the most noticeable change is the new deck for patrons to enjoy a beverage or meal while enjoying the spectacular views.
Returning from last season is Ryan Trask, but this year he is the golf pro and manager of the pro shop operations. Ryan has the experience to offer beginners as well as experience golfers the instruction to improve their golf game.
Nicole Machado is the new manager and executive chef of the Grill. Nicole graduated from Greenville High School where she took culinary classes. She later worked at other restaurants while refining her cooking skills with an emphasis both variety and quality.
NEW PROJECT MANAGER NAMED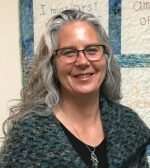 Plumas Crisis Intervention and Resource Center (PCIRC) has named Michelle Ridley as its new project manager for the Rape Crisis Center. Michelle wears several hats that include being a family advocate, grief recovery specialist and the Salvation Army representative for PCIRC. She says that much of her day is spent counseling those in grief, those dealing with the ramifications of sexual assault, or anyone in need of general crisis intervention support. You will find her in the Portola Family Resource & Wellness Center on Ridge Street on Mondays, Wednesdays and Fridays and in PCIRC's Quincy office on Main Street on Tuesdays and Thursdays.
HIGH SIERRA KICKOFF PARTY
It's Music Fest time and Karen at the Main Street Sports Bar & Lounge in downtown Quincy is having their annual High Sierra Kick-Off Party on Wednesday, July 4, starting at noon. Both the bar and the lounge will be open with three bands — Maxwell Friedman, Tom Finch, and headliner Pamela Parker's Fantastic Machine — performing beginning at 5 p.m. Alley Kat burgers will be available throughout the day while supplies last.
EXPRESS IS NOW OPEN DAILY
Owner and Chef Lucio Macias tells us that Express Coffee Shop, on the top of Cemetery Hill in Quincy, is now open 7 days a week serving breakfast, lunch and dinner, except on Sunday when they close at 3 p.m. Just a reminder: On the first Saturday of every month they serve authentic Mexican dishes prepared by Lucio's wife Elvira and her sister Noemi.
BANK HIRES LOAN OFFICER
With its recent acquisition of a bank in Carson City, Plumas Bank has hired Ty Nebe as vice president, commercial/agricultural loan officer for the region. He will be responsible for generating loans and managing relationships for business clients throughout the region. "Ty will be a tremendous asset to our clients as we expand our business into Carson City and beyond. He will bring financial expertise and solutions to the needs of the businesses in that area. We are excited to have him as a part of our ever-growing bank family," said Andrew Ryback, the bank's president and CEO.
Pilates studio in Blairsden