Business Scene for the week of 10/11/17
New owners, new location 
NEW AUTOMOTIVE TECHNICIAN
Craig Cirves has joined the team of automotive specialists at DeMartile Automotive in Quincy. He has been a service technician for most of his adult life and has been a certified mechanic for the past 10 years. Craig just moved to Quincy from Reno, where he was born and raised. He spends his time off with his wife, Brittney (Wilcox), and their 13-month-old son, Wyatt. The shop, next to Les Schwab Tires and now in its 17th year, is a DeMartile family owned operation that includes Tim and Marcy, Evans and Kathy, J.R. and Evans Jr.
ARTIST MEET AND GREET OCT. 13
Crescent County's Lisa Forcino tells us her next featured Artists of the Month is Lisa Dunnington. An open house and meet and greet for her Hauntingly Enchanted Disguisements is Friday, Oct. 13, from 4 to 7 p.m. at the Crescent Mills gift, antique and collectibles store. Refreshments will be served and Lisa says cocktail attire is encouraged.
PET SITTER DONATES BEDS TO SHELTER
Mimi Garner of Sierra Adventures Pet Sitting Service donated eight homemade dog beds to the Quincy Animal Shelter. She said she made the beds to help the shelter so they could be placed on top of the cots for a little more warmth and comfort while the pets await adoption, at which time the beds can go with the pet to its new home. Mimi, who loves to sew and pet sit, hopes to donate another six beds later this month. To learn more about her pet sitting services and to read her reviews visit rover.com
CLOSE LOOK AT CANADIAN ROCKIES
Lorraine Hanson, proprietor and chef of Hanson's Homemade Pies, Bread and Custom Cooking on Nelson Street in Taylorsville, just returned from a week-long horse pack trip with her brother Frank Hanson in Banff, Canada, and said "It's the only way to see the Rockies!" She's back at work and ready for your Thanksgiving pre-order pie orders. This year Lorraine is offering pumpkin, pecan, apple and French peach pies. Lorraine is considering keeping her summer hours Tuesday through Sunday. Besides her delicious pies, she offers a selection of pastries and Quiche in the mornings and salads, sandwiches, wraps and soups (in winter) for lunch.
Advertisement
Barn Owl Books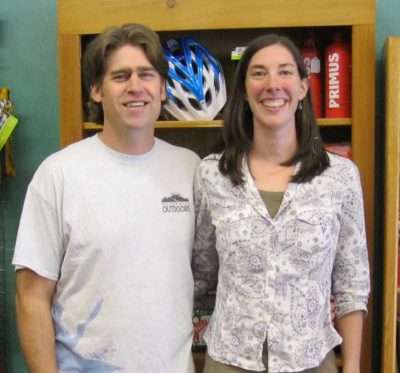 CUSTOMER APPRECIATION DAY
Quincy Natural Foods Co-op and Feather River Food Co-op in Portola are each having a Customer Appreciation Day on Saturday, Oct. 28 from noon to 4 p.m. Guests will see active food demonstrations, with ample sampling, pumpkin painting, prize giveaways and more. Mark your calendar.