Business Scene for the week of 5/10/17
New owner, new home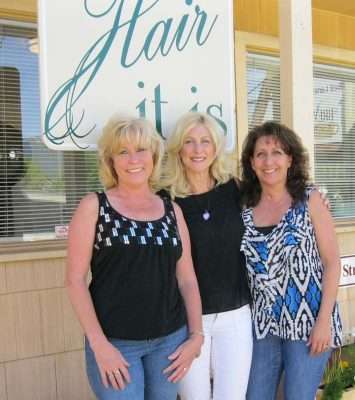 PLUMAS BANK PROMOTES TWO
Plumas Bank President and Chief Executive Officer Andrew Ryback announced that two very motivated and hard-working employees were recently promoted in the bank's administration office.
Amber Marshall was promoted to assistant vice president, bank security officer. She has been with the bank since October 2001 and is responsible for security throughout all Plumas Bank locations.  Amber has a degree in Criminal Justice from Feather River College.
Shelly Pinelli was promoted to manager of the Customer Resource Center. She joined the bank in November 2005 and assumed leadership of that department in June 2013. "Through Shelly's leadership and project management skills, the department's productivity has increased exponentially," said Ryback.
DESIGN INSPIRATION EVENT COMING
Crescent Mills resident Moorea Hoffman, founder of Kitcheneering, is having a Design Inspiration event Friday, May 19, from 3:30 to 6:30 p.m., at Crescent Country. Moorea, a frequent speaker at National Kitchen and Bath Association conferences, will discuss the latest trends and offer home remodeling suggestions while offering free resources and tips to get the most out of your personal design budget. She has designed home renovations throughout Southern California and consults on projects across the nation and internationally. Attendees will be able to enter for a chance to win a free consultation with Moorea.
GRAND OPENING, DEMOS AND PRIZES
Pam Ayoob moved her spa and essential oil business from the Rec Center at Plumas Pines Resort to 315 Bonta St. in Blairsden and has renamed it The Shop. A grand opening celebration continues each day from noon to 6 p.m. through this Saturday, May 13, with prize giveaways, demos, samples and more.
11th ANNUAL BENEFIT TAKEOUT LUNCH
It time once again to help support the Quincy United Methodist Church's weekly Community Supper program by participating in this year's Benefit Takeout Lunch event. As she has done for the past 11 years, Caron Chance at Back-door Catering will prepare the takeout lunches consisting of a smoked turkey and cheese sandwich on a croissant roll, chilled fruit salad and a freshly baked cookie for this fundraiser. You can pick up your lunches — orders for 10 or more will be delivered — on Thursday, May 18, from 11 a.m. to 1 p.m., at the Quincy Methodist Church's Fellowship Hall. This has become a tradition for the staffs at offices and businesses to make a $10 donation and rally around this worthy cause while enjoying a terrific lunch artfully prepared by Caron and her staff. Orders should be placed by this Friday, May 12, by calling 283-1740.
STARFIRE OFFERS NEW DANCE CLASSES
Starfire Dance owner/instructor Vikki Dedecker-Freeman is offering both youth and adult classes at the Quincy Yoga and Wellness studio in the Plumas Pines Shopping Center. Youth class for basic tap, jazz and character are held on Tuesdays from 3 to 4 p.m.. The adult class is a high-energy show tap class on Thursday evenings from 6 to 7:15 p.m. and belly dancing is Tuesdays at 6 p.m.
COSMETOLOGIST JOINS CHESTER SALON
Kyndri Velasco has joined the team at The Garden Salon & Spa in Chester where she will be doing hair styling, facials and waxing. Originally from Taylorsville, Kyndri graduated from the San Rafael Beauty Academy in 2009. In 2015, she and her husband bought a home at Lake Almanor. She says she is excited to be a part of the community and looks forward to working at the Garden Salon. Kyundri is offering specials on her services through May. You can call 310-8009 or go online to make an appointment.