Business Scene for the week of 8/16/17
FLETCHER JOINS QUINCY FIRM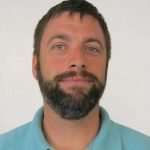 Now retired after a distinguished 21-year career in the U.S. Army, Rick Fletcher decided to sell real estate in this next chapter of his life. After passing the state exam and earning his real estate license in July, Rick joined Quincy Real Estate and Property Management, coincidently owned and operated by his mother, Jan. He and his wife Eliza and their 10-year-old, Gabriel, relocated from Fort Bragg, North Carolina, and are looking forward to becoming very active in the Quincy community. Rick says his has a special interest in the Boy Scouts and Cub Scouts programs, which he intends to actively pursue.
LOCAL ARTIST SHOWCASES HIS WORK
Artist Michael Kerby is opening his Meadow Valley studio, located at 266 Willow Way, for a special showing and sale this Saturday and Sunday, Aug. 18 and 19, from 10 a.m. to 5 p.m. All of his original paintings and limited edition prints will be offered at 30 percent off. Michael works in watercolors, acrylics and prints.
RIB COOK-OFF WINNERS
Twain Store and RV Park owners Hardy and Joyce Lindahl couldn't have been more pleased with their first-ever Rib Cook-off held Aug. 5. They said people came from Quincy, Indian Valley, the Canyon and other areas to enjoy the day's festivities. Brian Hughes of Que-Town BBQ of Quincy captured first place; Second place went to Brandon Robinson of Kill It & Grill It in Crescent Mills and the third place honors went to Chris Tolen and Jacob Tull from Greenville. The three judges (the day's true winners getting to sample all the entries) gave honorable mention awards to Victor Rangel of Twain; David Ludington of Quincy and Craig and Bill Lindahl of Greenville. This is now an annual event so watch for its return next summer!
TWO-FOR-ONE DINING CARDS ON SALE
The Graeagle Lions Club's new money-saving and popular dining cards are on sale once again at Maybe Antiques or by calling 836-2406. For the $50 price of the card — and only 100 will be sold — diners will enjoy two entrees for the price of one at the following participating restaurants: Nakoma Resort, Graeagle Millworks, Sharon's Café, Longboards, Gumba's, Graeagle Restaurant, Neighbors Bar-B-Que, Cuccias, Golden West Dining and Bordertown.
FRC NETWORK FAIR FRIDAY
Feather River College invites local businesses, organizations and service provides to meet with incoming college students during the Network Fair at the New Student Orientation Day on Friday, Aug. 18, from 9 – 10 a.m. Contact Connie Litz at 283-0202, ext. 317, or Carlie McCarthy at extension 273 to participate. It's a perfect way to welcome them to Plumas County while showing them what you have to offer.
LIVE MUSIC IN GRAEAGLE
Johnny Walker and Greg Willis are the featured performers tonight, Wednesday, at the Graeagle Mill Works. Proprietor Sonja Partain offers live music every Wednesday evening throughout the summer season complemented by a special dinner menu. Sonja represents the third generation to operate the breakfast and lunch restaurant noted for its house-made soups, sandwiches, baked goods and specialty coffees.