Cannabis ordinance discussed in Greenville
The surprising thing about the Plumas County Cannabis Workgroup's first outing into a county community with its draft countywide cannabis ordinance is that the meeting went so quickly.
On July 6 in Greenville, Kevin Goss, county supervisor and chair of the workgroup, encouraged anyone who wanted to present his or her questions and opinions to the workgroup to do so.
Goss strictly enforced a three-minute limit on each speaker and stopped all back and forth conversations as they cropped up.
As a result, everyone was given the opportunity to be heard and the meeting, which drew approximately 50 people, started at 6 p.m. and was over by 8:30 p.m.
Allowable cannabis operations according to land use
Plumas County Planning Director Randy Wilson started the meeting by displaying a map showing the locations of county land use designations around Greenville.
A large color matrix was also passed out that displayed the types of cannabis operations that would be allowed in each land use area.
A map displaying designated land uses can be viewed on the Plumas County website.
The color matrix, draft cannabis ordinance and summary of the ordinance will be available from the Cannabis Workgroup website.
Certificate or permit?
According to the draft ordinance, people hoping to grow, process, test, transport or sell cannabis in Plumas County will need either a zoning clearance certificate or special use permit from the county.
Cannabis operations in residential and industrial land use zones will require special use permits. All other zones will require zoning clearance certificates.
Rebecca Herrin, senior planner at the planning department, said that special use permits are required whenever there is a question of economic, environmental or social incompatibility.
Special use permits are given out on a discretionary basis and require environmental analyses, public hearings, newspaper notices, reviews by local and state agencies and, finally, adoption by the board of supervisors.
Herrin said that zoning clearance certificates will be a new type of authorization for the county, situated between a permitted use and a special use permit. Humboldt County has used them to streamline the granting of cannabis operations.
With zoning clearance certificates, the planning department will use a checklist to see if applicants qualify for the certificate and, if granted, operators will have to follow enforceable regulations.
Local control
Speaking to local growers and post-harvest operators, Wilson told them that if they don't get a local cannabis permit or certificate they won't be able to get a state license.
Plumas County has until Jan. 1, 2018 to have an ordinance in place or the state will take jurisdiction over cannabis production in the county.
Wilson noted that the state has set a very high environmental and public health bar in regards to cannabis operations.
Advertisement
Recreational vs. medicinal uses
Recently, Wilson said, the state combined both the medical and recreational cannabis laws into one law covering all cannabis uses.
Recent state regulations for medical cannabis will be thrown out and new regulations written for combined use.
Wilson noted that Plumas County voters passed Proposition 64 to legalize cannabis for recreational use by 51 percent.
The ordinance adoption process
After input from all five communities, the draft cannabis ordinance will be updated and sent to the county's planning commission.
The planning commission will hold public hearings and then send its recommendations to the board of supervisors.
Herrin said that an environmental review will take place before the board of supervisors decides whether to adopt a cannabis ordinance.
Wilson told the audience, "There will be a lot of chances to tweak the ordinance as it goes through this process." He added, "When it comes down to it, it's the board of supervisors' vote."
If the county doesn't pass an ordinance
Advertisement
Wilson pointed out that if Plumas County does not allow commercial cannabis, according to state law, all adults in the county will still be able to grow up to six plants, indoors or outdoors.
Plumas citizens will also be able to buy cannabis produced in other counties, from outside the state or from illegal growers in Plumas County.
Wilson noted that California's cannabis laws designate that tax revenue from cannabis will go to the county where cannabis operations take place.
Kevin Danaher in support
Before other members of the public were given their three minutes, Kevin Danaher and Ralph Koehne were allowed to give talks supportive and in opposition, respectively, to the proposed cannabis ordinance.
Danaher made three points. First, the county needs more jobs and money in Plumas County and legalized cannabis production can provide that. "We have a chance to create jobs here," he said.
Second, he stated that the money from cannabis production needs to stay in the county. Danaher said, "I have worked in a lot of Third World countries. Did the people benefit? No, they did not! We can write the regulations [for cannabis operations] to keep the profits local and to protect our environment."
Third, he noted that human bodies and many plants contain cannabinoids and that cannabis has been used as a medicine for thousands of years.
He noted that cannabis was a major medicine in the U.S. from 1850-1937 and that states today with medicinal cannabis have lower opioid death rates.
Danaher said that it was only since 1937 that cannabis has become vilified. He noted, "We are suffering from 80 years of propaganda."
Ralph Koehne in opposition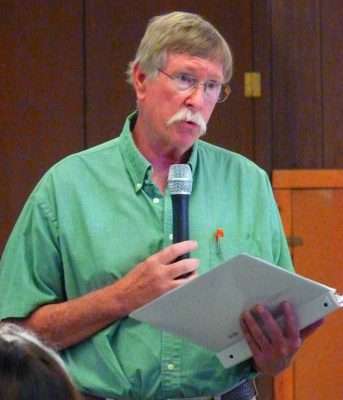 Ralph Koehne passed out a handout and gave a talk encouraging the county to restrict the production of cannabis in Plumas County. Koehne said in his handout that he did support commercial growing on agriculturally zoned land and in limited amounts on industrial, commercial and isolated properties that don't affect neighborhoods.
However, he does not want to see cannabis operations in areas zoned residential or suburban.
Koehne believes that large-scale commercial operations will bring in more illegal growers, traffic and crime, amongst other things. He also believes that the number of dispensaries should be limited, a higher county tax placed on cannabis and other changes made to the ordinance.
Other public comments
Approximately 16 citizens rose to give their comments concerning the proposed cannabis ordinance.
Seven speakers were in favor, five were opposed and four were less clear how they felt about the legal regulation of cannabis production and sales in Plumas County.
Those in favor of the ordinance identified the following advantages: increased money coming into the county, increased jobs, increased tax revenues, increased property values, changing the local cannabis industry from a black market to an open and legal market and protection of existing local growers and producers from outside corporate takeover.
Those opposed to the proposed ordinance identified the following disadvantages: cannabis production and sales around residences, water pollution, lowered water tables, bringing the wrong types of people into the county, concerns about how the industry would be policed, the presence of many absentee landlords, effects on fisheries and wildlife and a belief that cannabis is both a gateway drug and is already wasting many lives in the county.
Opportunities for future input
The workgroup will be meeting with citizens in all five Plumas County communities.
All community meetings will be video and audio taped. The tapes will be found on the Medical Cannabis Workgroup website.
Pubic input can also be made by emailing Randy Wilson at [email protected] or by calling 283-6214.
Cannabis operations proposed to be allowed in Plumas County by land use zones
The proposed ordinance lists 13 types of growing operations based on the canopy size of the cannabis grown, from small — 500-2500 square feet ("cottage"), to large — 22,000 square feet of cannabis and indoor versus outdoor lighting.
Cannabis growth operations of more than 22,000 square feet would not be allowed in the county in an effort to protect local existing growers.
The proposed ordinance also lists six types of postharvest operations: manufacturing using non-volatile chemicals, manufacturing using volatile chemicals, testing of finished cannabis, retailing or dispensing finished cannabis, transporting and distributing of finished cannabis and a combination of growing small amounts of cannabis and postharvest operations, termed "microbusiness."
Land uses in order from more to less restrictions on cannabis operations.
Timber production: No cannabis operations
Lake: No cannabis operations
Recreational – Open Space: No cannabis operations
Open Space: Only small growing operations
Recreational: Only small growing operations
Recreational-Commercial: Only small growing operations
Residential: Only small growing operations and non-volatile manufacturing operations
Mining: All types of growing operations only
Agricultural Preserve: All types of growing operations and "microbusiness"
General Forest: All types of growing operations and all types of manufacturing operations
Suburban: All types of growing operations, all types of manufacturing operations and "microbusiness"
Rural: All types of growing operations, all types of manufacturing operations and "microbusiness"
General Agriculture: All types of growing operations, all types of manufacturing operations and "microbusiness"
Commercial: Only small growing operations, manufacturing, testing, transporting, dispensing and "microbusiness"
Industrial: All growing operations and all postharvest operations
Public meetings concerning the draft cannabis ordinance
Chester: July 20, Chester Memorial Hall
Blairsden: July 27, Mohawk Community Resource Center
Portola: Aug. 3, Portola Memorial Hall (date not yet confirmed)
Quincy: Aug. 17, Mineral Building, Plumas-Sierra County Fairgrounds
Information will be presented regarding the proposed Plumas County Cannabis ordinance and public comments will be taken.
For further information on any of these meetings, contact Rebecca Herrin, senior planner, 283-6213 or [email protected].