Care Flight, Quincy Fire practice for real events
It came as one tremendous surprise when pilot Ed Dalsey developed sudden chest pains. At the time, he was in flight to Plumas District Hospital to transfer the victim of a motorcycle incident to a hospital in Reno. He had two passengers onboard — both nurses.
That was the scenario Dalsey and the two nurses, Stuart Emerson and Eric Aguilera, learned during a practice flight. When the Eurocopter A Star helicopter left Reno on Saturday, Feb. 11, they were given an envelope to open at a specific time during flight. That envelope contained the details for an emergency that would take them off course.
Under the scenario, Dalsey was able to divert to Gansner airfield (just outside of Quincy), while the nurses went into action just as if it was the real thing. That included hitting the mayday button, alerting Care Flight dispatch and authorities that they were a flight in distress. As part of the drill, even dispatch in Reno didn't know the details of the drill, according to Matt Brown, Care Flight flight operations manager.
During the flight scenario the pilot was able to land the helicopter and then the nurses took care of shutting down the helicopter before preparing Dalsey to be moved. It's essential that everything is turned off and the blades have quit rotating before the patient can be transferred, according to Brown.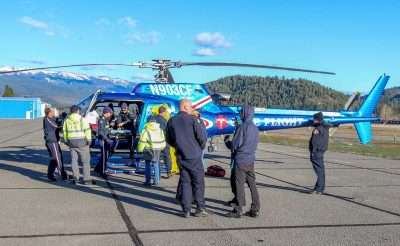 Trained personnel evaluate all procedures and goals of the drill, Brown explained about the process.
The drill also included Care Flight ground personnel assisting flight nurses to get the incapacitated pilot off the aircraft.
As part of the drill, the Care Flight team included members of Quincy Fire. Along with QFD's training, members learned to shut down the aircraft, how to safely set up landing zones and how to approach the helicopter.