Celebration at Mountain Meadows Reservoir and Westwood
Feather River Land Trust, Mountain Meadows Conservancy and Plumas Audubon Society are hosting an event Saturday, June 1, to explore and celebrate the conservation of two special properties: Mountain Meadows Reservoir (also known as Walker Lake) and the Mountain Meadows Gateway property, which provides walking access to the reservoir from Westwood.
The event will begin with a paddling and birding adventure on the Mountain Meadows Reservoir with local naturalists. This public event will start at 8:30 a.m., meeting at the Indian Ole Dam (Indian Ole Dam is accessible from County Road A-21 by following Indian Ole Road).
People are invited to bring their own boats and gear for this fun, flat-water paddle or may register to use a kayak or canoe provided for a small charge by Feather River Land Trust. If interested in reserving a seat in their boats, visit the registration page online at www.frlt.org/events.
The paddle will last for approximately 1 1/2 hours and will offer the opportunity to view an abundance of bird species, along with spectacular views of the stunning Mountain Meadows Reservoir and surrounding mountains. The Feather River Land Trust holds a conservation easement on the 7,000-plus-acre property that is owned by Pacific Gas and Electric. The conservation easement, which ensures that the property will not be subdivided and developed in the future, was completed in the fall of 2018.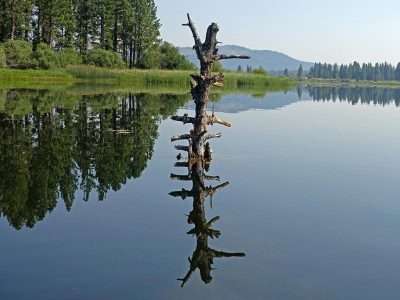 After the paddle there will be a short ceremony and celebration of the completed conservation easement. Representatives from organizations that have been involved with the conservation effort will share insights on the project, the first of several conservation easements on Pacific Gas and Electric property that will be held by the Feather River Land Trust within the upper Feather River region.
This collaboration between the Land Trust and PG&E is one of the most ambitious conservation efforts ever undertaken by a land trust and a private corporation in the Western United States. It represents 10-plus years of work to establish a mechanism to conserve these key watershed lands for public benefit.
Following a lunch break, the celebration will continue at 1:30 p.m., at the newly acquired Mountain Meadows Gateway property that was purchased in June 2018 by the Land Trust with financial assistance from the Mountain Meadows Conservancy.
The property is located just south of Westwood on Lower Delwood Street. Dessert and fresh, locally roasted coffee will be served. Representatives from the Land Trust and Mountain Meadows Conservancy will present about the ecological and community importance of the property, why it was purchased and what is being planned in 2019. They will also be soliciting public input on future projects on the property. A walking tour of the property will happen around 2:30 p.m.
For additional information contact Nils Lunder at the Land Trust, 283-5758 or [email protected] To learn more about the Land Trust visit www.frlt.org.