Cerruti's memoir explores Plumas National Forest adventures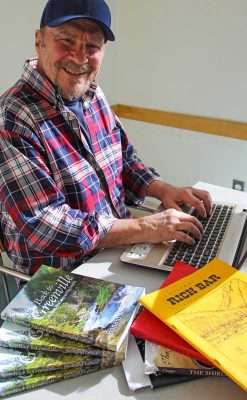 Ronald Cerruti counts himself a fortunate man. He once spent five seasons working in the Plumas National Forest where the experiences he had grew into a lifetime's worth of memories.
"I've always loved Plumas County and the Feather River country, ever since I was a kid and my parents brought us to Oakland Camp for vacations," Cerruti said on a December morning set aside to talk about the entertaining memoir he has published, "Back to Greenville: Big Trees, Blue Lakes and Big Dreams."
The 190-page autobiography is filled with humor and vivid descriptions of the life of a forester during the 1970s — fighting fires, working timber sales, encountering wildlife and, above all, maintaining the bonds of rich friendships forged over years of working in the Northern California wilderness.
The book is available locally from Barn Owl Books and the Plumas County Museum in Quincy, as well as the Crescent Mills Country Store.
"My career with the National Forest Service was a really special job," Cerruti reminisced in his slightly gravely voice, seated in a comfortable room at the Clayton Community Library in Contra Costa County where he lives now.
"Fighting fires was hard, gritty work, but it was the most fun thing I ever did because of the camaraderie and excitement," he added. "The supervisors gave me a lot of responsibility and I had a lot of fun. Those five seasons living in Greenville were probably the best time of my life. All those people in the book, they were real characters."
Places like the Cottonwood Club and the Taylorsville Grange Hall, the North Arm and Genesee, Meadow Valley, Antelope Lake and many more — Cerruti said he and his crewmates "had good times there. Living and working there was a unique experience. Everyone was like a family. I wanted to capture the fun, the stories, and those friendships — many of them have lasted my whole life."
Illustrated with maps, photos and drawings, the book recounts a series of adventures Cerruti had while working as a seasonal forester on the Greenville Ranger District of the PNF.
Rich in detail, the stories paint a realistic picture of what it was like to work on forest management in the breathtakingly beautiful Sierra Nevada Mountains with dedicated men and women of the National Forest Service.
Between fighting lightning-strike fires that meant scrambling up steep canyon walls and pulling ranger duty among campgrounds or serving on marking crews for timber sales, no two days were alike for Cerruti and his colleagues.
"Greenville" is a lively collection of stories about logging, including times spent socializing in small, tight-knit mountain communities where a cold beer and some hearty laughter help wash away a day's dust and aches.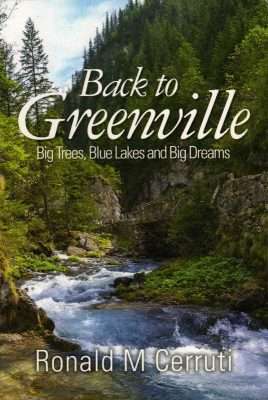 The book is also a veritable who's who of Plumas County personalities, forestry professionals and business folks — a great many of whom Cerruti still enjoys deep, close friendships with and sees on his vacation trips to the region.
Locals will recognize the scenery and wilderness locales depicted in the memoir.
Readers will laugh at the tales of Black Bart the giant rattlesnake, Elmer the too-tame deer and Satan the Duck's terrible reprisals for imagined wrongs from just about every human within range.
"I added only a little to the story of Elmer the deer, but every word is true about Satan the duck — that duck went after everybody!" Cerruti chuckled at the memory.
As for that big, really big rattler who made his home inside a popular spring? That story takes on a life of its own when all the characters get involved, each with their own idea of what to do and how to do it.
For Oakland-born and raised Cerruti, who graduated from U.C. Berkeley's Forestry School in 1972 and earned his MBA from Cal State Hayward in 1976, these High Sierra summertime adventures grew into a tapestry of memories. Over a 10-year period, the book took shape and since it was first published in 2013, the work has sold a respectable 400 copies.
"I wrote it for my friends, really," the author said, smiling. "I'm still friends with many of them to this day — John Houck, Tom Hubbard, Ron Clark, Charlie Earhart and Greg Gregor of Greenville; Jim Marty of Quincy; Bill Wilson of Oroville; Jerry Ingco and Larry Boggs of Chico; and others."
After finishing his education, Cerruti ended up leaving the Greenville Ranger District — but the area never left his heart or his memories.
He was offered an interesting position as an engineering territory manager with the U.S. Internal Revenue Service — a job requiring both engineering and evaluation skills — and he stayed in that career for many years, managing the Western United States territory. He also met his wife, Tammy, back in the Bay Area and their family grew with the addition of two dogs and three children, Kimberly, Tiffany and Nicholas.
"There are a lot of distractions for a writer with a home life," he said, amused. "It's not easy, but if you have a story in you that's trying to come out — write it! Ask yourself, 'Why do I want to write this book?' And then know that you can learn about the process as you go."
The hardest part about creating a first book, Cerruti mused, was writing and editing the work to make it sound and read as naturally as possible. He relied on entertaining dialogue and taught himself to create visually descriptive passages to bring things like a starry night sky to life for his audience.
The author also said that writing himself into the story and developing his own character was unexpectedly difficult.
"To get to know a character, the writer must develop the person and let the reader know what makes him or her tick," Cerruti explained. "The easiest thing was just to tell the stories."
The writer added that he never really envisioned himself as an author and when he did decide to start the book, it was hard to find the time to do it. But he had done a lot of writing for his job, after he left the Forest Service.
"This book had been in me for a long time," he explained. "So I took some classes and worked on short stories about things like outdoor recreation. Then, I began to write this book while I was on airplanes going back and forth for my job. That's how I made the time to do it."
Wearing a plaid flannel shirt and ball cap in the quiet library annex, the bearded writer smiled from behind a stack of Gold Rush research books he was delving into for his next book. One very dog-chewed copy of  "The Shirley Letters: From the California Mines, 1851-1852," topped the pile.
His new project is a historical fiction novel set during the California Gold Rush and will include Sierra Valley settings and characters.
It took Cerruti a decade to realize his dream of writing the Greenville memoir. With wit in his light brown eyes and a passion for good storytelling, he estimated the new work will go faster. And he had some advice for his readers.
"Anybody who lives in Plumas County, you're living in one of the neatest places in California, or anywhere in the country, for that matter. There's so much history in the Feather River country. Don't take it for granted. It's exciting — go out and find it!"