Challenge Day creates powerful, positive student interactions to build acceptance and inclusion
Sticks and stones may break our bones, but cruel words and bullying behavior can leave emotional marks that last a lifetime.
Challenge Day sets out to change that, big time and in a truly meaningful way.
Absolutely committed to eliminating any form of bullying and exclusion at Quincy Junior-Senior High School with a zero-tolerance policy and an infinite reservoir of compassion, Principal Erin Mongiello is well on her way to a successful mission of respect and inclusion for all students.
And she made sure each of the other local high schools were welcome to join in.
"I was so excited to bring the Challenge Day program to our Plumas County schools," Mongiello said about her work to coordinate a series of December presentations locally. "I was able to be a part of this program at a middle school that I previously worked at and it was so powerful. We saw immediate improvement in the school culture. Here in Plumas County, the program brought an anti-bullying and violence-prevention program to our schools that provides youth with ongoing tools to tear down walls of separation and builds a school environment of acceptance, unity and respect."
It's about so many things — self-esteem, kindness, courtesy and whole lot more.
Miss Mongie, as she's affectionately known, is in excellent company. She found full support and involved commitment with her three fellow principals from Plumas Unified School District's  other high schools — Traci Cockerill of Greenville Junior-Senior High, Sara Sheridan of Portola Junior-Senior High and Terry Hernandez of Chester Junior-Senior High.
The challenge of Challenge Day
Challenge Day assemblies bring students, teachers and other adults together for an entire day to address students' feelings of separation, isolation, loneliness, teasing, racism, bullying and school climate issues.
Challenge Day, in case you haven't heard, is an internationally acclaimed program that demonstrates the possibility of love and connection through the celebration of diversity, truth and full expression.
Oprah is a major fan.
Just before the winter break last month, Greenville, Portola and Quincy held their all-day assemblies and Chester is planning their own in the near future.
Energetic, emotional, revealing
At each school, a finely tuned and fast-paced program to build community, understanding, tolerance and trust was carried out to engage students (and adults) with deep insights and empathy for others.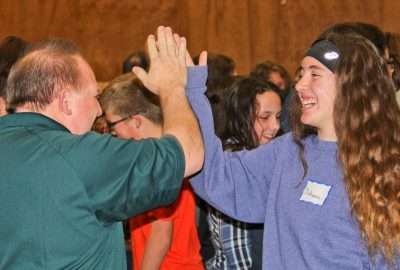 Every participant responded to some degree, both emotionally and psychologically, under the guidance of Challenge Day's high-energy, charismatic leaders who are social- and emotional-learning experts.
Advertisement
Throughout the day, there were some tears. There were a lot of hugs.
Exercises ranged from lively and fun to serious and thought-provoking, including one called "Cross the Line" that asked everyone to start on one side of the room and walk across a center line for each yes answer they could give to questions like, "Have you ever been bullied?"
Tell someone they're awesome!
The day began with a positive, high-energy gauntlet of high-fives from the adult volunteers, teachers and staff as students at each school filed into their gyms and wondered what the show would be all about.
"Tell someone near you that they're awesome!" said Challenge Day Leader Jennifer Wilson, speaking clearly into a microphone over booming, bouncing music. "Now tell someone 'I'm awesome!' and how does that feel? Yeah, it feels good! But what do we usually do? We go around judging people, acting like we know all about them — and we don't. But we do it all the time."
Across the crowded room, heads nodded and all eyes were on the youth leaders.
"Now everybody stand up and let's bring the energy way up!" said Challenge Day's Kevin Synarski, taking his turn at center stage. "I need a volunteer. OK, I need you to fill in the rest of this sentence and then everyone race and get a chair. Last one without a seat has to come up here with me next. Say 'I love my neighbor, especially people who …' and then go!"
A student meekly replied, "eat pizza!" and the kids were off like a shot, searching for chairs, trying to stay with their friends, scrambling as seats quickly vanished.
"A couple of years ago, I moved to Spain and it pushed me out of my comfort zone," Synarski said as the students settled in.
He went to stand inside a small, blue-taped square on the gym floor. "This is what our comfort zone feels like. This is about learning things about ourselves. You don't have to move to Spain. Look around your town, get to know people. Talk to people about what their lives are like — stretch that comfort zone!"
Synarski handed off the mic to Wilson and she strode confidently back into the large circle of chairs saying, "Today is about being happy. I want to have a great life and love what I'm doing. I don't want to care what other people think of my life. Take a look at your own life. Are you happy? Is your life awesome? Does it make you feel good? Now, ask yourself how you would want people to speak of you?"
A young man replied thoughtfully, "We shouldn't worry about what other people think of us. Everyone should just focus on improving themselves."
A young woman added her thoughts, saying, "But people are going to talk. I don't want them to think I'm someone I'm not. It's about being authentic and I just want to be myself."
Wilson took the conversation to a deeper level.
"When I was in school," she said, "every time I heard a rumor, I thought they were that person forever! I invite you to be open-minded. Raise your hand if you've seen this in your school — people teasing others, making fun of someone, making jokes about them?"
Hands went up all over the gym.
"It hurts, even if you're the class clown and people are laughing, they're laughing at you," Wilson said. "Think about it, your image doesn't tell me anything about you, what your passions are, your favorite food, what you care about. So we're gonna be real in here today."
1.5 million connections strong
The Challenge Day program is a 501(c)(3) nonprofit organization and was created in 1987 by Rich and Yvonne St. John-Dutra of Alameda County.
"We find that teens are often dealing with difficult social and emotional issues and academic and social pressures in a wide variety of school settings," the organizers said on their website, adding, "Challenge Day creates the emotional safety for people to express their real feelings."
The day-long event is now run from their Contra Costa County offices and has reached over 1.5 million youth and adults in an experience that strengthens emotional safety and social relationships, positively influences educational achievement, builds cross-cultural connections, ignites change and reduces conflict and bullying.
Challenge Day has taken place in more than 2,200 schools throughout 48 U.S. states and in 10 countries including much of Canada, The Netherlands, Belgium, and several others.
The Dutras' material explained that leaders work to create trust and connection in the morning by helping participants step out of their comfort zones through music and games. Participants begin to recognize stereotypes and labels that exist among them, and are then willing to share and connect as human beings.
During the afternoon, participants examine the impact that bullying, oppression and other forms of violence have on their lives and the lives of people around them. They find commonality and a sense of belonging.
Powerful, long-lasting impacts
"Challenge Day was a powerful event that has had such an impact already and I know that none of us who participated will ever forget," said QHS Principal Mongiello. "Our eighth- and ninth-grade students attended the all-day assembly and I was worried at first if our students were going to fully participate. I didn't need to be concerned, the youth leaders were able to reach them instantly and they exceeded my expectations. Our students had a rare chance to learn about themselves and others and they will truly thrive from the experience."
Mongiello explained that many QHS students have shown a strong interest in improving their school climate and signed up to part of the national "Be the Change Movement." The students have committed to promoting respect and inclusiveness on their campus.
"They are amazing leaders and will make a difference not only at school but in this world, Mongiello said. "I am so thankful to have helped to bring more love, acceptance and connection to Quincy High's youth, staff and members of our community by helping coordinate Challenge Day for our district."
GHS Principal Traci Cockerill summed up the success of Challenge Day for her campus this way.
"I had a mom who thanked me for holding Challenge Day at our school," Cockerill said. "Her student is a senior. She said she felt that Challenge Day should be mandatory at every high school because her child was really inspired by what happened that day. For myself and my staff, I would say that it gave us a better insight into who our students are and the things they bring to school each day. We want students to know that the staff and community care about them and are there to support them."
PHS Principal Sara Sheridan had these thoughts about the value of the program for her students.
"Our Challenge Day event was a unique social-emotional, skill-building day," Sheridan said. "We offered the assembly program to our junior-high students. The activities filled our students with enthusiasm and instilled empathy for one another. Our hope is that participation in this evidence-based intervention will assist our students in building a positive school culture for years to come."