Chester Park gets some TLC from Boy Scouts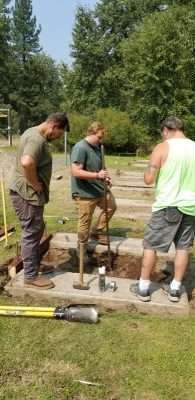 Having Boy Scouts that are working toward their Eagle rank is always a good thing for the community they live in.
One of the final requirements to attain scouting's highest rank is to identify a community need, make a plan to meet the need, coordinate with the owners or government agency to get permission and then finally complete the project.
Eagle projects are not intended to be "the usual" community service project like a food drive or cleaning up a trail or waterway, it is supposed to be something special that will be of use to the community for an extended period of time.
Past examples in Chester include purchasing computers for the library; new flag stands for the "Avenue of Flags" at the cemetery and benches and bike stands along the West Shore bike trail.
In Susanville, a new gateway was constructed for the Lassen Cemetery on Chestnut Street; "Little Free Libraries" stands located in various places around Susanville, and benches placed along the recreational trails of Susanville Ranch Park. Quincy has enjoyed a new flag at the Plumas-Sierra Fairgrounds and a rehab of the Snake Lake shooting range.
At least two scouts are currently working on their projects in Susanville and Chester Troop 36 Scout Shane Scott Nicholson just completed his project at Chester Park.
For several years, the old horseshoe pits at the park have stood dilapidated or partially intact. Several times there have been attempts to restore them to a usable condition, but the job has never been completed.
Nicholson recognized the situation, made a plan, contacted the proper authorities and inquired with local businesses regarding materials.
He then made a presentation to the Lake Almanor Elks Lodge, which is the charter organization for Troop 36, requesting help for his remaining needs.
The Elk members quickly collected $585 to cover the rest of the material costs and eight members committed to helping with his manpower needs.
In a two day work-a-thon that totaled almost 100 man hours, pits were dug out, new stakes aligned and cemented in place, new heavy-duty safety backboards installed and new pit sand-fill leveled in place.
Nicholson is submitting his project report and application for the rank of Eagle to the Lassen District Advancement Chair, which is then forwarded to the Nevada Area Council for certification.
Once certified, he will be scheduled for an Eagle Board of Review that is the final approval before becoming an Eagle Scout.