Chester Wellness Center celebrates one-year anniversary
The Chester Wellness and Family Resource Center celebrated its one-year anniversary May 22 with a community open house.
The celebration was also an opportunity to provide information to the public on the center's mental health services, with additional resources for families, veterans and seniors.
Materials were on hand from the center's partners, including Plumas Crisis Intervention Resource Center, Court Appointed Special Advocates  for children and Friday Night Live.
Chester Wellness Site Coordinator Dawn Woods said she estimated up to 75 people attended the open house.
A drawing was held during the event, along with "street tacos" provided by staff free of charge.
Items for the drawing were donated by local businesses. The Pizza Factory offered a gift certificate for an extra large pizza; a $20 gift certificate came from The Coffee Station; a $25 gift certificate was donated by Bite Me Café; a $25 gift certificate came from The Happy Garden Chinese restaurant; a $25 gift certificate donated by Holiday Market; B & B Bookstore donated two $10 gift certificates; NAPA Auto Parts gave a collapsible folding chair; Subway shop donated a foot-long meal menu item; and Every Mind Matters provided sweatshirts, hats and miscellaneous items for the drawing. Sports Nut also gave T-shirts to the center for its own use.
The celebration would not have been complete without live music, performed by the group Kelvin & Susie of Chester, who played a variety of musical genres. Several attendees even kicked-up their heels during the affair and danced to the music.
In addition, a number of games were provided to keep kids involved while their parents spoke with staff and reviewed the various services that were available at the facility.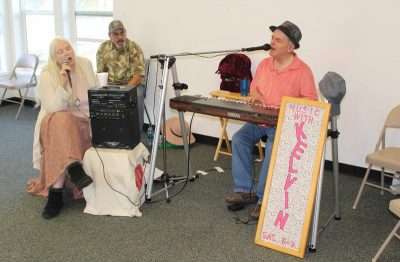 Several stacks of free clothing donated by Drunk & Disorderly were on display outdoors to give away, with plenty of clothing still available at the center for those in need, Woods added. Lifeline Cell Service signed up people for free cell phones as well.
"The whole idea in having a wellness center in towns like Chester, Portola and Greenville is to make services available locally, rather than forcing clients to make the long trip to Quincy for those services," explained Woods.
"If we don't have something here at the center that people are looking for, they should come in anyway because we'll do the research to find out how to get the services they need through the county."
Continuing, she said, "I'm really excited about the things we can do for the community," mentioning that the center would be sponsoring free craft fairs and art programs for kids at times and dates to be determined, plus ongoing support groups, Yoga classes, and painting classes for adults on the third Monday of the month, from noon to 2 p.m.
The 2,244 square-foot Chester Wellness and Family Resource Center provides a one-stop location for people to access mental health and alcohol/drug services; crisis intervention services, such as housing and income-based utility assistance; on-site food pantry; access to peer and grief counseling services; and sexual assault support, accompaniment and referrals.
In addition, the center provides other types of assistance such as access to personal hygiene products; baby diapers; dog and cat food; and sign-ups for Medi-Cal, CalWORKS cash aid, Cal Fresh (food stamps), Home Energy Assistance Program (HEAP), and Section 8 rental supplemental assistance.
Call the center during normal business hours, Monday through Friday, from 9 a.m. to 5 p.m., at 259-4156 for more information.