Community Carnival is a hit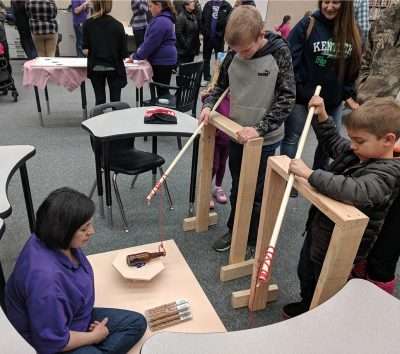 Portola Junior/Senior High School held its first annual Community Carnival on March 8, which drew a crowd of more than 700, much to the delight of event organizers.
Steve Dutton, social studies instructor at PJSHS, initially toyed with the idea of a free-to-all community carnival in the past, but was finally able to turn the idea into reality with the help of PJSHS students, staff and community members.
After the excitement had settled down and the carnival was successfully brought to a close, Dutton took a moment to speak about the experience and give his thanks to all involved.
"I really think that the carnival went great — it was about the kids," Dutton said smiling. "In the planning stages, I initially asked a group of students to begin the fundraising process for the event, and one student, Lilly Baumbach, really went above and beyond. Lilly, although a junior, made the fundraising a part of her senior project, and was fully hands on. Lilly also got members of various 4-H groups to bring their animals to the petting zoo on her own initiative."
Dutton described the camaraderie and hard work that built the carnival, with his thanks going to the many students who volunteered their time to prepare for the event and assist in manning the 50-plus games that were enjoyed by the community.
"High school staff also really helped get the carnival on its feet this first year," Dutton commented. "Everyone had such good humor and everyone stayed very flexible as this evolved."
While the carnival was free for attendees, each class from grades seven through 12 were selling a specific item, with funds raised going toward the costs involved with the senior experience, including senior trips.
"The seventh-graders were selling cotton candy, with the machine donated for use by the Portola Firefighters Association, and the eighth-graders sold snow cones, with use of the snow cone machine donated by the Roberti family," Dutton said. "Ninth-graders sold candy and popcorn, tenth-graders sold pizza, eleventh-graders sold corn dogs and the twelfth-graders sold water and soda," he added.
After all was said and done, more than $3,500 was raised in one evening between all of the classes and 26 local organizations.
"I'm truly awestruck by the outpouring of support," Dutton asserted. "I asked a lot from my volunteers this year, and we shot for the stars — I'm grateful that people allowed us to do it. Brenda Pittmann and her bequest to PJSHS allowed us to open the door to this event happening. She loved the school, and loved to play games, so we took advantage of that spirit."
With various groups in the community involved, from Sport Success to the Portola Preschool and Alumni Association, Dutton had many hands on deck. "There are too many people to thank," Dutton noted. "We had many, many volunteers from Eastern Plumas Health Care at the event organized by Alaina Wilson and also had help from friends and family, including assistance in decoration from my wife and daughters pre-event, as well as the many others who jumped in to help set up and break down the carnival."
Dutton again reiterated his gratitude to the parents, teachers, staff, and community for helping bring it all together, "Thank you all; your participation is what made it fun!"