Community is the giving spirit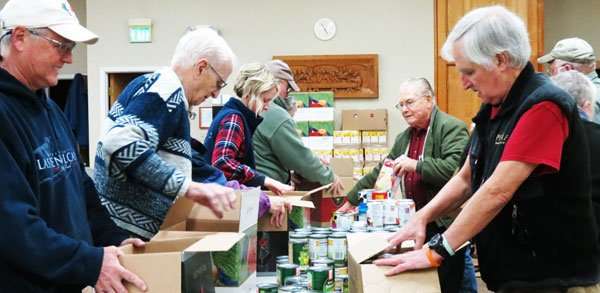 Quincy residents donated hundreds of pounds of food to help make the holidays merrier for their neighbors in need.
Feather Publishing delivered 450 pounds of canned goods and other nonperishable food to the food bank Dec. 14 and an equal amount came in from Plumas District Hospital.
Feather Publishing and Quincy Hotspot were two locations where community members could bring food items for the annual food drive.
Kitty Gay, manager of the local food bank, said that Sav Mor and Safeway also provided hunger bags filled at their locations.
On Friday evening, Dec. 16, volunteers assembled 200 boxes to be distributed to area families. Enough food to fill 100 boxes was set aside for Indian Valley families.
Members of the Quincy Lions Club, a contingent from Plumas District Hospital, community members, and food bank volunteers formed an assembly line to fill the baskets.
Gay said that she is grateful for the community's generosity. "We've been giving out a lot of food this month," she said.