County emphasizes emergency preparedness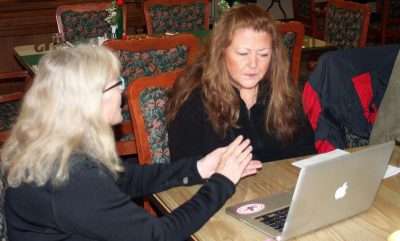 Lori Beatley, Plumas County health education coordinator for public health emergency preparedness; and Sue McCourt, Plumas County Office of Emergency Services fire prevention specialist, presented a talk inside the Wildwood Village lunchroom in Chester on March 15 on the topic of emergency preparedness, with an overview on what county resources are available to the public.
The presentation, titled "Age Well, Live Well: Emergency Preparedness" focused on how the OES, local hospitals and first responders are working together to try and prepare the community for manmade and natural disasters through the CodeRED program, instituted by Plumas County to provide a rapid emergency notification service. The presentation also provided information on emergency agencies in the county.
CodeRED program
The CodeRED program gives the county the tools to contact residents directly through the OES by cell phone message or text, or by sending an email during an emergency, to let people know whether there's an approaching wildfire, flood conditions, downed power lines, lost individuals and abductions, chemical spills, bomb threats, the need to evacuate or other emergencies.
Calls can be geographically targeted with localized messaging, or if the emergency is widespread, the entire community could be contacted within 20 to 30 minutes. The system can also detect who may not have received a call, say due to a technical factor, so that they may be contacted by other means.
Coupled with high-speed telephone calling technology, the system can distribute emergency pre-recorded messages via telephone to targeted areas of the entire county at a rate of 1,000 calls per minute.
Plumas County residents are encouraged to enter their contact information for home, business and mobile phones into the CodeRED system so they may be alerted in the event of an emergency.
It is especially important to register for those who may have unlisted numbers, cell phones or VOIP (Voice Over Internet Protocol).
People can register for the free service online only, at the Plumas County website by clicking on emergency sign-ups.
Anyone seeking assistance to register can call the toll-free number at 866-939-0911, from 4 a.m. to 3 p.m. Registration is confidential and free.
County resource guide
"Whenever there is an emergency situation, the first thing people want to know is: Who do I contact? Not only to get information but to provide information during an emergency as well, which is very important," Beatley said,
Plumas County is spread out, she noted, and emergencies don't just happen Monday through Friday between 8 and 5 p.m. — they can happen at any time.
The first part of the Resource Guide consists of various county agencies and phone numbers that residents can call to receive information during an emergency. A copy of the guide can be obtained by calling Beatley at 283-6988 or contacting  [email protected].
Facebook as resource
Facebook is one of the best places to get information during a crisis, Beatley noted.
Advertisement
"Plumas Health and Wellness" is the Facebook page for Public Health and has a lot of information on mental health services, as well as current data concerning epidemic outbreaks in the county and surrounding areas.
Beatley said, "When Lassen County had a recent viral meningitis outbreak for instance, we went to our Facebook page" to post accurate information on the disease, because "a lot of misinformation was being disseminated. … We worked closely with Lassen County to stay updated."
Public Health is one of many Facebook pages that can be accessed in an emergency, not only for routine information.
Other helpful places to access information include following the Plumas County Sheriff's Office Facebook page, "so when they post something that's critical, you'll get a notification on your Facebook stream alerting you."
Facebook groups that are also great to follow are both the Susanville — particularly for Chester — and Quincy CHP pages, especially for information on road closures, for example.
When it comes to any wildfires in the area, the USFS, Plumas National Forest division will update the community on Facebook as well.
"Plumas News," a Feather Publishing website, "is a great source for posting information when emergencies arise in the county," Beatley noted.
She said that the OES, run through the sheriff's office, acts as a nerve center that determines when a state of emergency exists.
"They'll work with the board of supervisors, contact local agencies, as well as county and state officials to coordinate response services, informing the public, ordering mandatory evacuations and opening temporary shelters," things of that nature, noted Beatley.
"There's an emergency informational line that we're providing that callers can listen to for important up-to-the-minute information during emergencies that could affect them directly," said Beatley. The informational emergency phone number for the county is 283-6102.
The recorded phone line is used in an emergency to assist the public with obtaining real time information, which may provide other numbers and contact information so the public may receive information that is more detailed.
Evacuation essentials
When people need to evacuate their homes, they may not have a lot of time, so having prepared a to-go bag filled with basic items at the ready before an emergency situation strikes is essential.
"You should have provisions that will last for at least a three-day period," Beatley said. A pet carrier, pet food and kitty litter for cats is also needed if you have a pet that must go with you when you evacuate from your home.
In Plumas County, the shelters are operated by American Red Cross and Plumas County Social Services.
Pets may not be allowed in shelters and therefore other alternatives should be planned in case pets are not allowed.
Willo Vieira with the  Department of Agriculture is a great resource regarding animal evacuations for both large and small animals, she said, so arrangements need to be made ahead of time for a safe place for your pet if you are for some reason unable to take it with you.
You don't necessarily have to have everything in the to-go bag, but having a plan is very important — so choose what you're taking wisely!
"I have a list of basic things to include in my to-go bag. But make sure it is not overloaded and you can physically carry it," said Beatley. Some suitcases have rollers that allow heavier packing of items that make it easier to take along with you.
Vile of Life reminder
Beatley said that whenever a first responder like an EMT or paramedic answers a call, he or she could find it difficult or impossible to know where a person's medications are located in the house.
"The Vile of Life concept is simply a sheet of paper that can be attached to your refrigerator with information on what medications you take should you be incapacitated, so that emergency personnel can take that information with them to the hospital."
It is recommended that you indicate on the sheet where your medications can be found, as well as the dosage and any other instructions like allergies to certain medications.
Fill out a Vile of Life application sheet online and then print it out or to receive a mailed hard copy, contact Beatley by email at: [email protected]
CodeRED: FAQ
Why did CodeRED call me several times?
If there is no answer and the resident has no answering device, the number will be attempted up to three times.
I was called but no message was played.
If a resident answers, but doesn't say hello, CodeRED will not begin playing automatically. The system is trying to determine if it has reached a live person or answering machine.
If the contact says nothing, the system is programmed to hang up and subsequently retry the number again.
Why did I hear only a partial message on my answering machine?
CodeRED will leave a message on an answering machine, but because there are so many different brands and types of message devices for leaving a message, occasionally something about the answering device or the sound of the beep causes the CodeRED system to think it has reached a live person and begins playing the emergency message.
But it only leaves part of the message. Residents can call back at 866-419-5000 and receive the entire message.
Why does my phone ring once and hang up? It has called twice and won't let me answer it.
If your phone has a ring back tone, which plays a song instead of ringing, the system will interpret this as an Operational Intercept and hang up, only to retry the number again.
Residents have two options. They can deactivate the ring back tone or they can contact their cell phone provider and request that the phone number for the general database at 855-969-4636 and for the emergency database 866-419-5000 and for CodeRED Weather Warning 800-366-9780 have this feature bypassed and allow your phone ring normally.