County signs with CGA for new jail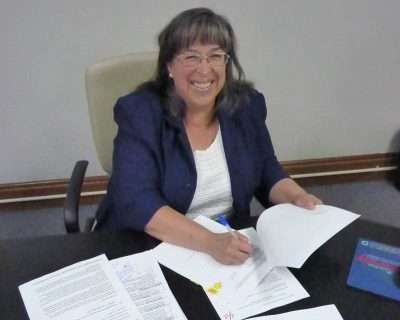 Lori Simpson, chairwoman of the Plumas County Board of Supervisors, was excited to sign the contract to begin construction of the new Plumas County jail. She said her dad was a deputy sheriff for the county for 20 years and added, "It's going to be so exciting for me to be involved."
Sheriff Greg Hagwood worked with Cameron Glass, vice president with Carter Goble and Associates, LLC, for the last six–and-a-half years trying to raise the $25 million needed to build a new jail in Quincy.
Glass told the board that the new jail should be ready for occupancy between October 2020 and January 2021.
Approximately half the time between now and then will be taken up in designing the new two-story jail, getting state approvals and putting the project up for bid.
Hagwood said he would have the conceptual designs for the jail on the department's website.
Signing on with CGA
CGA was given the contract to design and manage construction of the new jail by the board on July 18 without going through the request for qualifications and bidding process.
Hagwood said, "CGA's credibility was proven to us at Plumas County and throughout the state."
Craig Settlemire, county counsel, said that it was within the board's discretion to do so and he thought CGA would probably have come out on top in terms of qualifications regardless.
Glass said he will continue to act as CGA's point man for the project and that CGA will have someone living in Quincy during the entire time it takes to construct the jail.
Glass said that, although only two firms are nationally recognized for the construction of jails, his company would do everything they can to outsource supplies and labor locally. "We put an emphasis on local people," he said.
Cameron also promised to give the board monthly updates.
Simpson said that the board needed to put an oversight committee together to oversee the county and the company's design and construction of the jail.
Money for the new jail came from the California Board of State and Community Corrections. Plumas County beat out counties from all over the state in obtaining the funds to build the new jail.
Estimated timeline for design, construction and occupancy of the new jail
July 18, 2017: Contract signed
Dec. 2018: Preliminary drawings
Nov. 2019: Working drawings
June 2019: Construction begins
October 2020 – January 2021: Occupancy of new jail