County youth reap the benefits of their hard work at the 2018 livestock auction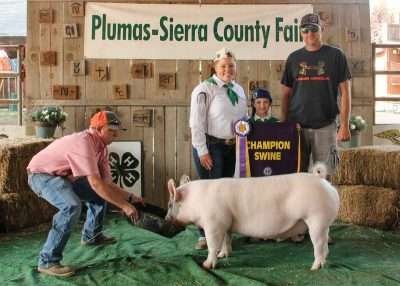 There is little doubt that for some of the hard working youth  — who represent the Plumas and Sierra counties' 4-H and Future Farmers of America programs — the annual livestock auction can be bittersweet as their summer-long efforts and attachment to their respective animals comes to an end when they are auctioned off at the annual Junior Livestock Auction held Sunday, Aug. 12, the final day of this year's Plumas-Sierra County Fair.
But when the stands are full of generous buyers — both individuals and business owners — who this year collectively spent an impressive $246,196 (not including price bumps) on 121 animals, it quickly seems to make it all worthwhile.
This year there were 25 beef on the auction block selling at an average price of $3.74 lb. (prices varied from a high of $6 to a low of  $2.25 lb.) amassing $120,340 in total sale proceeds; the 59 hogs sold averaged $5.97 lb. (from $11 to $4) adding another $89,106 to the day's total; 22 sheep averaged $8.41 lb. ($13 to $4.25 lb.), bringing in $25,300; the 10 goats averaged $10.63 lb. ($13.25 to $7 lb.) which amounted to $8,754 in sales; one pen with two chickens sold for $27.50 lb. for $305 and four turkeys averaged $20.25 lb. ($27.50 to $13) adding another $2,389 to the pot.
Going above and beyond
As they have done for years, Dr. Steen Jensen and Dr. Chris Kennedy guaranteed the price for goats at $14/lb. and bumped the sheep up to $7/lb.
Showing lots of support again this year was Christian Palmaz, representing the Palmaz family who own the Genesee Valley Ranch, who guaranteed the minimum price per pound for all swine at $5.
Leading the list of buyers purchasing several animals were Andrew Clarke; Don and Jim Dobbas, Inc. and Dobbas Ranch; the Fehrman family; Flanigan-Leavitt Insurance and the Flanigan family; Joy Engineering; Lake Almanor Brokers; Les Schwab Tires of Portola and Susanville Auto Center.
Other multiple buyers included Beatty Construction, John Breaux, Nate and Mattie Bunting, Caroline Correira, Dig It Construction, , M & M Hansen Communications, Holland Waterproofing, Indian Creek Vet Clinic, Indian Valley Construction, George's Custom Meat, McCuen Construction, Sierra NAPA Auto Parts, Ottenwalter Show Pigs, Roberti Ranch, Round Valley Ag, Sierra Pacific Industries, Sierra Valley Feed, Sierra Valley Ranch, Scott Tanner, Wilburn Construction, Wilburn/Riley and Wold Amusement.
Sale of champions
Flanigan Leavitt Insurance paid $5,170 for Indian Valley 4-H member Addie Tilton's hefty 1,343-pound grand champion steer. It sold for $3.85 a pound.
The reserve grand champion beef also came from an Indian Valley 4-H'er, Grace Kingdon. Wilburn Construction paid her $3.50 a pound, $4,777, for her steer that tipped the scales at 1,365 pounds. She was also the senior beef showmanship winner.
Chester-Lake Almanor 4-H'er Nichole Cardona sold her 284 lb. grand champion swine to Dig It Construction for $6.25/lb., amounting to $1,775. She and her porker also claimed the prizes for senior swine showmanship, senior round robin and champion breeding swine.
Ottenwalter Showpigs bought the 297-pound reserve champion hog and junior swine showmanship winner from Vivian Thielman-Gifford representing the American Valley 4-H club. The pig fetched $1,707 when the bidding stopped at $5.75 per pound.
For the third consecutive year, the grand champion lamb honors went to Case Emsoff of the Sierra Valley 4-H. The 132-pound sheep sold to John Breaux of the Breaux Group who paid $13/lb., $1,716. Again this year Emsoff was also the junior sheep showmanship winner.
Anela Caudle from Echo 4-H raised the meaty 134-pound reserve champ sheep, which was also the round robin winner. Safeway Stores in Quincy paid $1,608 for the lamb only to donate the animal back to the sale with those proceeds earmarked toward the Quincy Rotary Club's upcoming restoration project for the fairground's livestock compound.
Les Schwab Tires in Portola bought Louis Siqueido's grand champion goat. They paid $13.25/lb for the 88-pounder worth $1,166 for the Loyalton FFA member.
Matthew Graves sold his reserve champion goat, and the showmanship winning, to Dobbas Ranch for $12.50/lb. It weighed in at 73 pounds and earned the Loyalton club member $912.
Gaia Nelson from American Valley 4-H sold her bulky 38-pound grand champion turkey for $988, representing a nice price per pound of $26, to Joy Engineering.
Not to be outdone, Cal Sierra Title Co. paid a little more per pound, $27, for the reserve champ turkey raised by Elizabeth Higgins from American Valley 4-H. She earned $702.
Thelma Olsen, Julie Drybread-Hernandez and John Steffanic teamed up to buy the grand champion pen of two meat birds raised by Cailean Kennedy of the Treasure Mountain club. They paid $27.50/lb., which amounted to $305.
Animals donated for resale
Many buyers donate their purchase(s) back to the auction to be resold for the benefit a particular cause.
This year Bresciani Insurance and Bresciani Ranch donated back to the Mac McElduff Foundation.
Flanigan Leavitt Insurance, Indian Valley Construction, Charlie and Marylynn Neer and Neer Custom Cut and Wrap donated animals back benefiting the Clayton Neer Memorial Fund.
The Fehrman family, Indian Valley Construction, Leonhardt Ranch, Safeway Stores, Sierra Cascade Nursery and Ron Wilson donated their purchases back for resale to benefit the Quincy Rotary Club's upcoming livestock restoration project at the fairgrounds.
Award winners
Other 4-H and FFA winners not already mentioned include Justus Emsoff of Sierra Valley 4-H, for beginning sheep showmanship and grand champion breeding sheep; Danielle Jackson of Echo 4-H, senior showmanship; Madeline Williams of Loyalton FFA, beef showmanship and round robin; Kaidyn Holland of Indian Valley 4-H, beginning swine showmanship; Kristin Roberti, Sierra Valley, senior dairy goat showmanship and reserve and grand champion dairy goats; Anton Lysen, Loyalton, swine showmanship; Duncan Kennedy, Treasure Mountain 4-H, senior goat showmanship; Louise Lysen, Loyalton, sheep showmanship; Jhett Neer, Indian Valley, junior beef showmanship; Annie Froggatt, American Valley, junior meat goat showmanship; Micah Williams, Sierra Valley, beginning beef showmanship and the Gene Drybread Memorial winner; Rachelle Smith, Loyalton, poultry showmanship; Wophia Wellise, Treasure Mountain, junior poultry showmanship; and Clayton Dellera, Sierra Valley, grand champ breeding beef winner.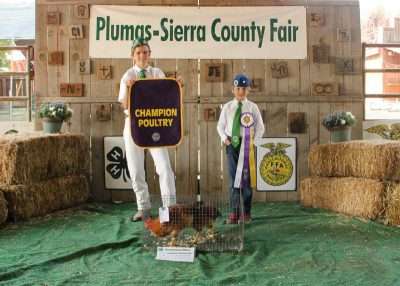 Behind the scenes
Advertisement
Others who contributed to the success of the sale included Plumas-Sierra Telecommunications, which sponsored the auctioneer's services. The Plumas County Sheriff's Employees Association picked up the tab for the buyers' breakfast and Alpine Beverages provided drinks.
Sean Harris took care of the sales on-site IT accounting needs and Amanda Osburn of Bliss Photography handled the day's photo needs. Tony and Kim Folchi, Flanigan Leavitt Insurance and Plumas Bank helped offset sale costs.  Genesee Valley Ranch sponsored the carcass contest and Griffin Livestock provided the trucking.
As always, Auctioneer Wesley Neer did a masterful job working a generous crowd of buyers that packed the sales area that morning.
Andrea White, president of the sale committee, expressed her appreciation for all those who helped make the day so successful for the 4-H and FFA youth. "We couldn't have done it without them," she said.