District 1 Democratic candidates introduce themselves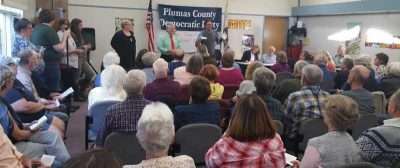 "It's so good to be here in Placer County," announced Dennis Duncan, candidate for Congressional District 1 representative,
during his opening remarks. He was quickly corrected by the crowd.
If he seemed a little confused, his immediate apology and admission that he'd been to quite a few District 1 counties in the past weeks seemed to settle the crowd. It's a large district and if one theme came back time and time again throughout the evening, it was District 1's diversity in both people and needs and the necessity of having a representative that understands the dynamics of a predominantly rural county — regardless of party affiliation.
The 60 seats in the Quincy central library conference room filled fast. By 6:25 p.m., the potential voters assembled had filled the room and were spilling out onto the sidewalk outside.
About a hundred people gathered at the candidates forum on the evening of Sept. 26 to hear from the three candidates vying to unseat Republican Doug LaMalfa for his House of Representatives District 1 seat.
Business attorney Jessica Holcomb of Auburn, social worker Dennis Duncan of Paradise, environmental science and business manager Marty Walters of Quincy are competing for the Democratic party's spot to challenge LaMalfa in the next election.
This was the voters' first opportunity to get to know the three candidates and their positions on a variety of issues. The forum consisted of brief opening statements followed by questions from the audience about various policies and positions. Voters hoped responses would distinguish the candidates from each other.
Duncan began by talking of his career in social work and equating working with neglected children with the neglect he felt the district had suffered under LaMalfa and other representatives over 30 years.
Holcomb spoke of her personal triumph of rising out of poverty through then affordable public education. She referenced her time in the Peace Corp and her internship with former 6th District representative Lynn Woolsey as two experiences that have shaped her understanding of the world.
Advertisement
Walters thanked the many hometown supporters in the room and spoke of how unique rural issues are and how she felt Plumas County and District 1 could lead by example for the whole country on problem-solving and economic prosperity, if given the chance.
They fielded questions as diverse as why run as a Democrat and what challenges and strengths did they bring to running a campaign. They were asked to respond to both micro local politics such as heliports in Genesee to macro politics such as climate change and defense spending.
For most of the evening the audience was hard pressed to find a difference in policy between the three candidates; they very much were aligned on basic Democratic party ideals and platform issues. The difference came in the approach and strategy of each candidate.
Nowhere was this more evident than the responses they each gave to the role of science in government and a question regarding their support of DACA.
Walters cited her 30-plus years working in environmental science and waste management for corporations. She informed the audience of the connection she came to see between the world of finance, the environment and natural resources and the necessity of all those parts working together cohesively to affect positive change.
Holcomb focused her response on reiterating that she "believes in science" and her dismay at the U.S. backing out of the Paris Accord and President Trump's assertion of climate change being a hoax perpetrated by the Chinese government.
Duncan stated, "science is obviously important," but did not elaborate any specific policies he'd support.
When confronted with the current administration's precarious tease of DACA or the Dream Act, each of the three had a widely different response.
Holcomb supported a path to citizenship for both DACA recipients and others aged out of DACA and stressed a need to be supportive of farm workers.
Duncan told a personal story of a drug-riddled family he'd worked with as a social worker where the teen would be deported to a town he'd never been to with less than a proficiency in Spanish.
Walters said her approach would give her the "practical label" in that she felt voters and representatives needed to come to terms with the "unprecedented condition" we face in terms of immigration and the impact erasing 800,000 people from the economy through rescinding DACA or 1.2 million through additional deportation of non-DACA undocumented.
Their last differences could be seen in their responses to education.
Duncan warned of the coming of charter schools and reiterated a need to support schools and teachers.
Holcomb focused her comments on university students and a return to vocational education while getting current students, former students and their parents out of  "crippling debt" situations.
Walters favored teaching being put back in the hands of teachers with a resurgence of focus on music and art in schools, as well as the study of native cultures in America and the outdoors.
The event was sponsored by the Plumas County Democratic Party, Indian Valley Indivisibles and the Plumas Action Network.