Dogs and their owners celebrate National Dog Day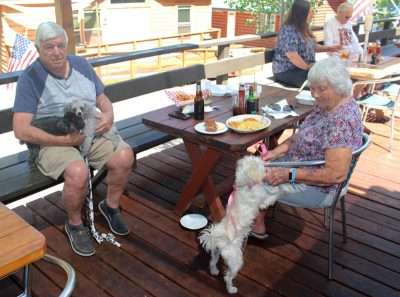 A number of locals and their canine companions had a "doggone" good time on the deck of Carol's Café & Deli in Prattville Aug. 29, where furry four-legged kids and their loving humans sat together for a "Take Your Dog to Lunch Day," benefitting the Almanor Basin Food Pantry in Chester.
The culinary event was also planned to commemorate National Dog Day, a holiday acknowledging that all dogs have a right to live a happy, safe and abuse-free life, as well as to help galvanize the public to recognize the number of dogs that need to be rescued through adoption.
Franchetti, who also serves on the board of directors of the ABFP, said the special occasion was strictly for the dogs — no cats allowed — to avoid any misunderstandings between canine and feline.
For her doggy guests, she provided a doggy menu and complimentary water, featuring such delicacies as the "Heavenly Hamburger," consisting of two succulent burgers slathered with Carol's special doggy rice and veggie pilaf, or they could choose instead the "Hot Diggity Dog," a tender hot dog cut into bite size pieces and served on a bed of rice with pilaf.
Several breeds were in attendance, all of which appeared thoroughly delighted to be part of the chow down — no questions asked.
This was the third year that the doggy food fest fundraiser at the café has partnered with the food pantry, she noted. One hundred percent of the proceeds from both the dog menu and food orders from their human owners during the benefit go to the Almanor Basin Food Pantry, Franchetti said.
The luncheon took in a total of $270 for the food pantry, remarked Franchetti.
"I want to thank everyone who attended for all their generous support," she said, adding that the event was a fun occasion for everyone in attendance and an opportunity to give "your four-legged friend a day out, while helping to raise money for a worthy cause."
Advertisement
Carol's Café & Deli is located at 2932 Almanor Dr. West, on the shore of Lake Almanor in Prattville. Business hours are Thursday through Saturday, from 7:30 a.m. to 2 p.m., and Sunday, from 7:30 a.m. to 8 p.m. Phone 259-2464 for reservations.