EPHC prepared to handle COVID patients
By Debra Moore
As coronavirus cases continue to surge across the county and the nation, hospital beds are filling up and healthcare providers must decide where to place patients.
Recently, Eastern Plumas Healthcare admitted two patients to its hospital to be treated for COVID-19. Historically, such patients have been transferred out for care, but that wasn't an option due to hospitals reaching capacity in Reno. (While most Eastern Plumas patients are transferred to Reno facilities, they are also airlifted to Chico, Sacrament
o and San Francisco, depending on the treatment required.)
Doug McCoy, the healthcare district's chief executive officer, and Dr. Paul Swanson, the hospital's director of the emergency department as well as an emergency physician, addressed the issue during interviews Dec. 7.
"We monitor the situation in Washoe County very, very closely," McCoy said.
Dr. Swanson said that according to the latest information he had seen, Washoe had 11,500 active cases, adding 9,000 cases last week alone. "The curve is almost straight up in Washoe County," he said.
Eastern Plumas is licensed as an 11-bed facility, with typically nine beds available. However, "We are doing some internal construction to be able to handle more of a surge," McCoy said.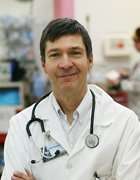 Dr. Swanson said that the hospital could probably treat up to 20 coronavirus patients if it became necessary — but couldn't treat patients that require ICU care. "We are a critical access hospital; we don't have an ICU," he said. "Those patients would have to be transferred."
But there is a level of care for coronavirus patients that can be provided at Eastern Plumas. "People can have COVID and low oxygen in their blood, and we can admit and treat them," Swanson said.
Such was the case recently with two patients – one a couple of weeks ago and another last week. Two weeks ago, a patient who needed oxygen was not only provided a high level of oxygen, but the drug Remdisivir as well. The patient was discharged after two days of in hospital care to continue recovering at home. Last week another patient was also treated successfully with added oxygen before being discharged.
McCoy said that the hospital is doing everything that it can to treat patients locally, including not only the construction to add more beds, but ensuring that it has the necessary equipment and medications, as well as staff.
He said that unlike some areas, Eastern Plumas hasn't experienced a staffing shortage. "Luckily we have so many committed people here," he added. He's also proud that the healthcare facility hasn't experienced a spread within its facilities. While there have been cases on campus, "We have not had an internal case," he said, attributing that to clinic leadership working with staff, and adding even more preventative measures such as goggles and face shields, are being worn as well as face masks.
Advertisement
As of midday Dec. 7, Eastern Plumas has 82 cases.