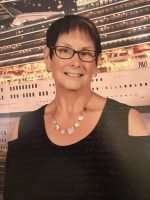 Etta May Hansen was called to heaven on January 22, 2022. She was born in Richmond, CA on August 8, 1957. She was the daughter of the late Art and Dessie Ora and grew up in Lakeport, CA. She grew up loving horses and the outdoors and eventually met her husband of 43 years, David Hansen, in Lake County.
Etta was an active member in her current community of Portola and Quincy, serving patients daily coming into Plumas Physical Therapy at the front desk. She was a true friend to so many people.
Etta is survived by her husband David Hansen, her daughter Lindsay Cravens, her son-in-law Tim Cravens, her two grandchildren, Madison and Casey Cravens, and her brother Frank Ora. She is also survived by her recently found three biological sisters and one brother, whom she found in 2020, but was never able to meet face to face yet.
A Celebration of Life will be held in the Spring of 2022 and more details will be released to friends and family as they are made.