Feather River College welcomes new Trustee Trent Saxton for Area I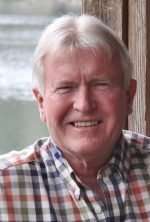 The Feather River College Board of Trustees recently welcomed its newest member, Trent Saxton from the Lake Davis area of Portola who now represents Area I of the college district.
While trustees must reside in the area they represent (two for the Quincy area, one each for Chester, Indian Valley and Portola), they are elected at-large countywide by the voters of the entire district.
Locally known for his chiropractic services and several years serving as the volunteer team doctor for Portola Junior-Senior High School's football team, Saxton also chaired the Eastern Plumas Rural Fire Protection District for five years.
"I have been happily married for 30 years to my wife Linda," he said last week, chuckling a little when offered the opportunity to provide personal and background details about his life. "She's my Yoda and Obi-Wan Kenobi. I have a sense of humor and I love to tease. Never confuse my passion for anger … I love to debate and write letters to the editor."
Advertisement
Saxton describes himself as a military brat who grew up all over the world, learning to speak German fluently and being stationed with his family and father who was a major in the U.S. Air Force. He has lived in England, France and Germany and traveled to 83 other countries so far.
"Living in Germany as a 10-year-old boy during that country's post-World War II reconstruction made quite an impression on me," Saxton recalled. "We first lived in a second-story apartment above a German family. The town was still destroyed and shot up, 13 years after the war. It was an experience I will never forget. We are so blessed to live in this country and we take too much for granted."
At the University of North Texas, he earned a B.S. in education and his teaching certificate, then attended officer candidate school for flight training with the U.S. Navy.
"This was during the Vietnam War era," Saxton explained. "I was injured during flight training and was honorably discharged from the Navy.  I still hold a pilot's license."
Following his military stint, he held jobs as a substitute teacher and Sacramento County Supervisor's assistant. Then he studied chemistry and spent four more years earning his chiropractic degree at the Los Angeles College of Chiropractic. He also completed another bachelor's in biology.
Saxton's chiropractic career spans 40 years.
Most recently, he created a drug-testing consortium to serve trucking companies and his business extends into all 50 states. The company administrates federally mandated drug and alcohol testing for 860 trucking companies.
Further endeavors have taken Saxton into occupational health testing where 60 doctors work for him providing pre-employment physicals for major stores in California and Nevada.
"I am semi-retired," Saxton said, "but I still oversee all their commercial driver physicals."
A provider of pre-employment drug testing for Wal-Mart, Home Depot and many other businesses, including El Dorado County, Saxton is a Nationally Registered Certified Medical Examiner for the U.S. Department of Transportation. His expertise extends to teaching seminars in 10 states on federal drug and alcohol testing to over 750 doctors and their staff.
The healthcare provider holds certificates and licenses in a number of other medical-service specialties — with an emphasis on occupational health.
In the 1990s, he found time to serve first as a city councilman and later mayor for the city of Placerville.
"In 1998, I helped pass the only tax bill in the State of California to support my 18 city police officers," Saxton recalled, noting he chaired the El Dorado County Local Agency Formation Commission (LAFCO) and El Dorado Regional Transit Commission.
For his new role on the FRC Board of Trustees, Feather Publishing asked Saxton to respond to a few questions about his priorities. Following are his comments.
Please talk about your connections to the Plumas County community.
I found Plumas County and Portola 40 years ago while waiting for my California Chiropractic License to arrive in the mail. In 1980, I helped a friend auction off the contents of the Portola hardware store (now a church). I stayed at the Log Cabin Motel and toured the area in the week that I was here. Twenty years later, I brought my new wife up here on a getaway weekend and we ended up purchasing our acreage at Lake Davis in 1994.  We didn't build on it until 2008.
What prompted you to seek election to the FRC Board of Trustees?
I first applied four years ago but lost out to Dr. James Meyers. He has been a great help in my transition to this position. I was asked (again) by Leah West to run for trustee; she was a former trustee also. I have the time and the energy to help our community college. I bring my business success to the FRC Board of Trustees.
It is not easy to introduce new ideas to a small community. I know I am the cog in the wheel and it will be an uphill battle for me, I get it. I hope to gather some trustee help along the way to support my ambitious goals.
I would like to bring back vocational education and technical training to FRC. Trade schools are gaining popularity across the nation.  The stigma of not receiving a four-year college degree is gone. I want to add vocational ed to our college.
People want a job in their chosen field when they graduate or are certified.
FRC could expand its horizons if the current board really wanted to.  Going along, to get along, is not my kind of leadership.
We could offer students a place to learn a trade and receive their certificated training. We should be teaching more trades so that the graduate or certificated student will find a job easily upon completion.
This is already happening in Reno at Truckee Meadows Community College. Have we even reached out to Panasonic, Tesla or Amazon for their willingness to help? I need to find this out. I want to add curriculum that lasts only one year, perhaps two at the most. We could start with trades in carpentry, electricians, plumbers and firefighting.
My problem lies in convincing the rest of the board to see my vision of success. The demands of the 21st century have changed. FRC does agriculture well; it also sends a few athletes to four-year colleges. Are these students making a living four years later or are they working at Starbucks with their degrees hanging on the wall?
What is your outlook and approach to FRC oversight, what will guide your decisions and what will you want to see? 
I am a businessman, I am not an ingrained institutionalist. The only employee at FRC that answers to the board is the president of the college.  When we speak, he is supposed to listen and carry out the board's decisions. I only have one vote and I will be voting as a businessman.
I look in the mirror every day, not knowing if I will make a living this day. I don't receive a paycheck every two weeks on a time schedule. I don't receive pay when I am on vacation or I am sick. I pay for my own health care so I try and stay healthy.
I am constantly thinking about providing great service and making a fair profit. I am always looking at the cost of doing business. How can I save money and lower my overhead? I don't spend money I don't have.
Employees are the lifeblood of any business, large or small. Treat them right and they will work their butts off for you. I believe in the chain of command. Being treated with fairness should apply to everyone.
I'll tell you exactly what is on my mind at all times. I'll be gentle with you for a while, but I refuse to be politically correct while compromising my own principals just to make you happy.
I have cared for patients for 40 years. I wouldn't be where I am if I hadn't been a good chiropractor.
I believe I can listen to you. I want to hear any new ideas from the community that would advance our curriculum. I want our students to be successful in the shortest time possible.
What do you consider to be the most important function of a college board trustee?
Ensure that students are receiving an education that will further their goals in the shortest time interval. Essentially, is their time at FRC of value?
The board of trustees should not be micromanaging, but should be supporting administrative staff and teachers alike. We should be offering and promoting new ideas and actively participating in carrying out our goals. Simply nodding our heads is not leadership.
What do you want your most important contribution to the FRC board to be?
I think I will bring a whole different set of life and business experiences to this board — new ideas for our future, with a shot of adrenalin. I am outnumbered philosophically, but that's all right with me. At the same time, I am the "new guy" and I hope to pleasantly surprise any detractors.     
What solutions do you have to solve the college's housing problem?
I don't believe (we should be) building new housing (that) must be on the current campus. This would avoid many state regulations and higher construction costs.  Is your home built to college codes? No! I believe if the FRC Foundation were to purchase a properly zoned, five-acre parcel, a developer would love to have his apartments filled with students.
Have the county waive fees and expedite the planning and inspection process. Set out the standard building codes and make sure the builder has oversight. Have study rooms, workout rooms and other amenities.
This would be the incentive for a developer to build — free land and tax incentives. He receives the rents.  The foundation would lease the property to the builder at a reasonable rate.    
But FRC President Dr. Kevin Trutna has told me we can't grow beyond 1,621 students because the state has placed a "cap" on the amount they will pay in tuition to FRC. We are already maxed out, unless we decide to grow and have students pay their own tuition at my "new" trade school, which only lasts a year.   
Is there more room for vocational education and job training at FRC? 
Respectfully, I want there to be more vocational education at the college. I believe in "build it and they will come."   
What would you like to see for English language learners?
The California Chancellor of Community Colleges is cutting back on entry-level English courses and tutors. I have no control over this dilemma. K-12 educators are going to shoulder this problem and as long as we have an open-border policy in California, it will only get worse. I would like to see them learn our language before they arrive here.   This is how they will succeed in our country.