Final First Friday of season at gallery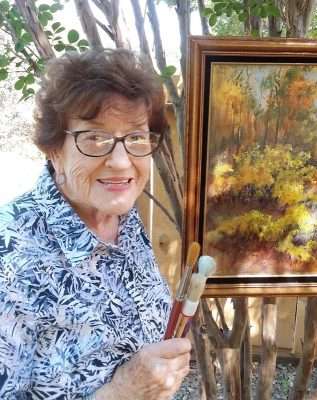 The final "First Friday" public showing of the year at the Blue Goose Gallery of Artists in Chester is scheduled Friday, Oct. 4, starting at 4 p.m. and ending around 7 p.m.
"We're changing things up a bit this time," remarked co-op member and Blue Goose founder Deb Groesser, with invited guest artist Jane Birch attending the show in a special tribute to celebrate her many contributions to the art world.
Birch is a well-loved former Chester resident, Groesser said, with a 35-year career as a school nurse in the Plumas Unified School District until retiring in 1988.
"She's a fabulous artist who has participated in many art shows in the Chester area through the years," Groesser added.
The other two talented artists featured at the gallery are watercolorist Diane Pope and last, but not least, Jacquie Cordova who specializes in oil and watercolor, and also creates works in pottery.
This month's theme is, "Connections Through Art," a reference to how people come together through art, "where friendships are forged and the magic happens!"
As with prior First Friday events, the artists will be doing demos during the event. "Please come enjoy the festivities, refreshments, fun and door prizes and fill your life with beautiful art!"
For dates on upcoming art classes, stop by the Blue Goose, 607 Main St., in Chester to see a list of classes offered and to register, or call the gallery at 258-2600 during regular business hours, Monday through Saturday, from 10 a.m. to 5 p.m.
Jane Birch
Even when quite young, watercolorist Jane Birch recalled being fascinated with books on art. She was especially interested in the late 1800s' impressionists. So, it is not surprising that through her life and since retiring from the nursing profession, her interest in art has grown to be the dominant force in her life.
Raised in New Mexico, where she said the choreography of light playing on the beautiful mesas and deep canyons had given her the desire to paint, Birch credits her mother, an accomplished quilter with an innovative sense of color and design, as being especially influential in her appreciation of art growing up.
Since moving to Red Bluff in 1990, Birch has been fortunate in broadening her artistic scope by studying with several wonderful art instructors and taking art classes at Shasta College.
While admiring other artists' works and incorporating some of their techniques, she also works in acrylics, inks and pastels, and enjoys sharing her skills through teaching workshops in watercolor and acrylic in Red Bluff and the Redding area.
Birch has received a number of awards for her artwork. Last year, one of her acrylic paintings received Best of Show at the Tehama County Fair.
She's a member of the Red Bluff Art Association and is also active with the Tuesday Art Group in Corning.
The Blue Goose is excited to celebrate her lifetime accomplishments and invites the public to come spend the evening with her and see her immense talents.
Diane Pope
Diane Pope said she's a visually oriented person. "I see images in everything from trees and clouds to the texture on walls," noting that she's been drawn to the visual arts for as long as she could remember.
Pope believes that plants and animals, and especially birds, are a feast for the eyes.
"When painting I strive to create something that the viewer will experience as a visual treat. … My paintings appeal to bird and nature lovers, but one of the greatest compliments I have received was when someone told me: 'Your paintings make me so happy!'"
The technique she uses most is to start with a background that looks somewhat out of focus. "I then add the subject with increasing detail until I feel I have captured its spirit."
Watercolor as a medium allows for such diversity in style, she stated. "Painting consistently brings me joy and fulfillment in my life and I cannot imagine my world without it."
Pope will be teaching her second watercolor class at the Blue Goose Gallery on how to paint birds with watercolor Saturday, Oct. 5, from 10 a.m. to 1 p.m. Class fee is $40.
She requested that attendees have their own watercolor supplies, but if not, "I can provide you with some ($5 extra charge)."
Jacquie Cordova
A gifted artist, Jacquie Cordova studied art at U.C. Berkeley in the '70s, receiving her B.A. and master's degree in drawing and painting.
Elmer Bischoff of Bay Area Figurative Artists was her professor, she recounted, "who instilled in me a true love of the variety of mediums, subject matter, and looking at the world in a thousand different ways."
Cordova first began mural painting and then later taught art classes at Lassen Community College, as well as teaching for the Westwood Unified School District, K-12.
Cordova is an advocate for children and the arts, and now teaches art to one child at a time, age 5 to 7.
In addition to oils, she is also accomplished in watercolors and clay pottery, and is one of the founding members of the Blue Goose Gallery of Artists, where she continues to serve as a board member.