"First Friday" event promises to be spectacular
The final "First Friday" event of the year at the Blue Goose Gallery of Artists in Chester is scheduled for Oct. 5, from 5 to 8 p.m.
The theme for October is "Climb Every Mountain," referring to what artists metaphorically strive for all the time in their work. Plus, it's fun when you make it to the top!
Five artists are featured, including pine needle basket and gourd artist Lynda Alberico, oil painter Teri Strong, papier-maché and rope basket artisan Gayle Bower, collage artist Eva Havelik, and last but not least, watercolorist Deb Groesser.
Guests can expect a number of door prizes during the event, plenty of refreshments, and the opportunity to experience artist demonstrations.
The Blue Goose Gallery is located at 607 Main St. in Chester. For more information phone 258-2600.
Lynda Alberico
"I have been creating art in many different mediums for over 40 years," stated Susanville resident Lynda Alberico. "My ongoing passion for the last 14 years has been making unique, one-of-a-kind pine needle baskets and decorative gourds."
She said she never knows what the final design will exactly look like once it's finished as she works on a piece. However, "What is so intriguing to me is how they find their own shape as I am stitching each row."
Alberico, one of the new co-op members at Blue Goose, said she uses long leaf pine needles shipped in from North Carolina, along with black walnuts to add a unique look to her work. The gourds are from Wemple's Pumpkin Patch in Milford.
"My husband cleans and prepares the gourds for me," for which she's especially appreciative, she said.
Alberico feels blessed to have been chosen to join the Blue Goose Gallery. "I look forward to being a part of this wonderful family of artists!"
Teri Strong
Classically trained artist Teri Strong has spent the last four decades orchestrating a series of landscapes, perfecting still life as well as painting whatever inspires her.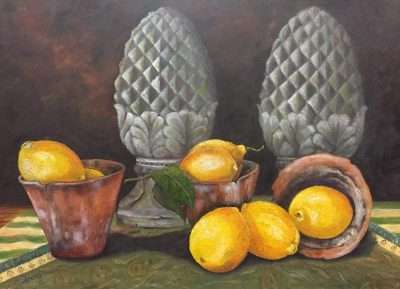 "I enjoy painting the world around me whether it's my own garden, family members or travel scenes," said Strong, who lives part time at Lake Almanor and has a studio based in Northern California. She recently joined Blue Goose Galley as one of its new artists.
As a student, Strong recalled winning an award where she was honored at San Francisco City Hall for her artwork. The experience sparked a lifelong passion for art in general and oil painting specifically, she shared, which later led to studying under Chilean master artist Luis Busta, from whom she discovered her love for impressionist still life paintings.
Strong believes that when you learn to see the world with the eye of an artist, you can find beauty and inspiration in what might normally be perceived as simply ordinary. "I paint to recharge and balance the soul," she mused.
Gayle Bower
Rope bowl and papier-maché artisan Gayle Bower whimsically shared that, "Art is a pain in the neck!" She explained that, "Trying to get an art piece to turn out the way I think it should can be infuriating, depressing and tiresome — and compulsive!"
Nevertheless, frustration is a part of her passion, she confided, stating that art is an addiction and "something I live for."
Bower, a retired psychotherapist, said she sees art in everything around her. "When I look out the window and see the colors of the landscape, I often center on one particular color, but find myself taking that color apart to see all the colors that make up that one color."
She added that she is often impatient in her attempt to replicate a color she sees in nature, "so I often have to put searching for 'that color' aside until my mind is ready to let go, and ask myself how much blue and how much green or black is really needed."
Getting it perfect seems almost impossible, she confided. "And it haunts me."
Then suddenly, the color comes easily, "like there was never any difficulty at all. … The color is saying to me, 'I was here all the time! All you had to do was stop searching so hard,' and let the answer rise up naturally into my conscious mind."
Her art is totally intuitive, Bower asserted. "I have to trust that a piece I create represents what I see in my mind … hoping that it is beautiful and ultimately satisfying."
She said she likes unfussy, simple pieces when she is creating something new. "When I started showing at the Blue Goose Gallery I only made papier-maché. Then I started making lamps with a variety of beautiful handmade paper."
Later on, Bower found out she also enjoyed making rope bowls. "Each time I've started a new medium it has enhanced the art that I had previously worked with," and asking herself, "How can I integrate my love of papier-maché into my rope bowls?"
Bower invites the community to come to the Blue Goose Gallery, "an amazing place" that represents many different expressions of art, by many different artists who are "supremely talented."
Eva Havelik
Collage is an ancient art where you glue pieces of colored paper to a flat surface, Eva Havelik noted simply.
"It so happens that several years ago I had the chance to use some of the decorative papers I have been collecting and saving in a special box in my closet."
Creating collage reminded Havelik of two lesser-known quotes by Albert Einstein that inspired her: "Be a voice, not an echo," and also, "A person who never made a mistake never tried anything new." That's why she settled on doing collage, "because I was ready to try something new."
Though most of the rules of composition still apply, she said, "It is different from making watercolor paintings, which is what I had been doing for some time now," explaining that, "While making changes to your watercolors is not impossible, it is difficult at best."
Not so with the technique of collage, Havelik insisted. "I can make any number of changes in my pictures by simply rearranging my pieces of paper until I'm happy with the results, and then I glue them permanently to the flat surface," adding that these days she may also apply acrylic paint to tissue paper in many of her collages.
She said, "My art is whimsical and people who buy my artwork tell me that it makes them smile when they view them, which I consider to be a very high compliment."
Nature in its many forms is her main inspiration, she shared, and spending a lot of time at Lake Almanor offers many opportunities to her.
"I feel myself very fortunate to be part of the Blue Goose Gallery and believe the camaraderie and challenges of my fellow artists to be an extra special fringe benefit of being a member of the co-op."
Deb Groesser
"Art has been a source of joy in my life ever since I can remember," expressed watercolor artist Deb Groesser.
She recounted how finger painting in kindergarten helped set the stage for mixing colors and having fun with painting.
"As a kid, a favorite part of coloring with crayons was combining them together on the paper to make even more colors than the 64 colors" that were provided in the original box of crayons.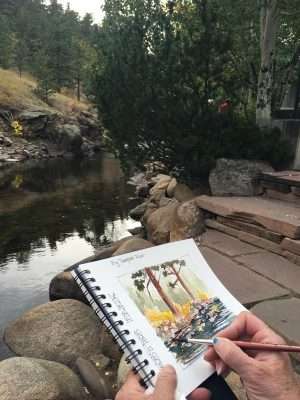 "My brain seemed to like mixing colors," Groesser continued, "as I found myself often looking at different objects and mixing the various colors in my mind."
Art studies had to wait until her early 20s, however, "when I had to squeeze art classes into a busy schedule of raising a family and working," but stated, "Creating art is forever a learning process. … It takes you into 'the zone' where time seems to stand still."
She said that after years of painting both in acrylics and watercolor and teaching workshops, art continues to be one of the best parts of a wonderful life.
"For these past many, many years, art has given me the vehicle to give back to others. … Through sharing the magic of art with my students, to making donations of artwork to help raise money for a variety of worthwhile causes, being able to be an artist is a privilege I am grateful for every day."
Groesser shared that The Blue Goose Gallery of Artists is truly a remarkable place, and when customers walk through the front door they will often stop in amazement at the fine artwork all around them.
"They just can't believe that this quality of artwork and the size of the gallery are located in this tiny mountain town," that draws visitors from many regions, she said.
"Just this past month when I was working in the gallery, I visited with folks from Florida, Virginia, Washington, Oregon, Nevada and all over California. They call the gallery a real gem — and I have to agree with them! I am honored to be a part of this fabulous group of artists."
Blue Goose Gallery of Artists art classes
The Blue Goose Gallery of Artists has some exciting news for the community. Because the classes offered by our artists the past couple of years have been so well received and so highly requested, the board of directors have voted to expand the Gallery to create a dedicated classroom.
Classes are nearly always full with waiting lists, and artists love teaching the classes. To date, classes have included alcohol inks, scarf dying, jewelry making, collage, soapstone carving, photography, wood, gourd making, watercolor and more. With a permanent classroom, many more classes will be available to the community. Both adult and kids classes will be included, and artist members of the cooperative will be teaching a larger variety of workshops.
To help make this a reality, a community outreach is underway for some additional funding.
Chester Plumas Bank has stepped up to be the first to support the classroom expansion and become a "Community Hero." They are offering the challenge to other businesses and individuals to donate and get their names on the wall of the new classroom as a Community Hero as well.
To become part of this effort, contact Debbie Brownrigg, gallery manager, or Deb Groesser, board chair, at the Blue Goose Gallery at 258-9110.