First responders honored for life-saving efforts
By Debra Moore
No one wants to experience a cardiac arrest, but the odds of survival are better in Plumas County than the national average. That's because there has been a concerted effort to educate residents about CPR and to disperse ADs or automatic defibrillators throughout the communities.
Quincy resident LeRoy Austin experienced the results of those efforts firsthand when he suffered a complete cardiac arrest while working out at a local gym. Plumas County Sheriff's Sergeant Matthew Beatley was also working out at the gym and immediately went to his aid and began administering CPR. Deputy Chandler Peay was the first to respond to the 911 call and he and Beatley used the AD device that all Plumas County deputies now carry in their cars. They kept Austin alive until the ambulance arrived and he could be treated at the hospital.
Advertisement
A few weeks later he was well enough to attend the Emergency Medical Services recognition barbecue held May 15 at Ganser Park in Quincy, where those who provided his care received a Life Saving commendation — from Beatley to the dispatcher who handled the 911 call to Peay and the ambulance crew.
During the ceremony Austin thanked those who saved his life and then shared a little more in a phone conversation following the event. "First of all, I was lucky that someone was also working out in the gym when I went down and, obviously, I was damn lucky that it was Matthew Beatley," Austin said. "If it hadn't been for him, a trained professional who knew what to do to revive me, the chances are I wouldn't be alive today. It really was a miracle and my wife and I are so grateful to him and all the other first responders and medical staff that cared for me."
And that incident wasn't the only one acknowledged during the event. Sam Blesse, an EMT with Care Flight, and one of the individuals responsible for establishing a Heart Safe program in the county, introduced the Life Saving commendation recipients from another incident.
Blesse said that last September when the fires were still raging,  a call came in for an unresponsive male on Main Street. Sheriff's officers Chris Driscoll and Jakey Vickrey were the first to arrive on scene. "They got there and pulled him out of the vehicle and started CPR," Blesse said. An ambulance crew and fire department personnel arrived shortly thereafter. "Through the actions of everyone there, he was discharged after about  four days and went back to his normal life."
Each individual rececived a certificate to acknowledge their participation in the "chain of survival" and pin for saving the 24-year-old man's life.
Blesse explained that the Heart Safe program strengthens the chain of survival. "It is a real thing," he said. "It starts with people recognizing cardiac arrest and then CPR and ADs and then early dispatch."
One of the changes that has been made is that the sheriff's department sends out an immediate page, instead of contacting the hospital first. This speeds the process. Blesse also discussed how local law enforcement personnel know and use CPR and the ADs in the field — something that doesn't occur in other jurisdictions.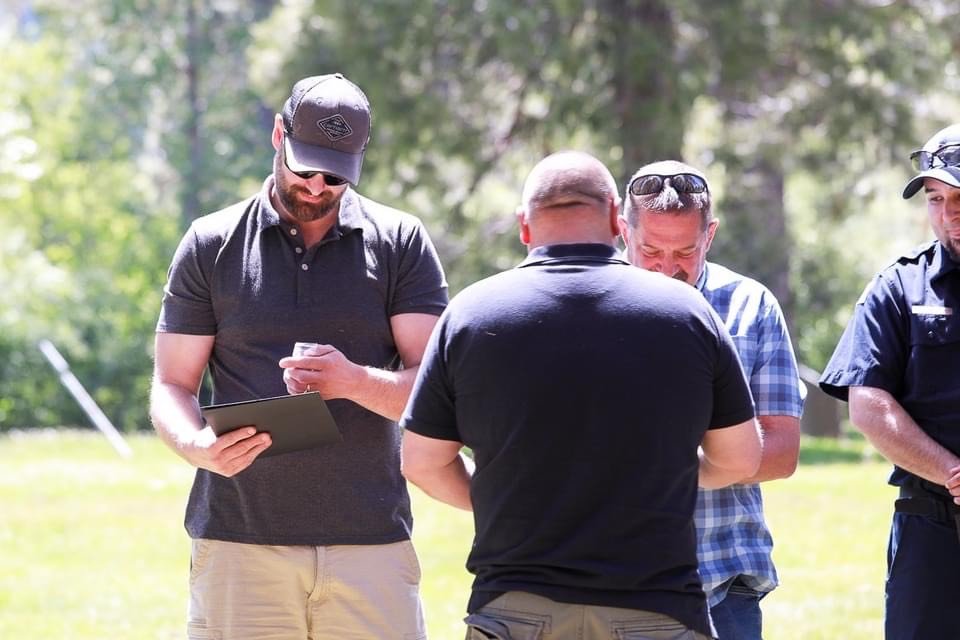 E