First responders prepare in case of toxic spill
In the event of a toxic material spill into Lake Almanor, local first responders plan to be ready.
Peninsula and Hamilton Branch fire districts, along with Plumas County Environmental Health, CalFire, California Department of Fish and Wildlife and BNSF Railway Company personnel that are designated hazardous material responders, spent June 27 and 28 honing their response procedures in the event of a toxic material spill along the BNSF routes through Plumas County.
The railroad tracks parallel a large portion of the Lake Almanor watershed and could have a major negative impact if not quickly and effectively contained.
The first day was spent in the classroom at Peninsula Fire Station 2 learning methods for effective incident command communication as numerous response teams need to interface with one another.
They also reviewed catch and containment techniques that would provide industry collection teams usable retrieval areas near the spill.
On the second day, the teams put classroom knowledge into practical use as they split into two teams, with one using the Prattville area for the training and the other at Hamilton Branch.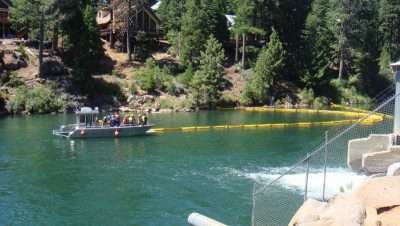 General water safety is always paramount when crews deploy on the lake and that was the first order of business.
The teams then proceeded to the actual deployment of the "hard river boom" containment systems that is part of their response equipment.
Boom location and proper anchoring were two of the important focus points along with, of course, personnel safety.
It was agreed by those attending that this type of hands-on training is paramount to help ensure the continued health of the Lake Almanor area.