Former PUSD students return to the classroom as teachers
Submitted by Cary Dingel
"I'm just so proud of our homegrown teachers," says Susan Frediani, Plumas Unified School District (PUSD) Instructional Coach. "As a former teacher myself, it brings me such joy when one of our own decides to go into the teaching profession," she adds. While there are many PUSD alumni who have chosen to return to Plumas County as teachers or administrators in the district, she says this year brought an unusually high number of familiar faces to local classrooms.
Rachel Labbé works with  Mason Simpson, a fifth-grader at the Quincy Elementary School Alder Street campus. Photo submitted
Rachel Labbé
"As hard as it is, there's no place I'd rather be," agrees fellow first year QES teacher Rachel Labbé, who also attended QJSHS. "I'm actually surprised I ended up teaching," she adds, noting that her first college classes were in pursuit of a career as a detective. After working as a paraeducator in classrooms, she decided that she had found her true calling and completed her schooling in education.
Advertisement
"My husband and I lived in Woodland, CA for seven years and chose to come back to Plumas County to raise our family with the same lifestyle and values that we grew up with, where kids can ride their bikes together and go to school with the same friends from kindergarten to high school," she says. As a teacher, she hopes to provide consistency for her students, with clear expectations and structured support. Her warm, calm nature is reflected in the serene, beautifully organized atmosphere of her classroom, and how she gracefully leads students from their post-recess high energy to a focused, intent mood.
Megan Stewart is a sixth-grade teacher on the Quincy Elementary School Alder Street campus. Photo submitted
Megan Stewart
"I can't imagine doing anything else that would make me as happy," says Quincy Jr/Sr High (QJSHS) graduate Megan Stewart about her first year of teaching at Quincy Elementary School (QES). As a sixth-grade teacher at PUSD, she's leading her class through the iconic Watershed Year, where students intensively explore everything about our water ecosystem through a series of hands-on activities and field trips. Ms. Stewart went on those trips herself as a sixth-grader, and again as a high school camp counselor, creating a full circle back to the classroom as a teacher. "I'm so glad I get to be in Quincy for my first year of teaching," she says. "It's definitely challenging, and the support I'm getting from my family and my teaching mentor Erica Perdue (also a homegrown teacher) makes all the difference."
She points to her QJSHS AP Environmental Science teacher Mr. McMorrow (another homegrown teacher) as a pivotal figure in her decision to go into education. "I'll never forget being in environmental science class and Mr. McMorrow saying that education determines the future of our planet- what we teach kids is how they're going to grow up treating the world." While Ms. Stewart always had an interest in teaching, she was galvanized by this thought and went to college to become a teacher.
Moriah Farris is teaching kindergarten at Quincy Elementary School. Photo submitted
Moriah Farris
"I love when I can help a student get to that "aha" moment," explains Moriah Farris, a Greenville Jr/Sr High School alumnus who is teaching her first kindergarten class at Greenville Elementary School. As an aide for the after school program when she was in high school, Mrs. Farris describes how a student she was tutoring in math suddenly understood how to work through the equation. That moment showed her the power teaching has to open doors for students, and led to her decision to enter the teaching profession.
A lifelong Greenville citizen, Mrs. Farris believes the experience of the Dixie Fire she shares with her students assists in helping them process the trauma they are still working through. As part of her teacher training, she's studied how adverse childhood experiences can impact a child's ability to learn. "Sometimes our students have what we call 'big feelings,' which need to be acknowledged before they are ready to learn," she says. Her empathy for students is evident as she interacts with her class, helping students navigate that crucial first year of school. "Because we've lived through some of the same events, I can bring that to the classroom to build a connection," she says.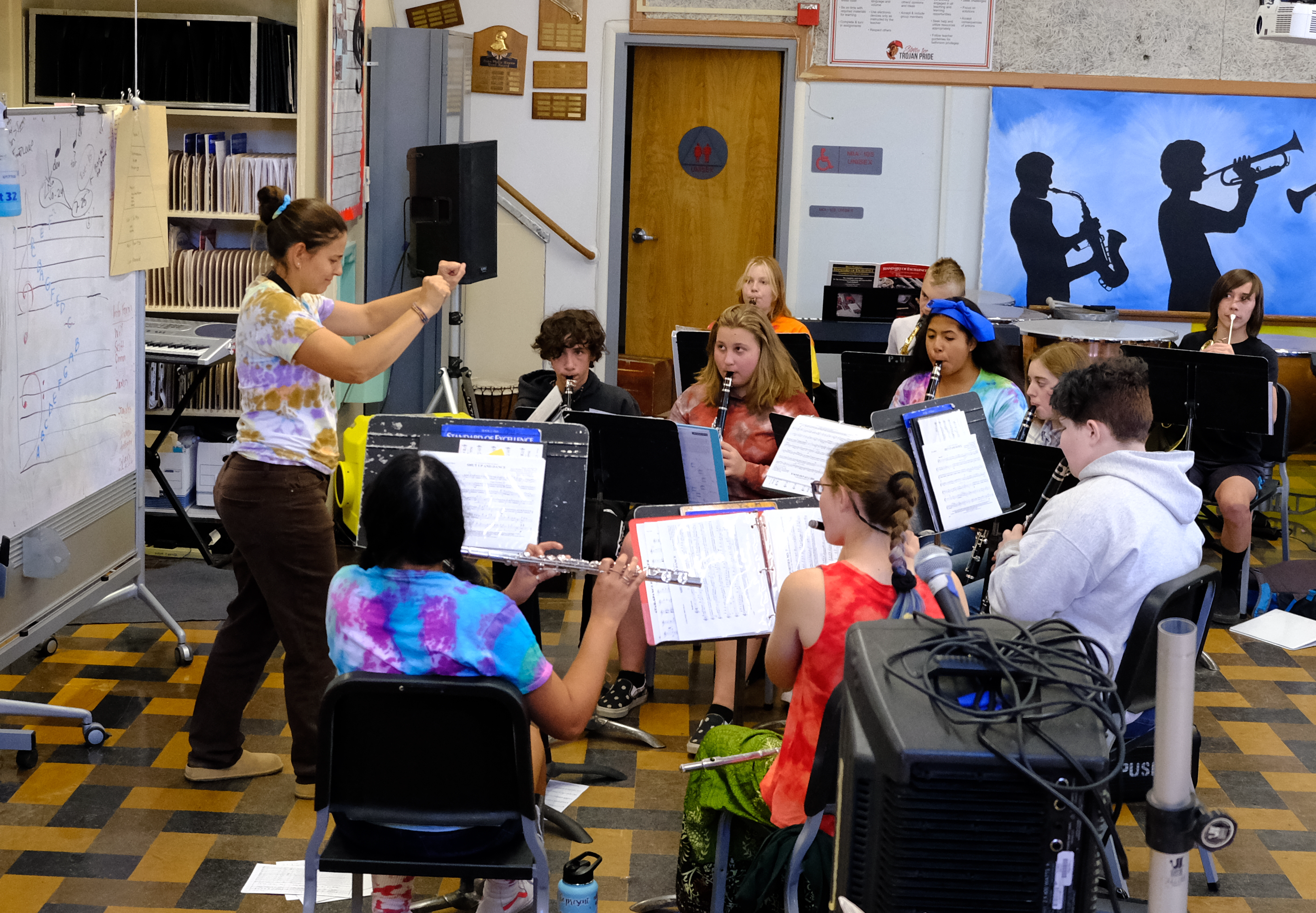 Eliza Hardee is the new music teacher at Quincy High School. Photo submitted
Eliza Hardee
Eliza Hardee is not new to music education, but this is her first year as a teacher at PUSD. A graduate of QJSHS and familiar face to parents of musically inclined children, Mrs. Hardee has a degree in Music Education from Simpson University, and has taught music for many years in different venues around Plumas County. "The timing was right this year," she says about taking on the formal role as music teacher at Quincy High, as her youngest child is now eight years old and more independent. "And I love this community," she adds with a smile.
Forming a group of individual student musicians into a cohesive band requires more than just learning notes and timing- it also requires building trust between teacher and students. Even a casual observer can see that Mrs. Hardee's band students are engaged and invested in making their best contribution to the collective effort. The students are high-spirited, but also respectful and responsive to Mrs. Hardee's instruction while rehearsing the songs they will be playing at the homecoming game that week. "Having the band play at events increases school spirit," says Mrs. Hardee, adding that a school band also creates a sense of continuity for students.