Fourth annual Poetry Out Loud contest the largest yet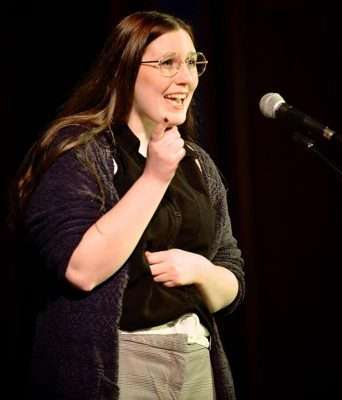 Nineteen high school students from across Plumas County, along with their families and community members, descended on the Town Hall Theatre in Quincy on Sunday afternoon, Jan. 26, for the fourth annual poetry recitation contest. It was the biggest turnout in the four years of the program.
Collette Tilford, a Quincy High School senior, is this year's Plumas champion and will go on to represent Plumas County on March 15-16 in Sacramento. There she will compete against 54 other students to represent California in the national competition in April (during National Poetry Month). She recited the poem "Where the Wild Things Go" by D. Gilson, which explored a grown-up Max from Maurice Sendak's seminal children's book "Where the Wild Things Are."
Jacob Cook, a freshman at Indian Valley Academy, took second place reciting the difficult (and long poem) "Sanctuary" by Jean Valentine.
Sarah Pfingston, a sophomore at Long Valley Charter in Portola, took third place with "The Last Performance" by Thomas Hardy. It was Long Valley Charter's first year of participation in the event.
This year's judges were Feather River College Professor Will Lombardi, FRC staff-member Audrey Peters and poet emeritus Will Farris. Each judge scored the contestants, with Margaret Elysia Garcia serving as accuracy judge.
This year also had the most schools in Plumas County involved in the program, with Quincy High School, Indian Valley Academy and Long Valley Charter in Portola leading the way with the most student and teacher involvement. Chester High School and Plumas Charter in Quincy each fielded one student.
This was the first year the event was big enough to take place at the Town Hall Theatre rather than the Plumas Arts Gallery.
Once in Sacramento, Tilford will have to recite her winning poem along with at least one more poem published before the 20th century, plus an additional poem if she makes a final round.
Champions recite at the state assembly rotunda with the opportunity to meet their elected officials from their districts. They spend two nights in downtown Sacramento meeting poetry contest winners from other areas, and regional poets and spoken word artists.
Each winner receives a cash prize with the champion's trip to Sacramento expenses covered by the program.
Teachers and students interested in the program for 2021 should go to the website www.poetryoutloud.org for more information. Students from ninth to 12th grades choose a poem from the website to memorize and perform, providing the judges with a clear understanding of the meaning of the poem.
For students the program provides an opportunity to get more comfortable with both poetry and public speaking.
The nearly two decades-long program is sponsored by the Poetry Foundation, the National Endowment for the Arts, the California Arts Council, and is locally sponsored and executed by Plumas Arts.