Foxxmo scores a perfect 300
Local Dog earns 12th place at the 2018 AKC National Agility Championships
Harmony Ridge Pet Parade is pleased to announce that Foxxmo Red Kooper "Foxxmo" competed in the 2018 AKC National Agility Championship in Reno. The AKC Nationals were held at the Reno Livestock Events Center in Reno from March 23 -25.
The AKC National Agility Championship is among the most prestigious in the Country. Team Foxxmo's accomplishment in qualifying and competing in this event was made possible by the coaching abilities of Terry Popish of Snowy Pine Dog Training.The team has been working with Popish for the past four years.
Foxxmo competed in the 16″ Preferred Division alongside his handler and owner Johnene McDonald.  
Foxxmo performed five runs during the competition.He had a warm-up and Premier Standard on March 23 achieving a clear round with a 100 percent score.
On March 24 he ran a Jumpers with Weaves and Standard Course achieving two clear rounds with 100 percent score on each earning 200 points. 
On March 25, he finished with a Hybrid Run receiving another clear round with 100 percent score.
He completed the weekend with a perfect 300 point score.  
This accomplishment over the three days was an outstanding achievement for Team Foxxmo. The 300-point score placed Foxxmo in 12th place in his division out of 67 other dogs that were competing against him.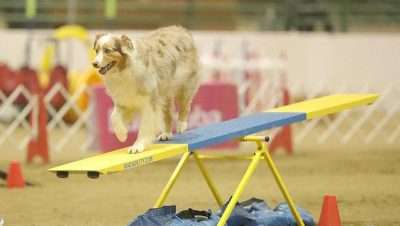 McDonald never expected her "Foxxie Loxxie" to place so high in their first attempt at a National Competition. 
"Foxxmo is absolutely amazing in the ring," McDonald said. "He watches me impeccably and if I do the course correctly, he is right there by my side. I couldn't ask for a better team mate than Foxxmo!"
Team Foxxmo was cheered on by his trainer Terry Popish, Sister Mary Anne Doan, friends Barbara and Paul Mrowzinski, and pack members and "cheer dogs" Benny, Tango Kizzy and SashShee Macy.
The AKC National Agility Championships only comes to the West Coast every three years. Next year the national championships will be held in Tulsa, Oklahoma.If the team qualifies for the 2019 championships, Team Foxxmo will not be able to compete unless they find sponsors to help fund the trip.