FRC/PUSD trustees continue work on new area boundaries
The boards of trustees for Feather River College and Plumas Unified School District are one step closer to finalizing new trustee areas following a joint meeting Jan. 20.
Presented with two "springboards" for discussion – one map that closely followed the board of supervisors' boundaries, and the second which more closely followed its current trustee boundaries. The trustees expressed a preference for the latter.
Their decision was made without public comment, as once again no member of the public weighed in on the process. The two boards have already held three of the four planned public comment meetings, as well three public hearings, with no outside input. The trustees are providing the opportunities, but the public isn't responding.
While the two boards have expressed dismay, they shouldn't be disheartened. The board of supervisors also received minimal input into its process, which is required every 10 years following the census. District or trustee area boundaries must be withdrawn to make them as equal in population as possible.
That presents challenges for areas such as Plumas County where population centers are widely dispersed.
McKay Larrabee, representing FLO Analytics, the firm hired to assist with the process, went through the map making process for both boards. She described the data collection that was undertaken to produce the two springboard maps.
"There are a lot of tradeoffs because Plumas is very unbalanced in terms of population," Larrabee said.
Based on the input from the trustees, a draft map will be presented Feb. 17, with then more feedback taken from the public and trustees. The final map adoption hearing will be March 10.
This is the remaining meeting schedule:
January 25th: Public forum from 6pm – 6:30pm via Zoom my Zoom link
February 17th: Regular Meeting 3pm via Zoom Board PMR  Zoom link
March 10th: Regular Meeting 3pm via Zoom Board PMR  Zoom link
This is the current map of trustee areas: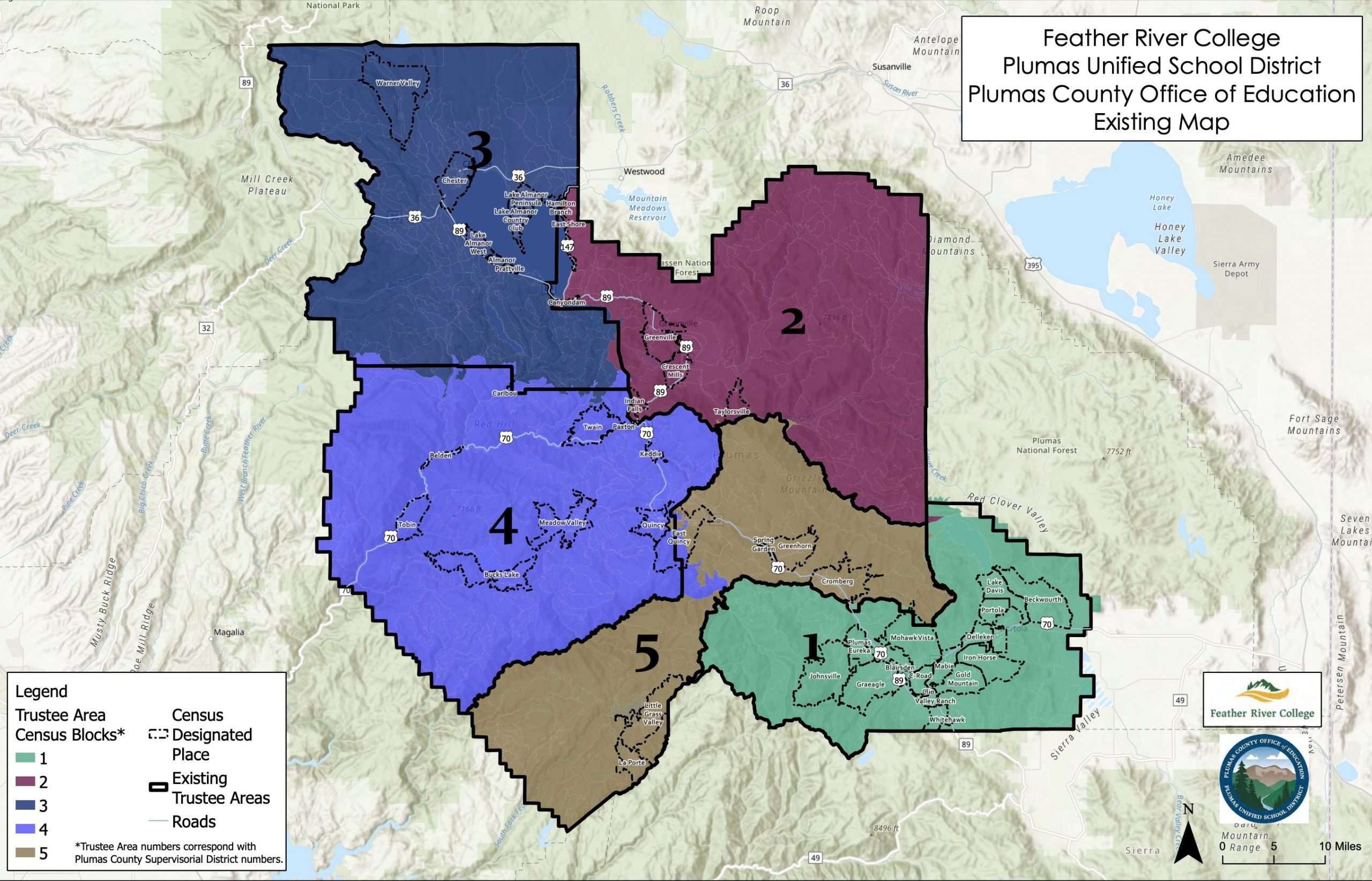 This is springboard map that trustees preferred, from which a draft map will be developed:
For those members of the public who are interested in more details they can click here