FRC rodeo team visits Plumas Charter
The Feather River College rodeo team held a workshop for elementary grade students at Plumas Charter School's Quincy site Dec. 1.
Rodeo team members manned stations in roping, bull riding and noodle-horse barrel racing, and conducted a slideshow presentation on the nature of rodeo, rodeo events and rodeo livestock management. 
"Team members were enthusiastic, encouraging and extremely engaging, which enabled students to participate and learn while having a great time," said Maggie Hennessy, a school representative.
The National Intercollegiate Rodeo association encourages rodeo teams to reach out to elementary schools in their local area to educate youth about rodeo and agriculture.
Advertisement
Riley York, the FRC rodeo team coach, said the Western Education program is using the excitement and the following of rodeo to educate youth about the history behind the sport of rodeo, rodeo's connection to agriculture and how production agriculture directly affects the world's population.
"The need to tell our story as crop and livestock producers is rapidly increasing as the consumer has become further removed from the production side of agriculture," said York. "It is our mission to reach out and make a positive impact for the agricultural industry."
York said the goal is to let the consumer know where their food is coming from; that it is being produced in the safest and most humane way possible, and that farmers and ranchers are working hard to feed the growing population of the world. "Every aspect of our lives revolves around agriculture, and it is important people know that," he said. "We are using rodeo as the route to get that conversation started within schools all across the United States. Together we can make a difference in the world we live in, by sharing our story and our western way of life."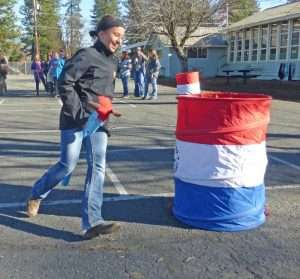 A dozen FRC students participated in the school event, which was organized by Ambria Holm. The other rodeo team members who participated are Jesse Clark, Logan Gulden, Bobby Vaughn, Levi Vigoren, Kalen Adamson, Shana Gayski, Kendall Rebele, Bailey Roberts, Cheyanne Pacheco-Samii, Erin Ramsey and Janel Turner.